Precommentary — This 16-year-old article from the Jewish Telegraphic Agency underscores a point often made on the David Duke Show about fact that during the administration of Russian President Boris Yeltsin the assets of the Russian people were plundered by Jewish oligarchs. As a result, the Russian people were plunged into incredible poverty and suffered a "demographic collapse," with the Russian male life expectancy plummeting by eight years.
---
Tycoons with Jewish roots accused of 'puppeteering' Russian leader
by LEV KRICHEVSKY, Jewish Telegraphic Agency
Friday, May 28, 1999
But since Russian President Boris Yeltsin dismissed the government of Yevgeny Primakov and appointed Sergei Stepashin as prime minister earlier this month, these tycoons have leapt back into Russia's chaotic political fray — and onto the radar screens of the country's newspapers and televisions. Though they have varying levels of identification with the Jewish community, the tycoons are associated in the public's eye with Judaism,
Wary of an anti-Semitic backlash, Jewish leaders are carefully watching the oligarchs' return to their powerful, behind-the-political-scenes role.The names appearing most often in the media are Boris Berezovsky, a controversial figure with allegedly close ties to Yeltsin's family, and Anatoly Chubais, the leader of the young reformers and a former first deputy prime minister who is now head of the state electrical utility monopoly. Both were openly delighted by Primakov's fall. Berezovsky, who has converted to Christianity, is open about his Jewish roots; Chubais is not.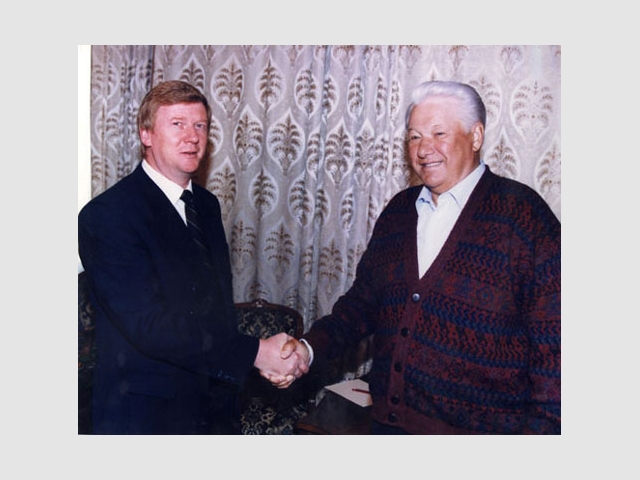 Chubais with Boris Yeltsin
The change in Berezovsky's status has been particularly noticeable. Only one month ago, the man often referred to as Russia's "modern-day Rasputin" narrowly escaped arrest on corruption charges and was forced to stay out of the country. A warrant for his arrest was later lifted.
Another figure whose name often appeared on front-page articles in the past two weeks is Vladimir Goussinsky, a media mogul and the president of the Russian Jewish Congress.
Goussinsky traditionally keeps a low profile, yet he is believed to have recently formed an alliance with Berezovsky to have his business interests represented by some of the key figures in the new government.
Stepashin, 47, a staunch ally of Yeltsin, was responsible for much of the military operation in Russian's southern breakaway republic of Chechnya in which Russia lost tens of thousands of its citizens.
Stepashin said he would keep the backbone of the previous government, but he is likely to dismiss the Communist ministers brought in by Primakov.
Communist leader Gennady Zyuganov was quoted as saying he would not like to see Stepashin surround himself with "cawing predators who are still stealing from the country as they did before," a veiled reference to the oligarchs and the young reformers.
In the past, the oligarchs have been frequent targets of anti-Semitic propaganda, much of it coming from the Communists.
After the lower house of Parliament, which is dominated by the Communists, approved his nomination last week, Stepashin said his government would fight economic crime and vowed to take bold steps to implement economic reforms and to fight the crime and corruption that have plagued Russia since the collapse of communism.
A tough-talking, round-faced man who does not belong to any party, Stepashin has been in politics since 1990. He was first deputy prime minister and interior minister under Primakov.
Some analysts here argue that he is merely a transitional figure, while others say Yeltsin has picked him to be his political heir in the 2000 presidential elections.
According to some, Berezovsky's influence is already being felt.
On Saturday, Yeltsin appointed Vladimir Rushailo to the key post of interior minster.
Russian media have described both Rushailo and newly appointed First Deputy Prime Minister Nikolai Aksyonenko as "tools" of Berezovsky. Rushailo has denied having any links with Berezovsky, and Stepashin denies any outside force influenced him in his choices.
Among those ministers who retained their jobs in the new Cabinet is Foreign Minister Igor Ivanov. Stepashin must finalize the lineup in the coming days.
But despite the denials, some politicians are already convinced that someone else is pulling the strings.
The government is "absolutely servile. We will soon figure out who is the puppeteer — be it Berezovsky or someone else — by the lineup of the new Cabinet," said Grigory Yavlinsky, head of the Yabloko liberal parliamentary group.
Not everyone agrees with Yavlinsky's assessment.
"I don't see any oligarchs here," said Alexander Livshitz, Russia's former finance minister. He said the country's top business people were still regrouping after last year's economic crisis in which most of them suffered heavy losses.
Meanwhile, Jewish leaders are maintaining a low profile on the issue. But they note that Stepashin visited the Choral Synagogue, Moscow's main synagogue, last year to discuss the restitution of Jewish property, most importantly the fate of the dozens of Torah scrolls, which are now stored in state archives and museums.
"We have been in constant contact with Stepashin and his ministry over the restitution issue," said Pinchas Goldschmidt, Moscow's chief rabbi.
As interior minister, Russia's top police official, Stepashin also had to deal with the issues of rising political extremism and anti-Semitism that became especially prominent in the wake of last year's crisis.
Two months ago, a visiting delegation of the Anti-Defamation League met with Stepashin to discuss the issue. He told the delegation he was strongly behind enforcing the laws against anti-Semitism in Russia. Abraham Foxman, the ADL's national director, described Stepashin after the Moscow meeting as "someone who understands the problem of anti-Semitism and wants to do something about it."
But some Russian Jewish leaders see a different silver lining in Stepashin's appointment.
"It's good to see that after two tries Russia has finally found a prime minister who is not Jewish," said Goldschmidt, referring to the fact that both previous heads of Cabinet dismissed by Yeltsin in the past 14 months — Sergei Kiriyenko and Primakov — had Jewish roots.
"It is good for the Jewish community because people tend to blame the entire community for the mistakes of individuals."
For more JTA stories, go to http://www.jta.org