Dr Duke – We Want Tuck not Cuck! Why is Tucker Carlson promoting Orwellian Goldstein Zionist Controlled Opposition!
Download
Today Dr. Duke broke down the train wreck of a show that Tucker Carlson had last night. He is in the midst of a feud with Ilhan Omar, who is certainly anti-white and anti-American and has many negative aspects to her politics. However, she is on of maybe only two members of Congress (the other being Rashida Tlaib) who can ever be expected to call out Israel on a fraction of its crimes, which makes her a very valuable mixed bag.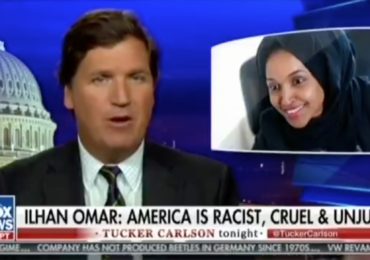 With the rest of Fox News available to trash Congresswoman Omar, we don't really think this is a good use of Tucker's show time. But if he is going to go after her, why on earth does it have to be for being anti-Israel. He had on a Jewish advocate raising the specter of an Omar-fueled Holocaust.
Listen to the show for the full story.
Please share this show widely. And please keep us on the air and on-line. Please visit our contribution page or send your contribution to:
P.O. Box 188, Mandeville, LA 70470
Thank you.
Click here and look for the show dated 5-16-19.
Our show is aired live at 11 am replayed at ET 4pm Eastern
Check out this Duke video on the white genocide in South Africa:
Here is Mark Collett's recent viral video:
Be sure to check out Mark's Twitter feed. And follow him while you're at it.