Dr Duke & Swiss Dr LeTour of Geneva Explain How "Anti-Semitism" is a Fake Word to Stop criticism of Jewish Extremism & Israel
Download
Today Dr. Duke had Dr. Nick LeTour of Geneva as his guest. Dr. LeTour explained the anger behind the anti-Macron uprising in France. Macron is a former Rothschild banker who is flooding France and the rest of Europe with unwanted Muslims and Africans while trying to get the white middle class to fund it through schemes like a "global warming" tax on gasoline.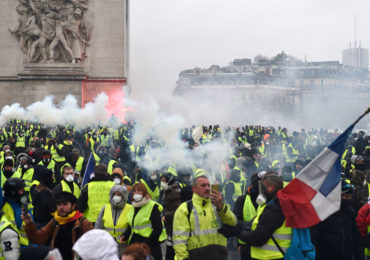 Listen to the show for the full story.
Please share this show widely. And please keep us on the air and on-line. Please visit our contribution page or send your contribution to:
P.O. Box 188, Mandeville, LA 70470
Thank you.
Click here and look for the show dated 12-4-18.
Our show is aired live at 11 am replayed at ET 4pm Eastern
Check out this Duke video on the white genocide in South Africa:
Here is Mark Collett's recent viral video:
Be sure to check out Mark's Twitter feed. And follow him while you're at it.