The Zio Deep State Media Conspiracy to Destroy Donald Trump and Make Him a Hostage President!
Today Dr. Duke and Dr. Slattery talked about the rapidly unraveling Russiagate hoax. A new article from the Federalist called "The Media Stopped Reporting The Russia Collusion Story Because They Helped Create It" names the (((names))) of the overwhelmingly Jewish media contingent that built up this story of Russia hacking the election in collusion with Trump based on incestuous circular anonymous sources.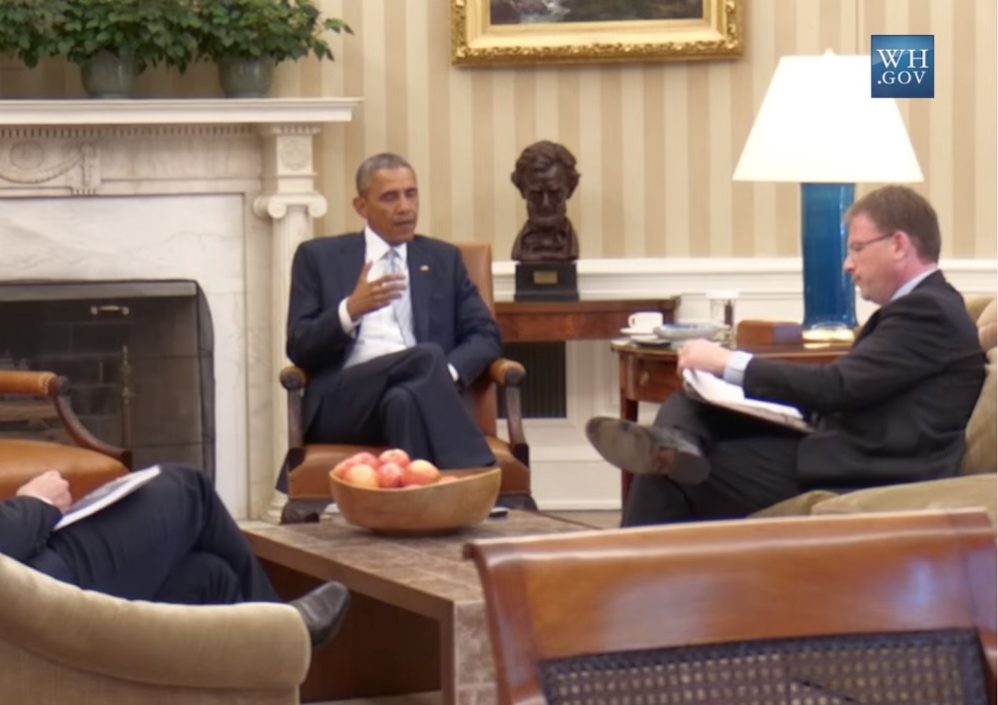 President Obama being (((interviewed))) by Atlantic editor-in-chief and former Israeli military prison guard Jeffrey Goldberg
This corroborates what Dr. Duke and Dr. Slattery have been talking about for over a year. The project of legitimizing the Trump presidency and preventing him from fulfilling his campaign agenda, including improving ties with Russia, has been a Jewish-directed affairs run out of the editorial offices of major news organizations.
This show is a powerful show. Please share it widely. And please keep us on the air and on-line. Please visit our contribution page or send your contribution to:
P.O. Box 188, Mandeville, LA 70470
Thank you.
Click here and look for the show dated 2-20-18.
Our show is aired live at 11 am replayed at ET 4pm Eastern
Take a look at the Carl Bernstein statement on Jewish Neocons causing the Iraq War, as referenced by Dr. Duke:
Here is Mark Collett's latest video :
Be sure to check out Mark's Twitter feed. And follow him while you're at it.
And here is Mark's recent livestream interview of Dr. Duke: