Dr. Patrick Slattery's News Roundup
A service of DavidDuke.com
---
From PressTV
Russia presents evidence of Syria shelling by Turkey
Mon Feb 1, 2016 10:2PM
The Russian Defense Ministry has released video footage which it says is "irrefutable proof" that Turkish troops shell Syria with heavy artillery.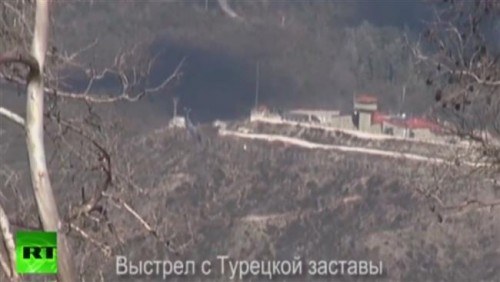 "This is what we call a fact. This is irrefutable proof that Turkish armed forces shell borderline Syrian settlements with large-caliber artillery systems," said Russian Defense Ministry spokesman Major General Igor Konashenkov at a press conference on Monday.
He noted that the footage was obtained by Syria's General Staff and handed over to Russian forces. He added that further video evidence of Turkish shelling has also been provided by Syrian opposition groups.
Konashenkov also called for an "immediate reaction and explanation" by NATO and the Pentagon on the Turkish military shelling.
Earlier, Syrian media claimed that a soldier had been killed and five others injured after Turkish forces stationed along the border shelled a troop gathering in the Jabal Atirah region of the western Syrian province of Latakia.
Click here for the full story
---
---
From PressTV
UN says Turkey should investigate reports of rescuers being shot
Mon Feb 1, 2016 11:32AM
The UN High Commissioner for Human Rights has called on Ankara to investigate reports that a number of unarmed people trying to attend to the injured victims of clashes in Turkey's southeast in late January were themselves shot at.
Ten people were injured when their group, which included two opposition politicians, came under fire while trying to help people injured in earlier clashes in the southeastern town of Cizre in Turkey's mainly Kurdish southeast on January 20.
Zeid Ra'ad Al Hussein described as "extremely shocking" footage filmed of the incident, which purportedly shows what appear to be a man and woman holding white flags and pushing a cart – possibly carrying bodies – across a street before being shot.
"As they reach the other side, they are apparently cut down in a hail of gunfire," Zeid said in a statement.
He also expressed concern that the cameraman, who was injured in the shooting, may face arrest under a "clampdown on media."
Turkey has been engaged in a large-scale campaign against the outlawed Kurdistan Workers' Party in its southern border region in the past few months. The Turkish military has also been conducting offensives against the positions of the group in northern Iraq.
The operations began in the wake of a deadly July bombing in the southern Turkish town of Suruc. More than 30 people died in the attack, which the Turkish government blamed on Daesh Takfiri terrorist group.
After the bombing, the PKK militants, who accused the government in Ankara of supporting Daesh, engaged in a series of supposed reprisal attacks against Turkish police and security forces, in turn prompting the Turkish military operations.
Click here for the full story
---
---
From Russia Today
Turkey manipulating Western media by claiming Russian jet violated NATO airspace – Moscow
Published time: 1 Feb, 2016 19:16
SU-34 attack plane taking off from the Hmeimim aerodrome in Syria © Dmitry Vinogradov / Sputnik
NATO's refusal to provide proof of Russia's alleged violation of Turkish airspace by claiming it is "classified" shows that Turkey and its allies are trying to hide the truth from the media, the Russian Defense Ministry said on Monday.
"It is no coincidence that Turkey, after its loud outbursts towards Russia, is so persistent in involving NATO in this murky story. It's absolutely clear to us that the information has been 'classified' not from us, but from the public and media, particularly those from Western countries and the US, which have been manipulated by their Turkish partners," Russian Defense Ministry spokesman Major General Igor Konashenkov said.
Click here for the full story
---
---
From the Jewish Telegraphic Agency
Facebook's Zuckerberg surpasses Koch brothers, now world's 6th wealthiest person
(JTA) — Facebook founder Mark Zuckerberg, the richest Jewish person in the world, has become the sixth-wealthiest overall.
Zuckerberg, 31, has a net worth of $47.5 billion, according to the Bloomberg Billionaires Index, slightly ahead of the Koch brothers' fortune valued at $45.9 billion, Bloomberg Business reported last week.
He moved past the Kochs when his fortune rose $6 billion in trading Thursday, when Facebook reported record earnings. In October, Zuckerberg was listed No. 8 on the Bloomberg index.
Click here for the full story
---
---
From the Jewish Telegraphic Agency
Israel imposes partial closure on Ramallah
JERUSALEM (JTA) — Israel's military has imposed a partial closure on Ramallah, the West Bank city that is the seat of government for the Palestinian Authority.
The closure, which was imposed late Sunday night, is the first for a Palestinian city since the start of the current wave of Palestinian terror against Jewish-Israelis in October. It came hours after a Palestinian Authority police officer from Ramallah shot and wounded three Israeli soldiers at a security checkpoint near the city.
Under the edict, non-residents are banned from entering the city and residents are restricted from leaving.
The closure also was imposed due to security warnings for the area, Haaretz reported, citing an unnamed Israel Defense Forces official.
---
---
From Russia Today
My child marry a Muslim? Over half of France says no – controversial poll
Published time: 1 Feb, 2016 22:44
Members of the Muslim community pray in a mosque in Marseille during an open day weekend for mosques in France © Jean-Paul Pelissier / Reuters
A survey gauging racist sentiment polled the French on how they would react if their children married Muslims and whether they think that there are too many Jews in France. The results have turned out to be shocking.
The provocative poll published in the French weekly Le Journal Du Dimanche (JDD) was commissioned by the Jewish Foundation of France. It was conducted over the course of 18 months by Ipsos which asked 1,000 random people questions. Furthermore the pollsters sourced additional respondents from the Jewish and Muslim communities to allegedly level the bias. Many regarded the questions to be inflammatory.
One of the questions to respondents was about their likely reaction should their children marry a person from another ethnic group or a person of the same sex. More than half of French respondents said they would not like it if their daughter-in law or son-in-law were Muslim.
The respondents were also asked whether they personally have "had issues" with people from ethnic and religious minorities. Twenty-nine percent said they had been harassed by migrants from the Maghreb countries, a slightly smaller percentage said the same about Roma and Muslims.
Click here for the full story
---
---
From Russia Today
'Wrong' Maidan: Ukraine demands that France's Canal+ TV take hard-hitting documentary off air
Published time: 1 Feb, 2016 08:26
Police officers and opposition supporters are seen on Maidan Nezalezhnosti square in Kiev, where clashes began between protesters and the police, February 19, 2014. © Andrey Stenin / Sputnik Ukraine's authorities have urged a French broadcaster to take a documentary titled "Masks of Revolution" off the air. They claim the movie misrepresents Maidan events, and have a list of their own suggestions for what needs to be shown.
The Ukrainian Foreign Ministry in their facebook statement went as far as to urge Canal+ TV to overhaul their editorial policy.
The film is scheduled to be shown on February 1.
"Paul Moreira strips the masks of modern-day Ukraine and carries out an investigation on the firing line of the new 'Cold War' between the East and the West," the synopsis posted on the Canal+ website reads.
The film is a special investigation carried out by Paul Moreira, which covers the events in Ukraine over 2014: the far-right radical groups allegedly backed by the US, as well as the deadly violence in the southern Ukrainian town of Odessa.
Click here for the full story
---
---
From Ynet News
Iran: $100b. in assets 'fully released' under nuclear deal
Tehran gains accesses to frozen assets that have been piling up in banks in China, India, Japan, South Korea and Turkey since sanctions were tightened in 2012.
TEHRAN – Iran said Monday it now has access to more than $100 billion worth of frozen overseas assets following the implementation of a landmark nuclear deal with world powers.
Government spokesman Mohammad Bagher Nobakht said much of the money had been piling up in banks in China, India, Japan, South Korea and Turkey since international sanctions were tightened in 2012 over Tehran's nuclear program.
Click here for the full story
---
---
From the Jewish Telegraphic Agency
Portuguese mayor with Jewish roots: My election proves there's no anti-Semitism here
PORTO, Portugal (JTA) — Some 300 Jews from eight countries, including the chief rabbi of Turkey, celebrated the introduction of a new Torah scroll into Portugual's Kadoorie Synagogue.
The celebration on Jan. 29 in Porto, Portugal's second largest city, in what is said to be the largest synagogue in the Iberian Peninsula, was the main event of a weekend organized by the local Jewish community, which has approximately 100 members. Many guests were applicants or prospective applicants for Portuguese citizenship under the country's 2015 law of return for the descendants of Sephardic Jews.
"At a time of rising anti-Semitism across Europe, I want you to know that you are always welcome here, a place whose identity your communities have shaped forever," Porto Mayor Rui Moreira said at the Kadoorie Synagogue while wearing a kippah. Moreira, a descendent of Ashkenazi Jews who arrived in Portugal in the 19th century, also said: "There is no anti-Semitism in Porto, and I know this because I was elected mayor."
He said the citizenship was a "necessary act of atonement" by Portugal for its part in the expulsion of hundreds of thousands of Jews in the 16th century as part of the Portuguese Inquisition, which began shortly after the inquisition in Spain. Spain has a similar but stricter law of return for Sephardic Jews. The first recipients of Spanish nationality under that law received it last week.
Click here for the full story
---
---
From the Jewish Telegraphic Agency
Israel's tourism minister: Chelsea Clinton's wedding testament to Reform assimilation
JERUSALEM (
JTA
) — Israel's tourism minister said Chelsea Clinton's wedding to a Jewish man, in which a rabbi officiated with a priest, shows how assimilated Reform Jews are in the United States.
Yariv Levin of the Likud party made the comment Sunday during a discussion of the agreement approved by the Cabinet creating a dedicated space for egalitarian prayer at the Western Wall.
"Reform Jews in the United States are a dying world," said Levin, who is a secular Jew. "Assimilation is taking place on a vast scale. They are not even tracking this properly in their communities. It is evidenced by the fact that a man who calls himself a Reform rabbi stands there with a priest and officiates at the wedding of the daughter of Hillary Clinton and no one condemns it, thereby legitimizing it."
Click here for the full story
---
---
From the Jewish Telegraphic Agency
Jennifer Lopez to make debut performance in Israel
JERUSALEM (JTA) — American singer and actress Jennifer Lopez reportedly will perform in Israel for the first time.
Lopez agreed to hold a concert this summer in Hayarkon Park in Tel Aviv, the Ynet news website reported Monday.
She is among several high-profile artists and bands who are scheduled to perform in Israel this summer. They include Elton John, Deep Purple, Megadeath and Julio Iglesias.
Click here for the full story
---
---
From the Jewish Telegraphic Agency
Bernie Sanders or Hillary Clinton? How the Jewish celebrity vote breaks down
Chalk it up to "Hollywood values."
The entertainment industry famously, or infamously, depending on your perspective, leans Democratic. And Jewish celebrities are no exception.
With the 2016 Iowa caucuses kicking off the presidential primary season on Monday, pollsters have Democratic candidates Hillary Rodham Clinton and Sen. Bernie Sanders, I-Vt., neck and neck in the state.
The all-important race for Jewish celebrity endorsements is close too. Here's a breakdown of where things stand.
Click here for the full story
---
---
From the Jewish Telegraphic Agency
Who are the Jews of New Hampshire?
MANCHESTER, N.H. (JTA) – Though home to just one-third of 1 percent of all Americans, New Hampshire long has played an outsized role in the U.S. presidential nominating process.
Just who are the Jews of the Granite State? Here a few highlights.
About 10,000 Jews live among white, mostly old New Hampshirites.
A few characteristics distinguish the 1.3 million residents of New Hampshire. They're old, with a median age of 41.9 (third-oldest in the country), and  94 percent white (fourth-whitest state in America). Fewer than 20,000 of the state's residents are black.
Click here for the full story
Related