Dr. Patrick Slattery's News Roundup
A service of DavidDuke.com
---
From PressTV
Russia detects 12,000 Daesh oil tankers near Turkey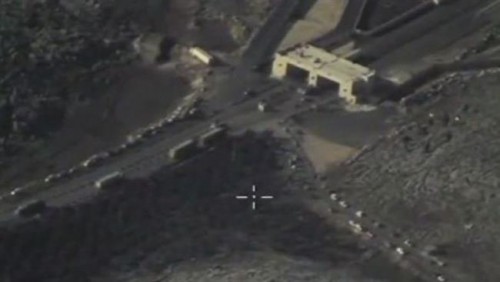 Russia says it has spotted some 12,000 tankers and trucks that are smuggling oil from territories held by Daesh terrorists in Syria and Iraq to Turkey.
"The [aerial] imagery was made in the vicinity of Zakho (a city in Iraq's Kurdistan region). There were 11,775 tankers and trucks on both sides of the Turkish-Iraqi border," Chief of the Russian General Staff's Main Operations Department Lieutenant General Sergey Rudskoy told journalists on Friday.
"It must be noted that oil from both Iraq and Syria come through this [Zakho] checkpoint," Rudskoy added.
According to the official, the terrorists are changing oil trafficking routes to avoid Russian air raids in Syria, but Turkey remains their final destination.
"They are changing logistics and laying new routes for crude oil smuggling to avoid Russian airstrikes," Rudskoy said, stressing, "However, despite a considerable diversion, the finishing point of the trafficking route remains Turkey."
He further noted that some 2,000 oil tank trucks belonging to Daesh have been destroyed since the start of Russia's anti-terror operations in Syria in late September.
Click here for the full story
---
---
From PressTV
New heights liberated in northwestern Syria
Fri Dec 25, 2015 3:37PM
Syrian forces have seized control of major hilltops held by terrorists in the northwestern province of Latakia.
Syria's official news agency SANA said on Friday that the army and volunteer fighters liberated the Jabal al-Naom heights in the northern countryside of the province.
The liberation operation lasted only 12 hours, SANA said, adding that several major militant hideouts were also destroyed. Many terrorists were forced to flee to the nearby towns of Salmi and Rabi'a.
With the control over the hilltops, the Syrian forces now have better access to the positions of militants in the village of Salmi.
Syrian forces also carried out other successful operations south of the capital, Damascus, with reports saying that they managed to destroy a series of tortuous tunnels leading to the town of Darayya.
Click here for the full story
---
---
From PressTV
Op to liberate Mosul to follows Ramadi liberation: Iraq PM
Fri Dec 25, 2015 11:32AM
Prime Minister Haider al-Abadi says Iraqi forces will move to free the strategic northern city of Mosul once they have liberated Anbar's provincial capital city of Ramadi from Daesh terrorists.
"The liberation of dear Mosul will be achieved with the cooperation and unity of all Iraqis after the victory in Ramadi," Abadi said in a statement on Friday.
The comments came on the same day as volunteer fighters purged areas in al-Karmah some 48 km (30 miles) west of Baghdad, and adjacent areas of Daesh militants following intense clashes.
On Thursday evening, Iraqi intelligence forces and army troops launched an operation in Ramadi, about 110 km (68 miles) west of Baghdad, and captured a high-ranking Daesh militant commander identified by the nom de guerre Abu Bakr.
They also secured a road in the town of Albu Faraj, located more than 120 kilometers (74 miles) west of the capital, clearing booby-trapped houses and defusing several improvised explosive devices.
Iraqi volunteer troopers also destroyed several explosives-laden vehicles in the al-Sabihat region of Karmah as Daesh militants sought to ram the cars into the positions of the Popular Mobilization units.
Additionally, Iraqi security forces repelled a Daesh offensive against the Sab'in district in the troubled western province of Anbar on Thursday, killing seven terrorists in the process. The rest of Daesh members reportedly fled the scene after the unsuccessful bid.
The northern and western parts of Iraq have been plagued by violence ever since Daesh began an offensive through Iraqi territory in June 2014. Army soldiers and Popular Mobilization units have joined forces and are seeking to take back militant-held regions in joint operations.
---
---
From Russia Today
Pentagon refuses to share intel on ISIS until Moscow's stance on Assad changes
Published time: 26 Dec, 2015 01:30
A Su-34 multifunctional strike bomber of the Russian Aerospace Force takes off from the Hemeimeem Air Base in the Syrian province of Latakia. © Dmitriy Vinogradov / Reuters
Washington will not share intelligence data on Islamic State positions in Syria and will not accept Moscow's offer to cooperate on rooting out terrorism until Moscow changes its position on Syrian President Bashar Assad's future, the Pentagon said.
Ever since the start of the Russian campaign in Syria in late September, Moscow has been offering to share information with the US-led coalition against Islamic State (IS, formerly ISIS/ISIL), urging Washington to reciprocate. After months of extensive diplomatic efforts by the Russian Ministry of Foreign Affairs, Ministry of Defense, and the Kremlin, the Pentagon is still refusing to enter the proposed cooperation.
"We are not going to cooperate with Russia on Syria until they change their strategy of supporting Assad and instead focus on ISIL," US Defense Department Spokesperson Lt. Col. Michelle Baldanza told Sputnik on Friday.
Moscow has persistently insisted throughout the course of the Syrian conflict that it is only up to the Syrian people to decide who governs them. Russia has repeatedly spoken out against foreign intervention in the domestic affairs of any country, including Syria.The Kremlin has also made it clear that the government forces of Bashar Assad are the main fighting force against IS on the ground. Since September 30, Russian forces have been helping the Syrian army recapture the territories controlled by IS and other terrorist and jihadi groups.
Click here for the full story
---
---
From Russia Today
Radical Orthodox Jews stab photo of murdered Arab baby at wedding ceremony (VIDEO)
Published time: 24 Dec, 2015 11:01
A relative of 18-month-old Palestinian baby Ali Dawabsheh, who was killed after his family's house was set to fire in a suspected attack by Jewish extremists, shows his picture at the burnt house in Duma village near the West Bank city of Nablus July 31, 2015 © Abed Omar Qusini / Reuters
Israeli police are investigating a wedding video in which ultra-Orthodox Jews can be seen brandishing weapons and stabbing a portrait of an 18-month-old baby who was brutally burnt to death in the summer.
The footage, which was taken at an Orthodox wedding at the start of December, was also condemned by Prime Minister Benjamin Netanyahu, who said he was disgusted by the "shocking images."
"The shocking pictures that were broadcast this evening show the true face of a group that constitutes a danger to Israeli society and to the security of Israel. We are not prepared to accept people who deny the laws of the state and do not view themselves as subject to them. The pictures underscore how important a strong ISA (Shin Bet) is to the security of us all," he wrote on Facebook, as cited by the Jerusalem Post.
The video showed a number of youths with ear locks and wearing skull caps dancing. One person could be seen with a Molotov cocktail, while others were brandishing knives and guns. However, most shockingly, a person is seen stabbing a portrait of Ali Dawabsheh, the toddler who was killed as he slept earlier this year in the town of Duma.
The attack, early on the morning of July 31, saw unidentified Israeli assailants hurl a Molotov cocktail through a window of the Dawabsheh's home. Saad Dawabsheh's 18-month-old son, Ali, was killed in the blaze, while his other son, 4, and his wife were seriously injured.  Saad later died of injuries he sustained in the attack.
The arsonists left inscriptions on the wall of the house, saying: "Long live the Messiah" and "Revenge."
Click here for the full story
---
---
From the Jewish Telegraphic Agency
Knesset passes law opponents say will benefit illegal West Bank outposts
(JTA)— Israel's Knesset passed a controversial law that requires greater transparency from the World Zionist Organization's Settlement Division, but which opponents claim will funnel money to illegal settlements in the West Bank.
The bill, sponsored by Jewish Home member Bezalel Smotrich, was approved by a vote of 53-48 and signed into law Thursday, the Times of Israel reported
The law recognizes the World Zionist Organization's Settlement Division as a government arm and authorizes it to fund and assist rural Jewish communities in both Israel proper and the West Bank.
"Today, it was clarified that despite perceptions among Israel's left, which rejects outright the idea of settlements, Zionism has won," Smotrich said, according to the Times of Israel "During the struggle of the last few months, the forces in the Knesset that have tired of Zionism came together to bring down this law. Today, despite that, Zionism has won."
Click here for the full story
---
---
From the Jewish Telegraphic Agency
Yesh Atid leader: Right-wing Jewish extremists have 'wider circles of support'
(JTA) — Knesset member Yair Lapid urged the Shin Bet security service to take stronger action to counter Jewish terrorism.
In a letter to the head of the Shin Bet security service and Israel's police chief, Lapid, who leads the Yesh Atid party, wrote "the circles of violence and incitement of Jewish terror can no longer be attributed to just a few dozen 'isolated' youths living in specific settlement places," the Times of Israel reported, citing coverage on the Hebrew-language Ynet news site Thursday.
"Surrounding these young people are wider circles of support — ideological, political, and likely also operational," Lapid's letter continued, adding that "it is impossible to deal with Jewish terror without broader police and Shin Bet treatment of the incitement that leads to it."
Lapid described right-wing Jewish extremists as "a direct threat to Israeli sovereignty."
Click here for the full story
---
---
From PressTV
Iran urges lasting ceasefire, end of blockade in Yemen
Fri Dec 25, 2015 6:39PM
A senior Iranian official has called for a lasting ceasefire and an immediate end to human blockade in war-hit Yemen.
"The establishment of a sustainable and lasting ceasefire and removal of human blockade will be key factors to the conclusion of a comprehensive and complete agreement among Yemeni groups," Iran's Deputy Foreign Minister for Arab and African Affairs Hossein Amir-Abdollahian said in a telephone conversation with the UN special envoy to Yemen, Ismail Ould Cheikh Ahmed, on Friday.
He added that Saudi Arabia's military attack on Yemen has escalated insecurity in the Middle East and noted that "complex and dangerous" terrorist movements are currently boosting their forces in southern Yemen.
The Iranian diplomat hailed efforts by the UN envoy to mediate talks in Switzerland among warring sides in the ongoing conflict in Yemen.
Members of Yemen's Houthi Ansarullah movement and representatives loyal to fugitive former President Abd Rabbuh Mansur Hadi, reached an agreement in Magglingen, northern Switzerland, on December 17 during UN-mediated talks on a full and immediate resumption of humanitarian assistance to conflict-stricken areas in the south of the impoverished country.
The deal will facilitate the delivery of a large UN convoy carrying essential humanitarian supply and destined for the most affected districts of Ta'izz.
Amir-Abdollahian once again reiterated Tehran's stance on the importance of settling the crisis through political approaches and said Iran believes that the security of Yemen, Saudi Arabia and all countries in the region will be guaranteed provided that there is a genuine campaign against terrorism, the recent Yemeni-Yemeni agreement is implemented and the blockade on Yemen is removed.
Click here for the full story
---
---
From PressTV
Israeli forces kill two Palestinians
Fri Dec 25, 2015 5:55PM
Israeli forces have killed two Palestinians and injured over two dozen others in the occupied West Bank and the besieged Gaza Strip.
The Tel Aviv regime forces shot and killed a Palestinian woman in the town of Silwad, northeast of Ramallah, the West Bank, on Friday.
The forces claimed that Mahdiyeh Mohamed Hamaad, aged 40 and mother of four, had attempted to run over Israeli soldiers.
In a separate incident, a second Palestinian died after he succumbed to wounds he had sustained when he was shot by Israeli forces during clashes east of Gaza City.
Hani Whadab, 22, was killed by Israeli forces in clashes near the Nahal Oz crossing between the occupied territories and the Gaza Strip. Israeli forces also fired tear gas at Palestinian protesters in the clashes.
In Khan Yunis, southern Gaza, seven Palestinians were injured in similar clashes.
Click here for the full story
---
---
From the Jewish Telegraphic Agency
Editor of Las Vegas newspaper purchased by Adelson resigns
(JTA) — The editor of Nevada's largest daily newspaper, the Las Vegas Review Journal announced his resignation, days after the new owner was revealed to be billionaire casino mogul Sheldon Adelson.
Mike Hengel announced Tuesday that he had taken a voluntary buyout, the Associated Press reported, which was confirmed Wednesday in a "message from the new owners about the future of the Las Vegas Review-Journal," published on the front page of the newspaper.
"I think my resignation probably comes as a relief to the new owners," Hengel said in announcing his departure, according to an audio recording obtained by The Associated Press.
A major donor to Republican presidential candidates, Adelson spent at least $100 million in the 2012 contest. Nevada is considered a swing state in the 2016 election.
Click here for the full story
---
---
From the Jewish Telegraphic Agency
Jewish leaders join letter condemning candidates' proposals on Muslims
WASHINGTON (JTA) — A number of leaders of Jewish groups signed a public letter condemning "highly offensive" remarks targeting Muslims by two Republican presidential candidates.
The letter, published Dec. 21 in the Washington Post and posted on social media, cites George Washington's 1790 letter to the Touro Synagogue in Newport, R.I., which said that the U.S. Constitution "gives to bigotry no sanction, to persecution no assistance."
"Suggestions that a Muslim cannot serve as president, or that Muslims should be registered and their mosques closed, are un-American and un-Constitutional," said the letter.
It referred broadly to "politicians, candidates and commentators" as making the suggestions, but those specific proposals were made by GOP candidates. Ben Carson, a former neurosurgeon, said he did not believe a Muslim could serve as president, and Donald Trump, the real estate billionaire and frontrunner in Republican polls, has said he would consider registering Muslims and shutting down mosques.
Click here for the full story
Related