Dr. Patrick Slattery's News Roundup
A service of DavidDuke.com
---
From The Daily Mail
One in six BBC stars 'must be gay or lesbian or disabled' by 2020 says new staff-hiring guidelines at the corporation
LGBT and disabled people must each constitute eight per cent of roles
Half of all corporation's on-screen and broadcasting roles will go to women
Representation of ethnic minorities remains at target of 15 per cent 
Part of new diversity pledges unveiled by broadcaster following criticism
Published: 04:41 EST, 23 April 2016
One in six of all on-screen BBC roles must go to lesbian, gay, bisexual and transgender or disabled people by 2020, the corporation's new diversity targets state.
In a bid to deter criticism that it has been failing to reflect its audience, the BBC has pledged that LGBT and disabled people will each make up eight per cent of all on-air and on-screen roles.
The new targets follow a heated debate in the House of Commons led by David Lammy MP on the issue of the broadcaster's diversity.
---
---
From the Jewish Telegraphic Agency
Jewish group aims to prevent anti-Semitic comedian from entering Montreal
MONTREAL (JTA)—B'nai Brith in Montreal is trying to block the entry into Canada of French comedian Dieudonne, who has multiple convictions and fines for making anti-Semitic statements against Jews in France and Belgium.
Dieudonne, whose full name is Dieudonne M'bala M'bala, is slated to appear May 11-16 at ten sold-out shows in a 200-seat art gallery theater in Montreal's east end.
B'nai Brith Canada is filing a complaint with the Canada Border Services Agency, "like any other citizen of Canada has the right to [do]…" organization lawyer Steven Slimovitch told the Canadian Broadcasting Corporation.
Click here for the full story
---
---
From Russia Today
President Obama to send another 250 troops to Syria
Published time: 25 Apr, 2016 05:40
© Romeo Ranoco / Reuters
US President Barack Obama will announce plans to dramatically increase American troop presence in Syria by deploying additional 250 personnel, bringing the total to 300 people, media reports quoted US officials as saying.
The move, which is said to be announced Monday, will once again contradict Obama's 2013 promise of not putting any "American boots on the ground in Syria."
"[Obama] intends to put in more … forces to the tune of 250 in Syria," a US official told Reuters on condition of anonymity.
It is not yet clear how many of those troops will be added to special operations, medical or intelligence support. The troops will work with Syrian opposition forces to fight Islamic State (IS, previously ISIS/ISIL).
Click here for the full story
---
---
From Russia Today
Austrian far-right candidate well ahead in 1st round of presidential vote
Published time: 25 Apr, 2016 02:11
A man casts his vote at a polling station in Vienna, Austria, April 24, 2016. © Leonhard Foeger / Reuters
The anti-immigration Freedom Party (FPO) made huge gains in the first round of the Austria's presidential vote, leaving the traditionally powerful centrist coalition parties in the dust and out of the race.
Norbert Hofer of the far-right FPO won around 36 percent of the vote, followed by the Green Party's Alexander Van der Bellen with some 20 percent, and independent candidate Irmgard Griss with just over 18 percent, local media reported on Sunday.
Rudolf Hundstorfer from the Social Democrats (SPO) and Andreas Khol from the People's Party (OVP) came in fourth and fifth, respectively, each garnering around 10 percent of the vote.
---
---
From PressTV
Turks criticize government inaction over Daesh rocket attacks
Angry residents in a Turkish town near the Syrian border have rallied to condemn government policies after coming under a fresh rocket attack by Daesh terrorists. 
The protesters marched on the streets of of Kilis, which is located approximately 10 kilometers (6.2 miles) north of the border with Syria.
The protest rally came after two rockets slammed into a poor neighborhood of the town earlier on Sunday, killing one person and injuring 26 others.
The demonstrators converged in front of the governor's office, where Deputy Prime Minister Yalcin Akdogan was holding talks with local authorities at the time.
Scuffles broke out when riot police intervened, spraying the protesters with water cannon and firing tear gas canisters to disperse them as they hurled stones in response.
The protest came only a day after Prime Minister Ahmet Davutoglu pledged to protect residents of Kilis against repeated rocket attacks by Daesh militants.
Click here for the full story
---
---
From Russia Today
'Time for US-German leadership'? Obama, Merkel pushing EU into unpopular TTIP free trade deal
Published time: 25 Apr, 2016 03:30
U.S. President Barack Obama and German Chancellor Angela Merkel attend the opening ceremony of the Hannover Messe in Hanover, Germany April 24, 2016. © Nigel Treblin / Reuters
US President Barack Obama wants to complete talks on a US-EU free trade deal before his term ends in January. However, while he enjoyed the warm support of German Chancellor Merkel in Hannover, public support for the highly secretive deal is waning.
"I don't anticipate that we will be able to complete ratification of a deal by the end of this year, but I do anticipate that we will have completed the agreement," Obama said at the industrial trade fair in Hannover during a Sunday briefing with Angela Merkel.
The US president warned that time was ticking, claiming that things would become unpredictable once he is out of office.
Click here for the full story
---
---
From Russia Today
PEGIDA protesters clash with police during rally in northern Belgium (VIDEO)
Published time: 24 Apr, 2016 10:25
Protestors hold a banner during a march organized by Belgian branch of the German xenophobic and anti-Islamic 'Pegida' movement on April 23, 2016, in Antwerp © Luc Claessen / AFP
Activists from the anti-Islamic PEGIDA movement in Belgium's northern city of Antwerp have clashed with police, local media reported, adding that at least one protester was arrested for performing a Nazi salute.
At least 400 of the PEGIDA supporters staged a demonstration against opening borders for asylum seekers in Hendrik Conscience Square in the city center on Saturday evening, Flemish media reported.
"With this march we want …to close borders [for refugees] and we demand to stop Islam," one of the protesters told Nieuwsblad newspaper. "It is clear what Islam is capable of…. Our lives are in danger."
Click here for the full story
---
---
From Ynet News
Did the Exodus really happen?
Archeological researchers find no evidence that the biblical Exodus as recounted in the Passover story happened, but rather the Egyptians ruled Israel during that period and that it was they who eventually left, though gradually.
Contrary to the biblical story that recounts the tale of the people of Israel leaving Egypt, the common view among mainstream archaeologists is precisely the opposite: the ancient Egyptians were the ones who ruled the land of Canaan, and they are the ones who left the Land of Israel to return to Egypt.
Prof. Israel Finkelstein of Tel Aviv University, an internationally renowned expert in biblical archaeology, explained the historical
background of the biblical Exodus story as revealed from archaeological excavations: "In the Late Bronze Age, from the 15th century to the 12th century BCE, Egypt dominated the Land of Israel. Of course, after 350 or 400 years of Egyptian rule in Israel, influences of Egyptian culture entered the Land of Israel in various areas of everyday life. Then two things happened that are related to that same issue: there was a complete collapse of urban centers and of kingdoms and empires in the ancient Middle East, and Egypt withdrew from Israel!"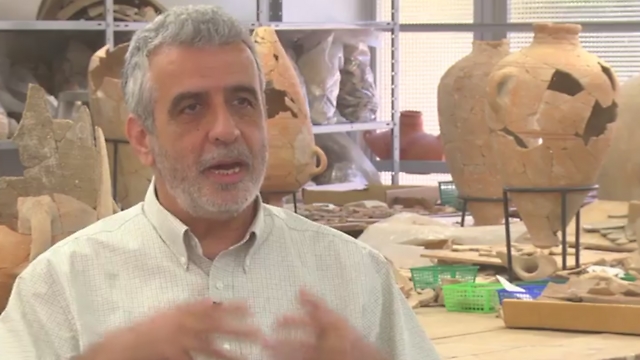 Prof. Israel Finkelstein, Tel Aviv University (Photo: Uri Davidovich and Yogev Atias)
Based on the archaeological finds, the biblical Exodus story's the time period, it was actually the Egyptians who ruled the Land of Israel. There is much material evidence scattered across the country. A prominent example of the Egyptian regime in Israel is the large Ramses fortress, the remains of which are hidden beneath the hilltop of Old Jaffa.
Click here for the full story
---
---
From the Jewish Telegraphic Agency
Sanders compares poverty in Baltimore to 'Palestine'
(JTA) — Democratic presidential candidate Bernie Sanders at a campaign stop in Baltimore compared poverty in areas of the city to conditions "in the West Bank in Palestine."
"Poverty in Baltimore, and around this country, is a death sentence," Sanders, the Independent governor of Vermont, said Saturday. RealClearPolitics published a video of the speech on its website.
"Fifteen neighborhoods in Baltimore have lower life expectancies than North Korea. Two have a higher infant mortality rate than the West Bank in Palestine… Baltimore teenagers between the ages of fifteen and nineteen face poorer health conditions and a worse economic outlook than those in distressed cities in Nigeria, India, China and South Africa," Sanders said.
Maryland is one of five states holding primary elections on Tuesday. In addition to Maryland, voters will go to the polls in Connecticut, Delaware, Pennsylvania and Rhode Island.
---
---
From the Jewish Telegraphic Agency
NYU graduate student union approves BSD resolution
(JTA) — The graduate student union at New York University voted to approve a motion o support a Boycott, Divestment and Sanctions resolution against Israel.
The resolution was approved by two-thirds of the 600 union members who voted on Friday, according to reports citing the Graduate Student Organizing Committee. The committee represents more than 2,000 graduate teaching and research assistants at the university.
The resolution called on the union and its parent union, the United Auto Workers, to divest from Israeli companies. It also calls on NYU to close its program at Tel Aviv University, which it alleges violates the NYU non-discrimination policy. Fifty-seven percent of the voting union members also took a personal pledge to boycott Israeli government and academic institutions.
The resolution calls for the boycott to remain in place "until Israel complies with international law and ends the military occupation, dismantles the wall, recognizes the rights of Palestinian citizens to full equality, and respects the right of return of Palestinian refugees and exiles."
Click here for the full story
---
---
From PressTV
Israel's youngest prisoner reunited with her family: Pictures
See pictures of Israel's youngest prisoner reunited with her family after being freed from jail. The 12-year-old Palestinian girl, named Dima al-Wawi, had been imprisoned over an alleged stabbing attack.    
Click here for the full story

---
---
From PressTV
Israelis can't wait for Obama to be out of office: Poll
Israelis want US President Barack Obama out of the White House as soon as possible, a new poll suggests.
Fifty-one percent of Israelis think that any of the US presidential candidates will be better for Israel than Obama, who is set to leave office on January 20, 2017, according to the poll conducted by Israel's Channel 1.
Twenty-six percent said a different president would not make a difference, while 15 percent were not sure if the elections would affect Israel.
A mere eight percent thought that the upcoming president would have an adverse impact on Israel.
Israeli support for Obama has been generally low throughout his presidential terms, according to the regime's media. A Jerusalem Post poll conducted in August 2009 showed that only four percent of Israelis thought his government was more pro-Israeli than pro-Palestinian.
Based on the new poll, whose results were published by the Israeli broadsheet newspaper Sunday, Democratic front-runner Hillary Clinton is viewed by 68 percent of Israelis as a favorable candidate, while 14 percent viewed her as unfavorable.
Forty-three percent deemed billionaire Republican Donald Trump as a suitable president, as 37 percent sported a negative view against him.
Click here for the full story
---
---
From PressTV
Turkey president needs thicker skin against criticism: EU official
A senior EU official suggests Turkey's President Recep Tayyip Erdogan needs to develop a "thick skin" against criticisms amid growing crackdown on critical media by Ankara.  
Donald Tusk, the European Council president, made the remarks during a recent visit along with German Chancellor Angela Merkel to a refugee camp at Gaziantep near the Turkish-Syrian border .
Click here for the full story