Dr. Patrick Slattery's News Roundup
A service of DavidDuke.com
---
From the Jewish Telegraphic Agency
Obama: Israel only country outwardly opposed to Iran deal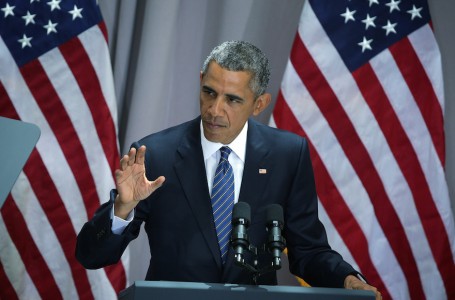 WASHINGTON (JTA) — President Barack Obama said Israel's government was the only one openly against the Iran deal, but added that he understood its concerns.
"This is the strongest nonproliferation agreement ever negotiated, and because this is such a strong deal, every nation in the world that has commented publicly, with the exception of the Israeli government, has expressed support," he said Wednesday in a major policy speech at American University in Washington, D.C., on the deal reached July 14 between Iran and six major powers.
While Obama suggested throughout the speech that opponents understood that the only alternative to the deal was war, he said toward the end that he understood that Israeli Prime Minister Benjamin Netanyahu and Israel supporters had valid reasons to oppose the agreement, which trades sanctions relief for nuclear restrictions.
Click here for the full story
---
---
From the Jewish Telegraphic Agency
Full text: Obama gives speech on Iran deal
President Barack Obama is continuing to advocate for the nuclear deal between world powers and Iran. Here is a full transcript of his remarks on Wednesday at American University in Washington, D.C.
OBAMA: Thank you.
(APPLAUSE)
Thank you so much. Thank you. Everybody, please have a seat. Thank you very much.
Click here for the full story
---
---
From PressTV
Bibi held secret meetings with top Hollywood producer: Report
Israeli Prime Minister Benjamin Netanyahu has secretly paid multiple visits to the home of an American-Israeli Hollywood producer, one in the presence of former British Prime Minister Tony Blair.
According to a Wednesday report by the English website of Israeli daily Haaretz, Netanyahu met with Arnon Milchan several times over the past two months.
Milchan has a history of cooperation with Israeli intelligence agency Lekem (ha-Lishka le-Kishrei Mada), which is behind obtaining technology and material for Israel's nuclear program.
The meetings were held in Milchan's residence in the Israeli city of Herzliya on June 10, July 9, and July 28.
On Sunday, the Israeli premier was seen at Milchan's home along with Blair and opposition leader Isaac Herzog.
The offices of the two officials said they were there to attend a "private farewell event" for Blair, organized by Milchan, stressing that other guests had been present.
Security footage form Milchan's home, however, does not appear to show additional guests entering.
Click here for the full story
---
---
From The Times of Israel
Israeli group sues to block release of Iran assets worth billions
Shurat HaDin Law Center files injunction on behalf of American victims of terror attacks between 1995-2006
August 5, 2015, 10:06 pm
An Israel-based rights group is legally seeking to block the release of $100 billion in frozen Iranian assets in the United States following the US-led nuclear deal with Tehran.
The Shurat HaDin Law Center says it's acting on behalf of two dozen US citizens who won more than one billion dollars in judgments against Iran in American courts but who were never paid.
The center says it filed the injunction Wednesday at a New York district court.
The Americans were victims of attacks perpetrated from 1995 to 2006 by Iran-backed militant groups like Hezbollah in Lebanon and the Palestinian groups Hamas and Palestinian Islamic Jihad.
The center says releasing frozen Iranian funds under the nuclear deal would deprive the Americans of the only leverage they have to make Iran pay.
Click here for the full story
---
---
From The Times of Israel
3 top Jewish House Dems come out against Iran deal
NY's Nita Lowey says accord 'will leave the international community with limited options'; Congress has until late September to vote
August 5, 2015, 1:02 am
WASHINGTON (JTA) — Three top Jewish Democrats in the US House of representatives came out in opposition to the Iran nuclear deal.
Rep. Nita Lowey, the senior Democrat on the US House of Representatives Appropriations Committee, Rep. Ted Deutch, D-Fla., the top Democrat on the House Middle East subcommittee, and Rep. Steve Israel, D-N.Y., who until last year led the House Democratic reelection effort, announced their opposition Tuesday afternoon.
They become the first leading Democrats to oppose the deal as well as the first Jews in their party to oppose the deal.
Until now, the deal had garnered opposition only from four Democrats, none in the leadership.
---
---
From The Times of Israel
US senator: A military strike could send Iran 'back to day zero'
Republican Tom Cotton, a prominent opponent of the nuclear deal, tells Israeli reporters US must maintain 'credible threat of force'
August 5, 2015, 12:40 am
WASHINGTON — It's important to maintain the threat of a military strike against Iran's nuclear facilities, a US Senator told Israeli reporters Tuesday, arguing that it is indeed possible to set back Tehran's nuclear program.
"We can set them back to day zero. There is no doubt that the United States has the capability to do that," said Senator Tom Cotton (R-AR), a prominent opponent of the nuclear deal the US and five world powers signed with Iran last month.
Opponents of a military strike against Iran often argue that air strikes would only be able to set back the country's military nuclear program for two to three years.
Speaking to the Israel Diplomatic Correspondents Association, Cotton — who retired from the US Army with the rank of captain — called for the US to make plain to the Iranians that it wouldn't hesitate to use force if it felt the need to do so.
"It is critical that the credible threat of force back up our policy. Right now, I don't think the Iranian leadership believes that the United States is willing to use force to protect our national security objectives," he said, speaking in his Senate office.
Click here for the full story
---
---
From the Jewish Telegraphic Agency
Final Madoff defendant sentenced to 6 months in prison
NEW YORK (JTA) — The last defendant charged in the Bernard Madoff Ponzi scheme was sentenced to six months in prison.
Irwin Lipkin, who pleaded guilty to faking records while comptroller for Madoff's firm, was sentenced Wednesday in federal court in Manhattan, The Associated Press reported.
Lipkin, 77, cited health problems in pleading to be spared jail time, according to Bloomberg. He began working for Madoff in 1964 and was the first non-family member to be hired there.
He is one of 15 defendants to either plead guilty or be convicted at trial for participating in the multibillion-dollar scheme, whose victims included major Jewish institutions such as Yeshiva University and the Gift of Life Foundation.
Click here for the full story
---
---
From the Jewish Telegraphic Agency
American Jewish Committee 'overwhelmingly' opposes Iran nuclear deal
Among mainstream national organizations, AJC joins the American Israel Public Affairs Committee and the Orthodox Union in opposing the deal. A broad range of mainstream groups, including the Anti-Defamation League and the Conference of Presidents of Major American Jewish Organizations, have yet to offer a final determination, although some like the ADL have identified flaws in the deal and have asked lawmakers to carefully review it.
AJC's statement comes after President Barack Obama met with 22 Jewish groups at the White House to discuss the deal. The statement said the organization had carefully considered both sides before coming to its decision.
"In the end, AJC's leadership concluded overwhelmingly that we must oppose this deal," the statement said.
Click here for the full story
---
---
From Russia Today
US launches first anti-ISIS drone strikes from Turkey
The US has launched its first drone strikes at northern Syria from a Turkish airbase, the Pentagon has reported. This comes as Washington struck a deal to use the base in its fight against Islamic State.
A spokesman for Pentagon said on Wednesday that an unmanned drone was launched on Monday from Incirlik Air Base and that preparations were underway for strikes inside Syria by manned US warplanes, Reuters reported.
The American armed drone hit a number of targets near Raqqa, Islamic State's stronghold in Syria, the Hurriyet Daily Times reported. Washington had previously only used the Incirlik airbase, which is near the southern city of Adana for reconnaissance missions using drones.
"As part of our agreement with the US, we have made progress regarding the opening up of our bases, particularly Incirlik," Foreign Minister Mevlut Cavusoglu earlier told state broadcaster TRT, as cited by Reuters.
"We're seeing that manned and unmanned American planes are arriving and soon we will launch a comprehensive battle against Islamic State all together," he said during a trip to Malaysia.
Click here for the full story
---
---
From Russia Today
ISIS threatens revenge on Merkel in German-language video
In what is thought to to be Islamic State's first ever German-language video, militants have sworn to carry out terrorist attacks in Germany and Austria and to seek revenge against Angela Merkel personally for 'the blood of Muslims spilled in Afghanistan'.
In the newly released five-minute video, two German-speaking Islamic State (IS formerly ISIS/ISIL) extremists call on the European Muslims to join the Islamic State in Syria and Iraq, "to wage Jihad" in Germany and Austria, and "to slaughter each infidel" in their own houses and "everywhere," Germany's Die Welt reports.
One of the IS militants also personally addressed the German Chancellor, Angela Merkel, and threatened to wreak revenge upon her.
The jihadists say the revenge will be for "the blood of Muslims…spilled in Afghanistan," for Germany's participation in anti-terrorist operations there, and also for the arms shipments to those fighting the Islamic State.
Having voiced their threats against Merkel, jihadists in the video executed two hostages, who were reportedly the Syrian government soldiers. They shot the kneeled men up.
Click here for the full story
---
---
From Ynet News
Haredi men order woman to move to back of bus
Jerusalem resident in her 50s forced to get off bus after being harassed for sitting in the front part; driver fails to intervene.
Itzchak Tessler
08.05.15, 22:31
A Foreign Ministry worker in her 50s was forced to get off a bus in Jerusalem on Sunday after ultra-Orthodox men demanded that she move to the back side of the vehicle.
Anna Schulkin, a resident of the Gilo neighborhood, got on Egged bus No. 36 in Jerusalem's Ramot neighborhood on Sunday afternoon. As there were no other vacant seats, she sat in the front part of the bus opposite a teenage haredi boy.
"To my surprise, the boy got up, turned his back on me, tapped his fingers as if he were addressing a dog and said to me: 'Go backwards, that's where you belong,'" she later told Ynet.
According to Schulkin, none of the men surrounding her told the boy off for his behavior.
She tried to explain to the boy that there was no law banning her from sitting there. "There were no other vacant seats," she says. "It was incredibly hot, and because of the principle I decided not to give up. After I refused to move, the boy got up and started inciting all the other men, who backed everything he said."
'Our home is on fire'
Schulkin says she approached the bus driver, who clarified that she was legally right and could sit wherever she wanted. She started documenting the incident with her camera, but the passengers continued to harass her.
One of the haredi men, she says, grabbed her bags from the adjacent seat and threatened to throw them on the floor, saying: "I need this seat because I suffer from intestinal gas."
---
---
From the Jewish Telegraphic Agency
Former settler leader appointed Israel's envoy to Brazil
JERUSALEM (JTA) — The former leader of a settlers' council was appointed Israel's ambassador to Brazil.
Dani Dayan, 59, was tapped for the post by Prime Minister Benjamin Netanyahu, who is also the acting foreign minister. Netanyahu made the announcement of the appointment on Wednesday in a statement issued from his office and also on his Twitter account.
Dayan served as chairman of the Yesha Council for six years, until 2013.
Dayan, an Argentina native, is "engaged in public diplomacy in Israel and abroad on a daily basis," the statement said.
Click here for the full story
---
---
From the Jewish Telegraphic Agency
At least one Jewish suspect in Israeli administrative detention has U.S. citizenship
(JTA) — At least one of the three suspected Jewish terrorists facing administrative detention in Israel has American citizenship, his parents said.
Gedalia and Sarah Meyer, whose 18-year-old son, Mordechai, is in custody without being formally charged in the aftermath of the firebombing last week that killed a Palestinian toddler, referenced their family's U.S. citizenship on Wednesday at a news conference at their West Bank home in Maale Adumim.
"We made aliyah from the United States to a democratic state," Gedalia Meyer said, according to Ynet and the Times of Israel. "Our son was at home last week. They knocked on the door last night, showed a document stating that they were taking him to jail for six months without suspicion and without explanation. Suddenly. And now we find ourselves with our son in jail and do not know anything. We thought there were courts here."
Sarah Meyer also referenced their American citizenship: "We are United States citizens and our children grew up there, in a democracy, among loving people and all our family is there. We raised the kids to love nature and all living beings. We had a good livelihood. We left everything due to our love for Israel, our children as well, and we are kind of shocked."
Click here for the full story
---
---
From the Jewish Telegraphic Agency
In Jennifer Weiner's hit novels, it's a (Jewish) woman's world
(Washington Jewish Week via JTA) — Jennifer Weiner wasn't funny during our telephone interview, and she never once asked me about my weight. Could the author of a dozen very popular — pardon the phrase — "chick lit" novels not be the embodiment of the characters in her clearly autobiographical work?
Weiner leaped out of the literary gate in 2001 with her first novel, "Good in Bed," about a plus-size woman's right to love and be loved; and she has enjoyed a huge following ever since. Her new novel, "Who Do You Love," is a story of lifelong love that starts with a chance childhood meeting in the emergency room.
She is to appear at the Washington, D.C. Jewish Community Center on Aug. 12 as part of its Authors Out Loud series.
Weiner, 45, is the mother of two young daughters. Though she confessed being addicted to "The Bachelorette" TV show, her main characters aren't typical reality show contestants. She has made a career out of conjuring women who have body-image problems, fall in and out of love regularly and are generally relatable to the rest of us.
Click here for the full story
---
---
From the Jewish Telegraphic Agency
The Onion launches VICE parody with Israeli-Palestinian video
The Onion has selected a new target for mockery: the documentary journalism of boundary-pusher VICE News. The satirical media company's first installment of its new "EDGE" web series deals with the Palestinian territories."Beyond The Brink: How The Israeli Occupation Has Made It Impossible For Palestinians To Score Drugs" opens with an exaggerated take on VICE's uber-dramatic intros, with splashy captions promising "Sick Ass Sh–" and "Really Poor Countries."
A lookalike of VICE co-founder Shane Smith offers the introductory lines of the less-than-four-minute clip posted Tuesday.
Then, in a parody of VICE's gonzo-style journalism, faux correspondent Nic Moss speaks to the camera from the West Bank, decrying how the Israeli occupation's system of checkpoints and curfews has cut off the Palestinian people from any access to hard drugs.
"You can see all around me what it's like here," he says as he walks with the camera. "People living in desperate conditions, completely cut off from coke, tranquilizers, even weed."
Click here for the full story
---
---
From PressTV
Israeli soldiers run over by Palestinian in West Bank: Report
A Palestinian man has reportedly run over two Israeli soldiers north of the occupied West Bank city of Ramallah, critically injuring them in an apparent retaliatory measure against the recent brutal death of a Palestinian baby.
Palestine's Ma'an news agency reported on Thursday the man first ran over two Israeli soldiers who were stationed on Route 60 of the illegal settlement of Shilo.
The report said that Israeli forces immediately opened fire on the Palestinian, causing his car to overturn.
This as Israeli media reported that two Israelis were seriously wounded and another lightly injured in the attack, without specifying whether they were civilians or military personnel.
Israeli officials claimed later that the Palestinian has been killed, but other sources said the man was being treated in a hospital.
Click here for the full story
---
---
From The Times of Israel
Israel seeks salvation in gas pocket 3 miles beneath the sea
As political battle over off-shore natural gas reaches fever pitch, a deeper look at what lies under the surface
August 6, 2015, 3:31 am
Three miles under the waves, it's impossible to hear the bloated claims, the quibbling politicians and the turgid punditry surrounding Israel's plan to pull so much natural gas out of the ground that the country literally won't know what to do with it.
Life as a million-year-old dead fish might not be so bad after all.
To find Israel's massive off-shore natural gas fields, you'll have to start at the Haifa Port and travel 90 kilometers (50 miles) due west as the crow flies. Then dive 1.6 kilometers (one mile) down to the bottom of the sea floor, and drill for another three kilometers (1.8 miles) straight down. There, with fresh air almost five kilometers (three miles) above your head, you'll find a 200-meter wide pocket of natural gas trapped within spaces of the sandstone rock bed or layers of sand.
Millions of years ago, organic material like plants and fish died and sank to the bottom of the sea, where they were covered by layers of sand. Over the course of time, under sand that became rock, this matter decomposed anaerobically, meaning it decomposed without oxygen. Fast forward to today, when those bits of dead fish have been transformed into a vast network of deep water natural gas fields worth billions of dollars. If you're in Israel, yesterday's dead fish are powering 60 percent of the electricity you're using to read this article.
For the past month, these bits of dead fish and seaweed have been subjected to the national spotlight, following Prime Minister Binyamin Netanyahu's public failure to push the gas deal through Knesset without revealing its contents to the public.
Click here for the full story
---
---
From The Times of Israel
60 Jewish LGBTQ activists to gather in Austria
Three-day meeting to launch inaugural global forum addressing communal issues
August 5, 2015, 12:30 am
Sixty Jewish activists from the Lesbian, Gay, Bisexual, Transgender and Queer communities around the world will gather in Austria next week to launch a global forum that will address communal issues.
The new forum will be called Eighteen:22, a reference to a biblical verse in Leviticus 18:22 — "Thou shalt not lie with mankind, as with womankind: it is abomination" — which has often been used against the LGBTQ community.
"Eighteen:22 seeks to build a global network for today's emerging and established Jewish LGBTQ and ally visionaries who have demonstrated a profound commitment to pursuing positive change for LGBTQ Jews and their communities," according to the press release announcing the launch.
The event will take place over three days in Salzburg.
"Our convening arrives at a remarkable moment in history," Eighteen:22 Founder Robert J. Saferstein said. "LGBTQ human rights inhabits the zeitgeist in a way that has helped catalyze the passage of laws and rights thought impossible only a few years ago. We have even seen moves towards acceptance and inclusion in the most unexpected corners of traditional observance and Jewish life."
Click here for the full story