Dr. Patrick Slattery's News Roundup
A service of DavidDuke.com
---
From the Jewish Telegraphic Agency
Obama's $38B aid package to Israel comes with caveats: It's generous, but on his terms
WASHINGTON (JTA) – President Barack Obama's near parting gift to Israel, a guarantee of $38 billion in defense assistance over a decade, distills into a single document what he's been saying throughout eight fraught years: I have your back, but on my terms.
The agreement signed Wednesday in the State Department's Treaty Room here increases assistance for Israel over the prior Memorandum of Understanding signed in 2007 under the George W. Bush administration and guaranteeing Israel $31 billion over 10 years.
But it also substantially shrinks the role Congress plays in a critical forum shaping U.S.-Israel relations, defense assistance, and in so doing diminishes the influence of the mainstream pro-Israel community, a sector that at times has been an irritant to Obama.
Wrapped into the $38 billion memorandum is $5 billion in missile defense funding, with clauses placing tough restrictions on Israel's ability to ask for supplements from Congress.
Click here for the full story
---
---
From the Jewish Telegraphic Agency
Poll shows Hillary Clinton trouncing Donald Trump among Jewish voters
WASHINGTON (JTA) — Hillary Clinton trounces Donald Trump among Jewish voters, but underperforms compared to her Democratic predecessors, according to an American Jewish Committee poll that depicts a Jewish community disenchanted with politics and anxious about the country's future.
The poll released Tuesday shows Clinton defeating Trump, 61 percent to 19 percent among Jewish voters. She beats Trump on a range of issues, notably national security, an area where the Republican nominee hopes to hammer his Democratic rival.
Trump is also underperforming significantly compared to his recent Republican predecessors in recent elections, including Mitt Romney (30 percent in 2012), John McCain (22 percent in 2008) and George W. Bush (24 percent in 2004).
Respondents said Clinton would be better than Trump in handling terrorism (58-22 percent), would be more likely to unite the country (55-11 percent), would be more likely to promote U.S.-Israel relations (57-22 percent) and would be more effective in dealing with Iran (58-19 percent).
Click here for the full story
---
---
From the Jewish Telegraphic Agency
Republican VP candidate Mike Pence reiterates ticket's disavowal of David Duke
Obama blasted Republican Presidential nominee Donald Trump for offering a soundbite to the Larry King Politicking Show that airs on RT.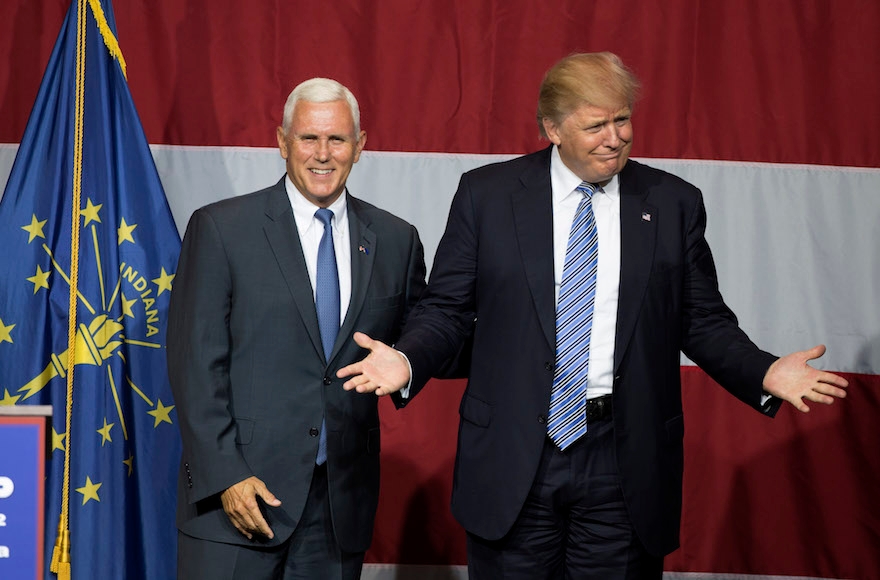 (JTA) — Republican vice presidential nominee Mike Pence reiterated that he and Donald Trump have repeatedly denounced white supremacist leader David Duke following criticism over an interview in which he declined to label Duke "deplorable."
During an interview Monday, CNN's Wolf Blitzer asked Pence if he would consider Duke deplorable. Duke, a former grand wizard of the Ku Klux Klan, has expressed support for Trump's candidacy.
The question came on the heels of a campaign speech late last week in which Democratic presidential nominee Hillary Clinton said "half" of Donald Trump's supporters belonged in a "basket of deplorables."
Click here for the full story
---
---
From Russia Today
Over 7,000 refugees sue Germany for slow processing of asylum requests
Published time: 15 Sep, 2016 05:05
© Michaela Rehle / Reuters
More than 7,000 refugees have lost their patience with German authorities for their delay in handling asylum applications and have filed "failure-to-act" lawsuits against the state.
By June, some 7,014 "failure-to-act" lawsuits had been recorded against the Federal Office for Migration and Refugees (BAMF), German media reported.
The numbers are more than double those of the first quarter of 2016. While at the end of March, 3,271 such complaints were registered, in May the body was facing 5,800 refugee complaints.
Sevim Dagdelen, Germany's integration commissioner and an MP from the leftist Die Linke party, blamed the government for the increased number of refugee complaints.
"It cannot be that the BAMF is unable to process applications for asylum properly," she told Funke Media Group. "The doubling of the failure-to-act [lawsuits] speaks for an organized government failure."
The fact that asylum seekers have to wait months or even years before they can submit an application and then wait for it to be processed is "poison for the integration of refugees," Dagdelen added.
Click here for the full story
---
---
From Russia Today
Obama slams Trump's appearance on RT, compares Putin to Saddam Hussein
Published time: 13 Sep, 2016 22:14
U.S. President Barack Obama speaks during a campaign event in support of U.S. Democratic presidential candidate Hillary Clinton in Philadelphia, Pennsylvania, U.S., September 13, 2016 © Carlos Barria / Reuters
Barack Obama slammed Donald Trump for his appearance on RT last week, accusing the Republican nominee of trying to "curry favor" with the Russian president, whom he compared to Saddam Hussein in one of his harshest comments yet about Vladimir Putin.
"When the interviewer asks him [Trump], 'why do you support this guy [Putin]?' He says, 'He is a strong guy. Look, he's got an 82 percent poll rating.' Well, yes, Saddam Hussein had a 90 percent poll rating. If you control the media and you've taken away everybody's civil liberties, and you jail dissidents, that's what happens," Obama claimed, addressing the crowd at a Hillary Clinton campaign event in Philadelphia.
Click here for the full story
---
---
From PressTV
Israeli jets target cannons in Syria's Golan Heights
Israeli warplanes have once again targeted Syrian government artillery positions in Syria's Golan Heights.
Israel carried out the violation of Syrian airspace late on Tuesday, claiming that the attack was launched in response to three mortar shells launched from Syria and landed in the Israeli occupied territories.
In one of the raids, Israeli fighter jets pounded Syrian army positions on a road linking the Abu Kaouk checkpoint to the city of Quneitra.
There are no immediate reports of casualties or damage yet.
Earlier, Syria denounced the Israeli regime's Monday airstrike on the southwestern Quneitra province, situated in the Golan Heights, calling on the United Nations to take measures against the Tel Aviv regime over its support for terrorists operating inside the Arab country.
Syria says Israel and its Western and regional allies are aiding Takfiri militant groups operating inside the Arab country. Moreover, the Syrian army has repeatedly seized huge quantities of Israeli-made weapons and advanced military equipment from the foreign-backed militants inside Syria.
Click here for the full story
---
---
From PressTV
Syria 'shoots down Israeli jet, drone'
The Syrian army says it has shot down an Israeli warplane and a drone inside Syria following an Israeli attack on Syrian army positions in the south, state media report.
Syria's official SANA news cited the Syrian military as saying that the intruding aircraft had been detected and targeted by the country's air defense system while they were striking Syrian military positions. The warplane, it said, was downed in western Quneitra and the drone in an area called Sa'sa' and located on the Damascus Reef.
Soon after the report, the Israeli military denied that any of its aircraft had been shot down in Syria, claiming that two missiles were fired at them during the airstrike on Quneitra but missed.
Israeli fighter jets had attacked two Syrian army cannons in the Golan Heights, where Quneitra is located, early on Tuesday morning. It was the fifth such attack in just over a week.
Israel seized parts of the Golan Heights from Syria after the 1967 Six-Day War and later annexed it in a move that has never been recognized by the international community.
---
---
From PressTV
Syria says militants violating truce
The government in Syria has announced that militants hostile to Damascus have violated a ceasefire that took effect late Monday.
Syria's official SANA news agency on Tuesday cited a "military source" as saying that militants violated the truce, which was brokered by Russia and the United States, in the city of Aleppo.
According to the source, militant snipers targeted residential buildings in an area in Aleppo and mortar shells were also fired into another area in the city.
More than a dozen militant groups operating against the government in Syria earlier issued a statement that was highly critical of the ceasefire agreement on Monday.
The deal was announced on Friday following intensive talks between Russian Foreign Minister Sergei Lavrov and US Secretary of State John Kerry. The seven-day-long regime of calm took effect at sundown on Monday.
Hours after it took force, a group of militant outfits, including the so-called Free Syrian Army and its affiliated groups, including Ahrar al-Sham and Jaish al-Islam, released a joint statement bashing the accord and calling it "unjust."
Click here for the full story
---
---
From PressTV
Israeli MP: Tel Aviv aiding Takfiris in Syria
An Israeli lawmaker has criticized the Tel Aviv regime for supporting Takfiri terrorists who are fighting in Syria to topple the government of President Bashar al-Assad.
In a Facebook post on Sunday, Akram Hasson said the Fateh al-Sham terrorist group, formerly known as al-Nusra Front, is operating in Syria with "unprecedented logistical and medical" support from Israel.
He said Israel's recent escalation of attacks on the Syrian army positions in the Golan Heights are aimed at paving the way for the terrorist group to gain more grounds.
Golan belongs to Syria, and the international community has never recognized Israel's occupation of around 1,200 square km (460 square miles) of the territory during the 1967 Six-Day War and its annexation later.
Scores of illegal settlements have been built in the area over the years while the Israeli regime has used the area to launch attacks against the Syrian government and its allies.
Israel has recently intensified its airstrikes on the Golan Heights, targeting the Syrian army and the Lebanese resistance movement Hezbollah, which is assisting Damascus in the fight against Takfiri terrorists.
The Israeli lawmaker further said that the Fateh al-Sham terrorist group is bombing the Syrian Druze village of Khadr, with the support of Israeli Minister of Military Affairs Avigdor Lieberman.
Click here for the full story
---
---
From the Jewish Telegraphic Agency
Newsweek Middle East editor posts anti-Semitic invective following criticism
(JTA) — An editor for Newsweek Middle East magazine posted classic anti-Semitic expressions on Twitter in response to pro-Israel critics of a magazine feature titled "Where is Palestine?"
The article, accompanied by a video, appeared on the magazine's website on Aug. 24 and was written by Ben White, described by the HonestReporting watchdog website as "a well-known anti-Israel activist." The video sets out to prove that a state of Palestine exists and has for more than a century. It uses original documents dating back to the late 1800s to show that a state of Palestine existed and complains that Google uses the term Israel and not Palestine on its maps.
The article and video are debunked on the watchdog blogs Elder of Ziyon and Israellycool.
Click here for the full story
---
---
From Russia Today
'Funeral for the EU': Le Pen slams Juncker's speech, reiterates vow to hold Frexit referendum
Published time: 15 Sep, 2016 03:14
© Gonzalo Fuentes / Reuters
Marine Le Pen, leader of the French right wing National Front party, compared Jean-Claude Juncker's State of the Union speech to a "funeral for the European Union" and branded it "insipid and faulty." TrendsEU refugee & migrant influx, Eurozone crisis, Global terrorism
The prominent eurosceptic politician also reiterated her vow to hold a referendum on EU membership if elected as French President in 2017 during her speech at EU Parliament.
Click here for the full story
---
---
From Russia Today
Germany deploys 650 troops on NATO mission in Mediterranean
Published time: 15 Sep, 2016 00:57
FILE PHOTO German army Bundeswehr soldiers patrol Naval Base Command in Kiel, Germany, © Fabian Bimmer / Reuters
The German cabinet has approved the sending of up to 650 troops to join a new NATO operation, designed to prevent weapons smuggling by Islamic State terrorists and human trafficking in the Mediterranean Sea. TrendsEU refugee & migrant influx, Global terrorism
The maritime security operation Sea Guardian's German involvement will last until the end of 2017. The number of German soldiers participating in the operation can be increased in case of exceptional emergencies.
Click here for the full story
---
---
From Russia Today
Sweden puts permanent troops on strategic island near Russia
Published time: 14 Sep, 2016 14:43
© Reuters
The Swedish military has announced that troops training on the island of Gotland in the Baltic Sea, not far from Russia, will remain there permanently. Officials said "external factors" prompted the order for some 150 soldiers to stay on the island.
"The armed forces [now] … have joint permanent groups and troops on Gotland. Gotland is one of our military strategic areas in Sweden … Gotland needs … to increase their operational capacity, and allow troops to practice and work in the field," the Swedish Armed Forces cited Supreme Commander Micael Byden as saying on its website.
Byden later told Swedish broadcaster SVT that "external factors in the world have deteriorated over time and it means I have made a decision about a permanent presence and that we put the battle group here earlier." 
Some 150 soldiers currently training on Gotland received orders on Wednesday morning to remain on the island.
"We have to look realistically at the situation in the world. The armed forces are now taking their responsibility, and demonstrating that with increased military capability we are taking responsibility for the country's sovereignty," Byden added.
Click here for the full story
---
---
From the Jewish Telegraphic Agency
Congresswoman nixes BDS briefing in Capitol Hill building booked in her name
WASHINGTON (JTA) — A congresswoman whose office was set to sponsor the first conference in a congressional building backing the boycott Israel movement withdrew her support, canceling the event.
On Tuesday, the office of Rep. Sheila Jackson Lee, D-Texas, told The Weekly Standard, a conservative news website, that the event organized by the U.S. Campaign to End the Israeli Occupation would not take place.
The event, titled "What is BDS? A Capitol Hill Briefing," was set to take place Friday. BDS is an acronym for the Boycott, Divestment and Sanctions movement against Israel. Ads for the briefing, which featured activists in the BDS movement, said it would be the "first of its kind" on Capitol Hill. It was to take place in the Rayburn Building.
Rooms in Capitol Hill office buildings must be booked through a member of Congress. Mike McQuerry, Jackson Lee's spokesman, told The Weekly Standard that a staffer who was no longer working in the office had approved the booking in March, but that Jackson Lee was unaware of it.
Click here for the full story
---
---
From Russia Today
All-women crews sail for Gaza, hoping to break decade long Israeli blockade
Published time: 15 Sep, 2016 00:31
© Mohammed Salem / Reuters
Activists, politicians, and cultural artists from around the globe are on board two boats which sailed from Barcelona on Wednesday evening, aiming to break a nearly decade-long Israeli blockade of the Gaza Strip.
The two boats, Amal (hope in Arabic) and Zaytouna (olive), will be completely 'manned' by an all-women crew.
Jaldia Abubakra, an Israeli born activist and a crew member, told RT Spanish that the women want to draw attention to the blockade "express our solidarity with the Palestinian women and the people of Gaza" .
"For us, as the women of the world, this fight is also important , it is important to show our rights and opportunities; to prove that we are able to send ships to the Gaza Strip ; to show that we stand in solidarity with women and people in the area," said Abubakra.
READ MORE: Israel starts building underground wall along Gaza border to counter Hamas tunnels
Click here for the full story
---
---
From PressTV
Israel ex-president Shimon Peres suffers serious stroke
Former Israeli president Shimon Peres has had a serious stroke and is currently breathing with the aid of a respirator.
Peres was rushed to a hospital in Tel Aviv on Tuesday after experiencing chest pains and an abnormal heartbeat and severe bleeding.
Officials at the hospital have described his condition as serious and added that he has been placed in a medically induced coma in the hospital's intensive care unit.
In January, Peres was taken to hospital over chest pains a week after being treated for a heart attack.
Shimon Peres has held numerous official positions in the Israeli regime during his seven decades of political life. He has served as the Israeli president (2007-2014) and as the regime's premier and military chief.
Under Peres, nearly 4,000 Palestinian lives were lost during two wars launched by the Israeli regime between 2007 and 2014.
In the second war, which began on July 8, 2014 and ended on August 26, some 11,100 people – including 3,374 children, 2,088 women, and 410 elderly – were also injured.
---
---
From PressTV
PKK leader 'calls for end to no-win war' with Turkey
The imprisoned leader of a separatist Kurdish militant group in Turkey has reportedly invited the Turkish government back to the negotiating table.
Abdullah Ocalan, the leader of the Kurdistan Workers' Party (PKK), said the current conflict between his group and Ankara was a war that "nobody can win," according to his brother Mehmet, who was speaking on Monday after a recent meeting with him in prison, the Middle East Eye reported.
The PKK has been fighting for an autonomous Kurdish region in southeastern Turkey since 1984. A shaky peace mechanism, which had started out between the two sides back in 2013, collapsed last year.
It is estimated that the resumption of the hostilities killed nearly 2,000 people between July 2015 and July 2016.
"Yes, the Kurdish issue is a heavy issue. It's not a matter of 20 years, it goes back 150, 200 years. Thirty people die every day. If the state was sincere, there wouldn't be so many deaths. This country doesn't deserve this. Everybody with a conscience must consider this," Ocalan further said, according to his brother.
"The solution can't be one-sided; the largest party is the state. If the state points to that, this problem won't continue for too long, it will be resolved."
As quoted by his brother, the PKK leader also put the blame for the breakdown of the ceasefire on Ankara, saying, "First of all, it wasn't us who destroyed the process."
Click here for the full story