Commentary by Dr. Patrick Slattery — NBA superstar Dwight Howard of the Houston Rockets was disturbed enough by what is happening in Gaza that he tweeted the two words "Free Palestine" to his millions of Twitter followers. Then the Zionist hammer came down so fast and so hard that this giant of a man deleted the tweet in LESS THAN 15 MINUTES! He was then put on the defensive. Meanwhile, his Israeli teammate (the only Israeli who has even managed to play in the NBA) released a scathing tweet telling Howard to stop lying and voicing his full support for Israel. No one made him take down his Ziotweet. 
Then the Zionist Organization of America got into the act. It called for Howard to be punished.  stronger condemnation. "He should be publicly condemned as strong as Donald Sterling was,"  givemesport.com reported  ZOA President Morton Klein as saying.
"Anyone who uses the phrase 'Free Palestine' is either ignorant of the situation or hates the Jewish state of Israel. It's a hateful position. Celebs have great influence. When he makes a ridiculously false statement like 'Free Palestine,' it's frightening," Klein said.
What make this statement so ignorant or hateful? Does Klein think Palestine is free? That is pretty ignorant. Or does he think is should not be free? That would be pretty hateful. No, Klein knows that millions of basketball fans look up to Howard and think of him as a well-meaning, humanitarian individual, and his two little poignant words have the power to wake up more and more of us goyim. And that would not be good for the Jewish supremacists. –ps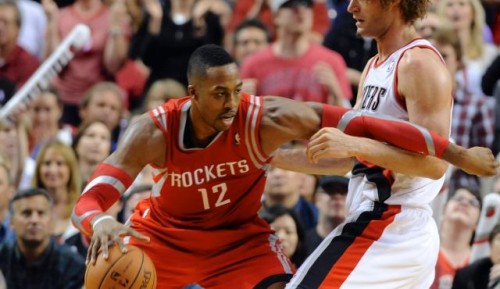 Gaza invasion hits Houston Rockets locker room
Update: Recently discovered message by Dwight Howard suggests he might have been pressured into deleting his #FreePalestine tweet. More information at the bottom of the report.
Early into day six of Israel's latest invasion of the Gaza Strip, American professional basketball player Dwight Howard tweeted "#Free Palestine" to his 5.2 million followers.
Minutes later, the tweet was deleted, only to be followed by an apology and a vow that he will continue to stay out of international politics.
Rapper Waka Flocka Flame also tweeted "#FreePalestine".
Rather than deleting his tweet, however, the music artist followed it up with a few tweets urging his followers to "investigate" the situation in Palestine.
At the time of Waka Flocka's tweets, at least 156 Palestinians in Gaza had been killed by Israeli air strikes since Israel launched its latest campaign against the Gaza Strip — dubbed "Operation Protective Edge" — on July 8.
Although Waka Flocka's tweets coincide with Howard's apology, it is unclear if any of the Twitter discussions are related in any way.
Two hours after Howard initially tweeted the Free Palestine hashtag, teammate Omri Casspi responded with the following tweet, seemingly directed at Howard or at least Howard's supporters and followers.
Casspi, the first Israeli to be selected in the first round of an NBA draft, has played with Howard since 2013 when he first signed with the Houston Rockets.
In his tweet, Casspi draws attention to the numbers, urging the public to pay attention to facts and to "stop lying".
Since July 8, Hamas has fired over 600 missiles, killing zero. There is a report of a 74-year-old Israeli who died of a heart attack after being startled by the noise of a warning siren. One rocket set fire to a gas station. No injuries were reported.
Israel, by admission of its military, has launched over 1,200 air strikes, killing at least 156 and injuring over 900. Among the dead are children, the elderly, and the disabled. The death toll has been confirmed by the Palestinian Ministry of Health which only adds names and identities to the list if doctors can physically access the body. There are many more Palestinians rumored to be stuck underneath the rubble.
Casspi is correct in saying that numbers don't lie. At the rate this invasion is going, 593 more Palestinians will be killed by the end of the month of July. Zero Israelis will be killed, although four more individuals might experience heart attacks, according to calculations.
Update:
A tweet by Twitter user Fayssal included a screenshot of a conversation between himself and Dwight Howard regarding Howard's #FreePalestine tweet which was quickly deleted.
Fayssal appears to reason with Howard, who responds by admitting that he doesn't know enough about the situation. It seems unlikely that Howard returned to his tweet and took it down on his own accord. The implication here is that he was pressured or at least requested to remove the tweet.
Howard concludes by saying he intends to "help".
These messages were exchanged through Twitter's Direct Message feature.
Casspi's tweets, in which he points to Hamas as the culprit behind Israel's brutal invasion of the Gaza Strip, has not yet been deleted as of this updated. This is somewhat indicative of the current atmosphere regarding the ongoing Palestine-Israel crisis, in which support for Palestine or criticism of Israel must be censored and avoided at all costs whereas support for Israel or criticism of Palestine is considered safe and reasonable.