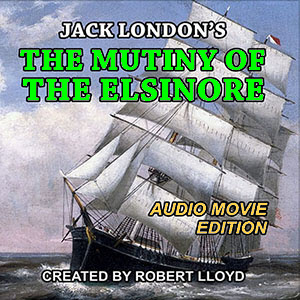 Listen to the introduction to the audio movie of the Mutiny of the Elsinore by Dr. David Duke at the link below.
Jack London is one of America's and the world's most beloved authors. He penned some of the most-loved and read novels ever, such as Call of the Wild, White Fang, Sea Wolf and other books read and loved by people all over the world.
One of his last novels, The Mutiny of the Elsinoreis, at first glance, a gripping work of fiction telling the story of some passengers on a turn-of-the twentieth century clipper ship caught up in a raucous crew rebellion while at sea.
The rebellion is suppressed, with one of the passengers—and the hero of the story—playing a leading role in saving the day.
In truth the book is the epitome of his evolving view of both Nature and the realities of Mankind.
Underneath this exciting storyline, this book actually contained one of London's most deeply meaningful allegories that he ever dared put in print with his own name. Written only a short while after he had formally resigned from the Socialist party in America, this work revealed that London had realized that his well-meant humanism and sympathy for the underdog had been cruelly exploited by a racially supremacist, Jewish tribal elite, and diverted to an end which had nothing to do with uplifting humanity.
And then don't forget to get a copy of this wonderful book for yourself, friends and family, by clicking here.
Podcast: Play in new window | Download