Donations from the Jewish tribalist lobby in Britain controls the British parliament, a new study issued by the UK-based Middle East Monitor (MEMO) has revealed.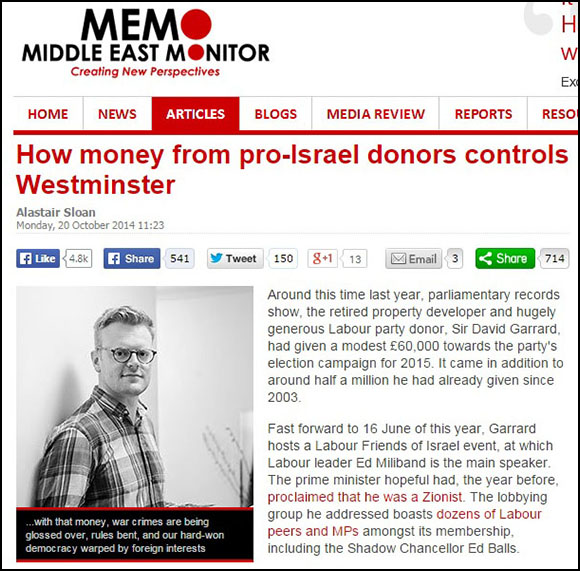 In an article titled "How money from pro-Israel donors controls Westminster" written by correspondent Alastair Sloan, MEMO revealed that:
 No other foreign nation is as well represented in the campaign finances of British elections as Israel. In fact, no other nation comes close—and money linked to pro-Israel donors is a single interest influence akin to that of the trade unions (the largest democratic organisations in the country) or indeed the megabucks flowing in from City financiers.
And with that money, war crimes are being glossed over, rules bent, and our hard-won democracy warped by foreign interests.
The MEMO article reveals that a single Jewish Supremacist, property developer David Garrard, head of the Labour Party's Friends of Israel (LFOI) section, has given over a million pounds to his party alone—with a single donation of £630,000 on the day that the Jewish leader of the Labour Party, Ed Miliband, addressed a meeting of the LFOI.
[Millband] had, the year before, proclaimed that he was a Zionist. The lobbying group he addressed boasts dozens of Labour peers and MPs amongst its membership, including the Shadow Chancellor Ed Balls.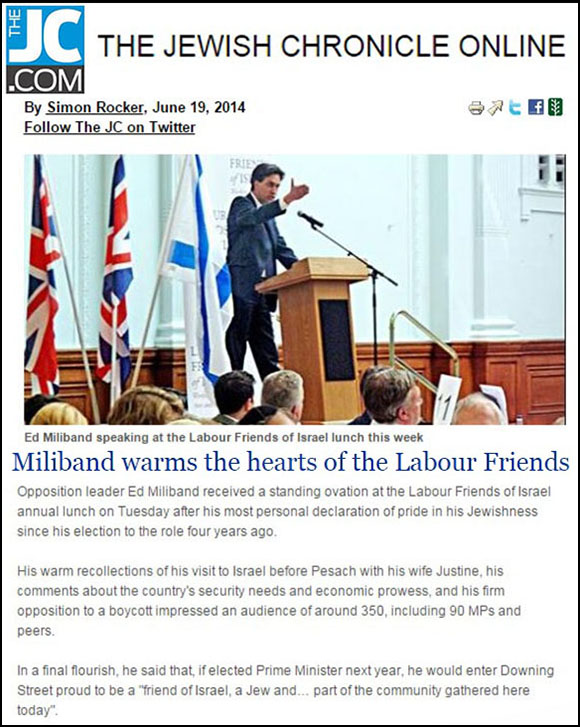 MEMO pointed out that Milliband's appearance at the LFOI was a "near identical episode to David Cameron speaking in 2009, back when he too was hoping to take office as prime minister."
The MEMO article continued:
At a well-attended Conservative Friends of Israel annual fundraising lunch held in London, he [Cameron] again made no mention of the Palestinian lives that had been lost, this time as part of "Operation Cast Lead". Not one mention. In that war, 1,370 Palestinians had died. At the time, a leading British journalist wrote: "I found it impossible to reconcile the remarks made by the young Conservative leader with the numerous reports of human rights abuses in Gaza. Afterwards I said as much to some Tory MPs. They looked at me as if I was distressingly naive, drawing my attention to the very large number of Tory donors in the audience."
The article then goes on to list how Jewish lobby finance is keeping the wheels of the Conservative Party running, of which 80 percent of its parliamentarians are members of the Conservative Friends of Israel (COFI).
In April, the Conservative Branch for Brigg & Goole, the constituency of Andrew Percy MP, received £6,000 from a notable pro-Israel supporter, Lord Stanley Fink.
On the same day, £3,000 dropped into the bank account of the Conservative party in Harrow East. Their MP, Bob Blackman, also visited Israel during "Operation Protective Edge". The money also came from Lord Fink.
And the pro-Israel peer pulled off a democracy-warping hat-trick that day – £3,000 for the Conservatives in Brighton & Kemptown, home to Conservative Friends of Israel linked Simon Kirby MP.
Over and above his backing of individual MPs, Lord Fink has also contributed over £60,000 to the Conservative Central Party accounts since July last year, and his total donations to the Conservatives over the years are now nearing £3 million.
Lord Fink is known as a staunch supporter of Israel – telling the Jewish Chronicle in 2009 that he shared similar views to Lord Michael Levy, Tony Blair's aide who had close ties with Israeli political leaders. Levy's son, Daniel, served as an assistant to the former Israeli Prime Minister Ehud Barak and to Knesset member Yossi Beilin.
In March, the Conservative Branch in Poplar & Limehouse received £3,000 from another pro-Israel funder – Sir Michael Hintze. Since July last year, Hintze has donated just over £1.5 million to the party (the figure is doubled if you look back to 2002).
Current Chancellor of the Exchequer George Osborne MP received nearly £40,000 in 2008 and 2009 directly from Hintze.
Mayor of London Boris Johnson, Home Secretary Theresa May MP, David Davis MP and David Willets MP have also been subject to his financial largesse.
One of the most important formal Jewish lobbies in London is the Britain Israel Communications and Research Centre (BICOM). That lobbying group describes itself as a "British organisation dedicated to creating a more supportive environment for Israel in Britain."
In an expose for Channel 4 in 2009 and later a pamphlet calling for transparency from the Israel lobby, Peter Oborne, now chief political commentator for the Telegraph, showed how BICOM was funded by a Finnish billionaire whose father made a fortune selling Israeli arms.
Chaim "Poju" Zabludowicz, who the Sunday Times ranked as the 57th richest individual in Britain with a net worth of over £1.5 billion, founded BICOM in 2001 and is its chairman.
Zabludowicz is also a member of the United Jewish Israel Appeal, a charity whose website claims it has three strands of work—"Supporting Israel", "Connecting with Israel" and "Engaging with Israel". Since 2009, Zabludowicz has given approximately £125,000 to the Conservative Party.
In other words, the Jewish Supremacist set up in Britain is identical to that in America, where the major political parties are reliant on cash provided by Jewish tribalists—and in exchange, ensure that Israel's interests always come first.