Dr. Patrick Slattery's News Roundup
A service of DavidDuke.com
---
From Russia Today
'It's only a belief': 87yo German Neo-Nazi Granny jailed for denying Holocaust
Published time: 13 Nov, 2015 16:25
© Kacper Pempel / Reuters
A German court in Hamburg has sentenced an 87-year-old woman, well known as a Neo-Nazi activist, to 10 months imprisonment for incitement of hatred. She is a Holocaust denier.
Auschwitz was not a death camp, it was just a work camp, Ursula Haverbeck-Wetzel told a Norddeutscher Rundfunk (NDR) journalist during the trial of the former SS serviceman Oskar Gröning, accused of being involved in Auschwitz mass killings.
READ MORE: 91yo German woman accused of assisting deaths of 260,000 Jews in WWII
Later, Haverbeck-Wetzel repeated her statement in an interview to the ARD TV-Channel. She added that the published Auschwitz commandant's orders prove her position.
Click here for the full story
---
---
From the Jewish Telegraphic Agency
Kerry: Defeat 'Zionism is racism' by confronting anti-Semitism, advancing 2 states
WASHINGTON (JTA) — The struggle to defeat the notion that Zionism is racism persists both in the battle against resurgent anti-Semitism and the efforts to arrive at a two-state solution to the Israeli-Palestinian conflict, Secretary of State John Kerry said.
"Too many outside this room fail to recognize the global reality of anti-Semitism today," Kerry said at an event Wednesday marking 40 years since Chaim Herzog, Israel's ambassador to the United Nations, spoke against the U.N. General Assembly's resolution equating Zionism with racism.
"Too many fail to realize that a witch's brew of old prejudices and new political grievances and economic troubles and nationalism combine to create dangerous new openings for extremism. So Herzog and Moynihan together have left us a major responsibility to continue to tell the world that anti-Semitism is as abhorrent and vile today as it was in 1975."
Daniel Patrick Moynihan, then the U.S. ambassador to the body, also spoke out against the motion, which eventually passed in 1975 but was rescinded in 1991. Herzog famously tore up a copy of the resolution at the conclusion of his speech.
Click here for the full story
---
---
From PressTV
Israeli forces kill two more Palestinians in West Bank
Israeli forces have killed two more Palestinians in the occupied West Bank as dozens more are injured in violent clashes in another Day of Rage.
The Israelis gunned down one Palestinian during clashes near the West Bank city of Ramallah on Friday, the Palestinian Health Ministry said.
A statement from the ministry announced "the death of a young man, Lafi Yusuf Awad, 22 years old, from the village of Budrus in the district of Ramallah, (killed) by a bullet from Israeli forces."
Palestinian medical sources in al-Ahli Hospital also confirmed on Friday that Hassan al-Bo, 21, had died after he was hit in the heart by live ammunition during a demonstration in the city of al-Khalil (Hebron) south of the occupied city of al-Quds.
Meanwhile, a series of Israeli attacks on peaceful Palestinian demonstrations injured dozens, with Palestine's Red Crescent saying 11 people were shot with live fire as they were attending a peaceful gathering in Bireh, north of Ramallah.
Click here for the full story
---
---
From PressTV
Another Palestinian dies of Israeli-inflicted wounds
A Palestinian man, previously shot by Israeli forces in the southern West Bank city of al-Khalil (Hebron), has succumbed to his injuries.
Mahmoud al-Shalaldeh died at al-Ahli Hospital on Friday of wounds sustained in clashes with Israeli forces in the town of Sa'ir a day before, the Arabic-language Palestine al-Yawm news agency reported.
The clashes broke out after a funeral procession held for Mahmoud's cousin, Abdullah Azzam al-Shalaldeh, who was killed by Israeli settlers at al-Ahli Hospital.
On Thursday, some 21 settlers sneaked into the hospital and shot dead Abdullah Azzam while he was receiving treatment for his injuries.
The assailants also injured another cousin of Abdullah, who was with him at the time.
Click here for the full story
---
---
From PressTV
Israel OKs demolition of five Palestinian homes
The Israeli regime is poised to level five homes belonging to Palestinians who Tel Aviv accuses of carrying out anti-Israeli attacks.
Israel's Supreme Court on Thursday allowed the destruction of the houses, three of which are situated in the occupied West Bank city of Nablus.
The other two residences are in the Qalandiya refugee camp near Ramallah, also in the West Bank.
Rights groups have on numerous occasions condemned the demolitions, but Israeli Prime Minister Benjamin Netanyahu insists that they are "efficient tools" against Palestinians.
The destruction of Palestinian homes and buildings comes as the Fourth Geneva Convention prohibits an occupying entity from destroying private property or forcibly transferring the region's population.
The demolition of Palestinian homes come hand in hand with Tel Aviv's policy of construction of illegal settlements in the occupied Palestinian territories. Hundreds of thousands of Israelis currently reside in more than 120 illegal settlements constructed since the regime's occupation of the Palestinian territories in 1967. The settlements are considered illegal by most of the international community.
Click here for the full story
---
---
From PressTV
Israeli settlers kill young Palestinian in al-Khalil hospital
Israeli settlers have sneaked into a medical center in the southern West Bank city of al-Khalil (Hebron) and fatally shot a young Palestinian man hospitalized there for gunshot wounds sustained during clashes in the occupied Palestinian territories some weeks ago.
On Thursday morning, a group of 21 settlers made their way into the al-Ahli Hospital in al-Khalil under the disguise of the relatives of a pregnant woman, and went inside the room where injured Azzam Shalaldeh was resting, the Arabic-language Palestine al-Yawm news agency reported.
The assailants then took out pistols with silencers on and fired shots at Azzam, who died on the spot.
His cousin, who was in the room at the time of the incident, also sustained injuries.
The attackers took away Azzam's body to an unknown location. He had been receiving medical treatment for critical injuries sustained during clashes in the town of Sa'ir some 20 days earlier.
Click here for the full story
---
---
From Russia Today
New Poland defense minister in hot water over Jewish conspiracy theory
Published time: 13 Nov, 2015 14:30
Polish rightwing deputy Antoni Macierewicz © Marcin Obara / AFP
The Anti-Defamation League, devoted to combating anti-Semitism, has called on the Polish government to revoke the appointment of Antoni Macierewicz as new defense minister over comments he made over a decade ago about an alleged Jewish conspiracy.
During a radio talk show in 2002, Macierewicz was asked what he thought of the Protocols of the Elders of Zion, a document which, historians believe, was forged in Tsarist Russia as a pretext for the persecution of Jews. Macierewicz replied that he had read them and found them "very interesting." Acknowledging that there was a dispute over their authenticity, he noted: "Some say it's authentic, some say it's not. I am not a specialist. Experience shows that there are such groups in Jewish circles."
The ADL national director, Jonathan Greenblatt, said earlier this week that even though Macierewicz's statement was made many years ago, "it indicates a profound and virulent anti-Semitism."
"We trust that you would not allow anyone of such convictions to be a member of your government," he wrote in a letter to Polish Prime Minister-elect Beata Szydlo, Arutz Sheva website reported.
---
---
From the Jewish Telegraphic Agency
German Protestant church denounces anti- Semitism of founder, Martin Luther
(JTA) — Germany's main Protestant body distanced itself from the anti-Semitism of its founder, Martin Luther, and pledged to confront the dark side of its roots.
In a unanimous decision Wednesday by its 120 members, the EKD Synod, the decision-making body of the Evangelical Church in Germany, renounced the 16th-century theologian's calls to persecute and banish Jews. Luther had wanted Jews disenfranchised and expelled from Germany.
"We cannot ignore this history of guilt," given the approaching 500th anniversary of the Protestant Reformation, the statement read. The EKD, an umbrella body for German Lutheran, Reformed and United churches, will mark its Jubilee in 2017.
Click here for the full story
---
---
From the Jewish Telegraphic Agency
ICC probing 66 reports of alleged war crimes by Israel, Palestinians
AMSTERDAM (JTA) — The International Criminal Court published an interim report on its investigation of alleged war crimes last year by Israeli troops, Jewish settlers and Palestinian militants.
The report published Thursday on the website of the United Nations tribunal on war crimes in The Hague said its prosecutor's office was "in the process of conducting a thorough factual and legal assessment of the information available, in order to establish whether there is a reasonable basis to believe that crimes within the jurisdiction of the Court have been or are being committed."
The probe, which the ICC classified as a preliminary investigation, pertains to 66 reports of alleged crimes said to have occurred since June 13, 2014 in and around what the court defines as "Palestine" — a term it applies to the Hamas-run Gaza Strip and the Palestinian Authority's West Bank, as well as eastern Jerusalem.
One of the Israeli objections to the ICC investigation is that its June 13 remit falls after the murder of three Israeli teenagers, considered by Israel to be a justification for the hostilities.
Click here for the full story
---
---
From the Jewish Telegraphic Agency
Isaac Herzog wants 'NATO-like' alliance of Israel and moderate Arab states
The international medical charity, Doctors Without Borders (MSF), has condemned a deadly raid by Israeli undercover agents to arrest a hospitalized Palestinian in the occupied West Bank city of al-Khalil (Hebron).
The condemnation on Thursday came after a group of 21 agents attacked al-Ahli hospital to capture Azzam Ezzat Shalaldeh, 20, who had been shot by an Israeli settler last month, the Palestinian Ma'an news agency reported.
During the attack, the Israeli agents also shot and killed Shalaldeh's cousin Abdallah Azzam Shalaldeh, also in his 20s, claiming that he had tried to attack them. However, his relatives say that the victim was coming out of the bathroom unaware of what had been taking place.
In a statement released on Thursday, the medical charity called on "the relevant military authorities to respect the special status that [the international humanitarian law] grants to medical facilities and the wounded and sick."
MSF denounced the way in which Shalaldeh was detained as "serious" and contrary "to the principles of neutrality and respect of the medical mission."
International law "demands that sick and wounded people be treated without any discrimination in conformity with medical ethics," the statement added.
Click here for the full story
---
---
From Russia Today
'Je ne suis PAS Charlie': Russians respond to Hebdo plane crash caricatures with own drawings
Published time: 13 Nov, 2015 15:33
© Carlo Allegri / Reuters #IamnotCharlie, Russians say, posting dozens of caricatures and drawings online, in outrage over French magazine Charlie Hebdo's caricatures ridiculing the fatal plane crash in the Sinai Desert.
Two hundred and twenty-four lives were lost in the tragedy, but the satirical mag thought it a fit occasion for a joke.
The Russian hashtag translated as #IamnotCharlie has been trending on all social networks for several days in Russia, with many – from the public to political parties – expressing their rage and bewilderment over how a fatal tragedy, the worst national air disaster, could turn into a laughing matter.
Charlie Hedbo didn't seem to satisfy its readers with just a couple of caricatures: a couple of days ago, they published yet another drawing that pictures the A321 plane and a rocket slamming into the aircraft's rear part, which looks like an anus.
The drawing equates the crash with sexual intercourse in the caption that reads, "Finally, the sex tape!" with the rocket hinting at a possible terror attack being behind the crash.
The head of the Foreign Affairs Committee of the Russian state Duma was one of the first people to react to the new drawing.
Click here for the full story
---
---
From Russia Today
Turkey to be offered €3bn to help curb influx of refugees to EU
Published time: 13 Nov, 2015 13:17
© Alkis Konstantinidis / Reuters
German Chancellor Angela Merkel and other EU leaders want to clinch a €3-billion deal with Ankara to curb the influx of asylum seekers coming to Europe from Africa and the Mideast. The EU wants Turkey to beef up its border patrols with Greece in return.
The EU leaders have agreed to invite Turkish President Recep Tayyip Erdoğan to a special summit in Brussels to speed up an agreement that would see Turkey patrolling the EU's southern border with Greece in an attempt to halt the flow of refugees.
"It was decided that there will be a European Council with Turkey invited," French President Francois Hollande told reporters after a meeting of EU leaders in the Maltese capital on Thursday. "It could be held at the end of November or beginning of December," he added.
The executive European Commission proposed to EU leaders, meeting in the Maltese capital of Valletta, that Ankara be offered a "refugee grant facility," worth up to €3 billion, to help Turkey accommodate over two million Syrians, Reuters reported. More than 650,000 of the 800,000 refugees who have reached EU countries by sea this year have left from Turkey, according to AFP.
Click here for the full story
---
---
From Russia Today
Putin: Free Syrian Army shares intel on ISIS targets, US reluctant to cooperate
Published time: 13 Nov, 2015 13:07
Russian President Vladimir Putin © Michael Klimentyev / Reuters
Russia has been cooperating with the Free Syrian Army (FSA), which shared their intelligence on Islamic State (IS, formerly ISIS) positions targeted by Russian airstrikes, said President Vladimir Putin in an interview on Friday.
In an interview with the Interfax and Anadolu news agencies published on Friday, Putin said Russia has been considering any "reliable" information on the terrorists' location in Syria.
"We have even worked together with the Free Syrian Army (FSA)," he said. "Russian aviation has conducted several strikes on targets identified by the FSA. We excluded areas, which had been indicated by FSA commanders as being under their control."
He stressed this "proves once again that we are not bombing the so-called moderate opposition or the civilian population."
Combat Report: Russian jets fly 107 sorties, target 289 terror sites in 2 days – MoD https://t.co/7QCpEy1oU7pic.twitter.com/08sTXIc0kn

— RT (@RT_com) November 13, 2015
'Russia repeatedly calculated potential risks & consequences of Syria op'
Putin said all "potential risks and consequences" of  Russia's airstrikes in Syria have been "carefully calculated many times" and "all the resources needed for the operation, both financial and technological, have been allocated in advance."
Click here for the full story
---
---
From Russia Today
Combat report: Russia flies 107 sorties in Syria eliminating 289 terror targets in 2 days
Published time: 13 Nov, 2015 13:01
A Su-34 multifunctional strike bomber of the Russian Aerospace Force takes off from the Hemeimeem Air Base in the Syrian province of Latakia. © Dmitriy Vinogradov / RIA Novosti
Two days of the Russian Air Force operation in Syria have resulted in bombing nearly three hundred terrorist facilities in eight Syrian provinces, the Defense Ministry said Friday.
On November 11-12 Russian warplanes delivered airstrikes in the Syrian provinces of Aleppo, Damascus, Deir ez-Zor, Hama, Homs, Idlib, Latakia and Daraa, Major General Igor Konashenkov, spokesman for the Russian Defense Ministry, said in a daily briefing.
"The airstrikes resulted in the elimination of 34 command observation and operational posts of the armed gangs, 16 munitions and fuel storage depots, two workshops producing munitions and homemade explosive devices, three field and training camps, 50 strongholds with military hardware and fire units, 184 fortified localities and defense positions," Konashenkov reported.
Islamic State's (IS, formerly ISIS) stronghold and a field ammunition depot have been eliminated in one sortie by a Sukhoi Su-24M bomber near Thaniet al-Rajma pike in Homs province.
"A direct hit onto terrorists' engineer installations completely destroyed them along with three mortar detachments and a field ammunition depot," Konashenkov said.
Click here for the full story
---
---
From the Jewish Telegraphic Agency
More than 4 decades on, Jewish dialogue with Orthodox Christians still fragile
By Gavin RabinowitzATHENS, Greece (JTA) — For two days, 38 leading Jewish and Orthodox Christian clerics and scholars sat in a hotel outside the Greek capital for a rare dialogue on relations between the two ancient faiths.
The talks, held last month, were only the eighth round since formal interfaith dialogue between Jews and Orthodox Christians began in 1972, and on the surface there was a warm and friendly rapport between the religious leaders as they discussed shared histories, ate together and attended a classical music concert.
But in a sign that the dialogue remains delicate, only in the last 15 minutes of the two-day session did anyone dare to broach the historic tensions between the two religions and possible steps to address them.
Deciding to finally address the "elephant in the room" in his closing remarks, the head of the Jewish delegation, Rabbi David Rosen, called for the Orthodox Christian leaders to issue a statement on the status of the Jewish people.
Click here for the full story
---
---
From the Jewish Telegraphic Agency
Federations defend evangelical supporters of Israel
WASHINGTON (JTA) — The Jewish Federations of North America distanced itself from a Jewish Democrat who said at the federation umbrella group's annual General Assembly that some evangelical Christian Republicans support Israel in order to hasten the "End of Days."
"Federations work closely with pro-Israel churches and church leaders across the continent," Rebecca Dinar, the group's spokeswoman, said Thursday when asked to respond to comments by Greg Rosenbaum, the chairman of the National Jewish Democratic Council. "We strenuously object to any characterization that calls into question their motives for supporting the State of Israel."
Rosenbaum was speaking Tuesday at a debate with Matt Brooks, the director of the Republican Jewish Coalition, moderated by Jewish Insider. Brooks had noted the widening gap in polls between Democrats and Republicans over whether they identify more with Israel than with the Palestinians.
"Are their motives to support a Jewish Israel? Are they supporting Israel as a natural homeland for the Jews?" Rosenbaum said.
Click here for the full story
---
---
From the Jewish Telegraphic Agency
Ex-US peace envoy: Freezing settlements would make Abbas partner 'tomorrow'
(JTA) — Freezing construction in Israeli settlements would make Palestinian Authority President Mahmoud Abbas a partner for peace "tomorrow," former US special envoy Martin Indyk said.
Indyk, who acted as broker in several peace initiatives between Israel and the Palestinians, most recently in 2014, spoke Thursday in Tel Aviv at a conference sponsored by the Haaretz daily on the prospect of reaching a peace agreement.
Abbas "could become a partner tomorrow for the deal you'd like to make if there was a settlement freeze," he said, adding, "Why not freeze the settlements? Does it affect your security?"
Click here for the full story
---
---
From the Jewish Telegraphic Agency
Tony Blair says Hamas can be coaxed to relent on Israel
(JTA) — Tony Blair, the former envoy for the Middle East Quartet, said Hamas can be persuaded to give up its fierce opposition to the State of Israel's existence.
Speaking at the Haaretz Peace Conference in Tel Aviv on Thursday, Blair also said that dialogue with the Islamist group that rules Gaza was "worth trying" and that conditions have improved for a peace deal involving moderate Arab states, the Times of Israel reported.
Regional alliances are more possible now than in the past, he said, noting that moderate Arab states share Israel's concerns about Iran and the Islamic State.
"I have very similar conversations in Israel [as] I do in the rest of the region," said Blair, a former British prime minister.
Click here for the full story
---
---
From the Jewish Telegraphic Agency
Holocaust museum urges US action to stop Islamic State genocide of Yazidi
WASHINGTON (JTA) — The U.S. Holocaust Memorial Museum urged the Obama administration to stop what it called the Islamic State's genocide of the Yazidi, citing inaction during the Holocaust as a predicate for action now.
"As part of its deliberate campaign of terror, I.S. singled out Yazidi populations for genocide and continues to perpetrate genocide against Yazidi trapped under I.S. control," the Washington, D.C., museum said in a statement Thursday, unveiling its report on minorities targeted by the Sunni Islamic extremist terrorist group.
"The self-proclaimed Islamic State is carrying out a widespread, systematic and deliberate campaign of ethnic cleansing and crimes against humanity against religious minorities in Iraq solely because of their religious beliefs," museum chairman Tom Bernstein said in the statement. "We have a moral responsibility not just to bear witness to these crimes but to act to prevent them."
Click here for the full story
---
---
From the Jewish Telegraphic Agency
Ben Carson on baby Hitler: 'I'm not in favor of aborting anybody'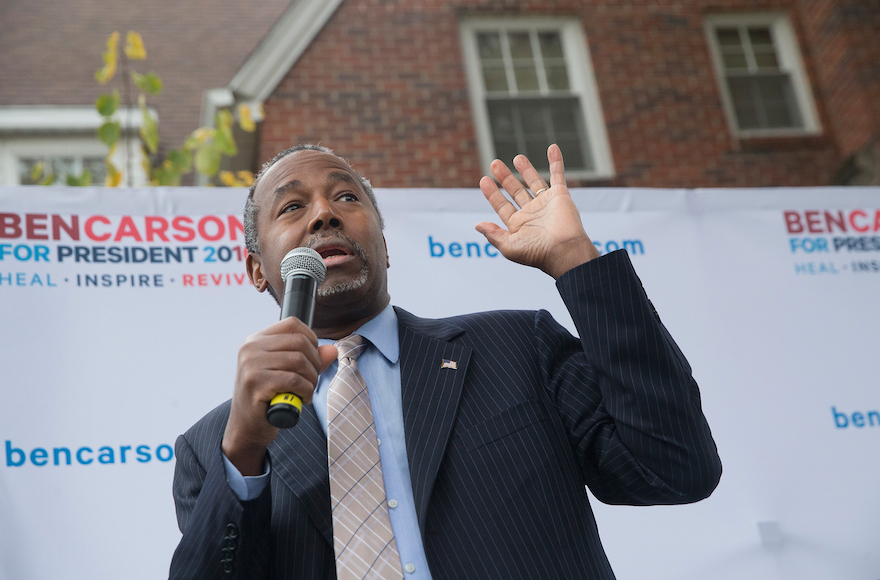 (JTA) — Ben Carson, a staunch abortion foe, said he would not have aborted baby Hitler.
Asked following the fourth Republican presidential candidates' debate in Milwaukee on Tuesday whether he would be in favor of aborting baby Hitler, Carson, a front-runner in the GOP contest, responded: "I'm not in favor of aborting anybody."
The questioner, who was among a crowd of people surrounding the candidate, began his query by calling Carson "perhaps the most anti-Hitler but also the most anti-abortion candidate."
Click here for the full story
---
---
From the Jewish Telegraphic Agency
Protesting tuition costs, pro-Palestinian student groups in NY blame 'Zionists'
(JTA) — Pro-Palestinian groups participating in a student protest against tuition increases at the City University of New York are blaming the high cost of education on "Zionists."
In a Facebook post announcing its participation in Thursday's Million Student March, the Students for Justice in Palestine wrote: "The Zionist administration invests in Israeli companies, companies that support the Israeli occupation, hosts birthright programs and study abroad programs in occupied Palestine, and reproduces settler-colonial ideology throughout CUNY through Zionist content of education. While CUNY aims to produce the next generation of professional Zionists, SJP aims to change the university to fight for all peoples liberation."
The post was signed by NYC Students for Justice in Palestine and the group's chapters at Hunter College, Brooklyn College, St. Joseph's College, the College of Staten Island, John Jay College, the CUNY School of Law, Pace University-Pleasantville, New York University and Columbia.
The Million Student March is a national effort aimed at protesting rising higher-education debt and calling for free tuition at public universities. The national effort does not employ anti-Israel rhetoric.
Click here for the full story
---
---
From Russia Today
'Attack on free speech': Australian Catholic Church probed over anti-same-sex marriage leaflet
Published time: 13 Nov, 2015 11:22
© catholic.org.au Tasmania's anti-discrimination commissioner has begun a probe into the Catholic Church over an anti-same- sex-marriage leaflet that was published in mid-2015. Some human rights campaigners criticize the move as an attack on free speech.
The leaflet, titled 'Don't mess with marriage' and published by the Australian Catholic Bishop's Conference, authorized by Hobart's Catholic Archbishop Julian Porteous, was sent to thousands of families through Church schools.
The leaflet pointed out the church's opposition to changing the Tasmanian Marriage Act to include same-sex couples into it.
"Same-sex friendships" differ a lot from "real marriages," the leaflet distributed across Australian schools said.
Click here for the full story
---
---
From Ynet News
How the Rabbinate creates bastard children
In a recent case, a divorced woman was denied right to remarry because she has a baby and is subject to halachic rule of nursing. After asking her intrusive questions, religious judges decide to include her son on a secret blacklist of 'mamzerim.' You think the rabbinic court is trying to protect children from being labeled as "mamzerim" (bastards)? Well, think again. In reality, the number of registered "mamzerim" tripled between 2008 and 2013.
And if anyone had any doubt, it's the State of Israel that gives the religious judges the authority to decide who goes on the "blacklist", and it is the State which holds on to this secret list.
Here's the story: A woman applies for a license from the State to marry the man she loved, after lawfully divorcing her first husband. When the clerk found out that the woman had a baby who was less than two years old, he refused to register the couple for marriage, explaining that they fell under the rule of a nursing mother ("meineket havero"), and sent them to the rabbinic court to clarify the matter.
Click here for the full story
---
---
From The Times of Israel
US Senate expresses support for Israel, slams Palestinian terror
Resolution condemns in the 'harshest terms possible' attacks that have left 11 Israelis dead and 145 wounded
By JTA November 13, 2015, 2:50 am
The US Senate on Tuesday passed a resolution expressing support for Israel and condemning Palestinian terror attacks.
The resolution, which passed by unanimous consent, condemned in the "harshest terms possible" attacks that have left 11 Israelis dead and 145 wounded, and called on Palestinian Authority President Mahmoud Abbas to stop incitement by Palestinian officials and media.
It further affirmed that the Senate "stands with the people of Israel during these difficult days" and supports the Jewish state's right to self-defense, rejecting "any suggestion of the moral equivalence of Israeli security personnel" protecting its citizens and "terrorists intent to deliberately take innocent lives."
Senators Richard Blumenthal, D-Conn, and Kelly Ayotte, R-NH, introduced the resolution, which had 67 co-sponsors — 41 Republicans and 26 Democrats. Last week, the US House of Representatives passed its own resolution condemning Palestinian terror.
Reiterating US policy that a final peace must be negotiated, the Senate resolution called on all parties to return to talks "immediately and without preconditions." It was introduced on November 3, a few days prior to the White House announcement that the United States would not broker a peace agreement before President Barack Obama leaves office.
Click here for the full story
---
---