Dr. Patrick Slattery's News Roundup
A service of DavidDuke.com
---
From PressTV
Israeli forces raid al-Aqsa Mosque compound in al-Quds
Clashes have broken out between Israeli police and a group of Palestinian worshipers after the regime's forces stormed the holy al-Aqsa Mosque compound in the Israeli-occupied Old City of al-Quds (Jerusalem).
On Sunday morning, the Israeli troopers forced their way into the sacred Muslim site by opening its doors using wedging metal bars, furniture and other items.
In response, Palestinians pelted the Israeli forces with stones and threw blocks as they were trying to reach the mosque's yard.
The photo shows Israeli forces inside al-Aqsa Mosque compound, located in the occupied Old City of al-Quds (Jerusalem), on July 26, 2015.

The photo shows the aftermath of Israeli force's raid on al-Aqsa Mosque compound, located in the occupied Old City of al-Quds (Jerusalem), on July 26, 2015.
The Palestinians had reportedly placed umbrellas, used during the holy fasting month of Ramadan to provide shade to worshipers in the mosque, to slow down Israeli forces and prevent the officers from chasing them further inside the buildings.
The clashes came to an end when Israeli troopers finally closed al-Aqsa Mosque's doors. The Israeli police said in a statement that a number of its members were wounded during the imbroglio. Six Palestinians were also arrested.
Click here for the full story
---
---
From Ynet News
Israel confirms Jonathan Pollard to be released, denies link to Iran deal
Following report that convicted Israeli spy is to soon be released by US after 30 years, Israeli officials deny claims that development is linked to the deal with Iran over its nuclear program.
Itamar Eichner, 07.25.15
Israeli officials confirmed on Saturday that convicted spy Jonathan Pollard is set to be released from US prison this year, but emphasized that this was unrelated to the recent deal signed between world powers and Iran.
According to officials, Pollard is scheduled for release in November after completing his sentence, and that it would be "very serious" if the government intervened.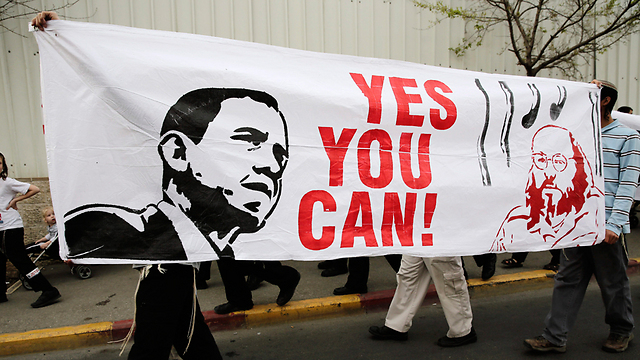 Banner calling for Pollard's release during a visit by US President Barack Obama in Israel (Photo: AP)
The officials said that a hearing on Pollard's release occurred three weeks ago. "There is no involvement by the American or Israeli government; it's a usual legal procedure," they said.
Click here for the full story
---
---
From The Times of Israel
Assad, in first major speech for a year, vows he'll win civil war
'We are not collapsing,' insists Syrian president. 'Defeat is not in our vocabulary'
July 26, 2015, 1:37 pm
BEIRUT (AP) — In his first public address in a year, embattled Syrian President Bashar Assad vowed Sunday to win his country's long-running civil war while acknowledging his troops had given up control of some territory.
Assad's speech, while confident, comes as his battered country is host to the extremist Islamic State group, which is targeted in daily US-led airstrikes. Turkey also has begun striking Islamic State fighters in Syria, as well as some Kurdish forces now leading a ground offensive against the extremists within the splintered country's borders.
Assad's televised speech Sunday morning, given to local dignitaries in the Syrian capital, Damascus, was his first public speech since he was sworn in for a third, seven-year term in July last year. Assad has given interviews to several Arab and international media outlets in the meantime.
"We are not collapsing. We are steadfast and will achieve victory," said Assad, who was interrupted several times by applause. "Defeat does not exist in the dictionary of the Syrian Arab army."
In his speech, Assad tried to justify why the Syrian army has given up some areas of the country, including the northwestern city of Idlib. Assad-allied forces, including fighters from the Lebanese terrorist group Hezbollah and Iranian advisers, control a little less than half of Syria's 185,000 square kilometers (71,400 square miles).
Click here for the full story
---
---
From the Jewish Telegraphic Agency
Jean-Marie Le Pen must stand trial for gas chamber description
(JTA) — Far-right French politician Jean-Marie Le Pen was summoned to stand trial for denying crimes against humanity.
Le Pen, 87, must appear in a Paris court in the wake of his description of the Nazi gas chambers as "just a detail of World War II," the French news agency AFP reported Friday, citing a source close to the investigation. The report said the longtime leader of the National Front party was summoned a few weeks ago.
In April, Le Pen told French TV that he does not regret the statement he made in 1987, for which he was convicted of racial hatred and fined.
"Gas chambers were a detail of the war, unless we accept that the war is a detail of the gas chambers," he told BFM in the spring. "I continue to uphold the view because I think it is the truth and it should not shock anyone. They have exploited this affair against me, implying this is about anti-Semitism. But I defy anyone to quote me on anything anti-Semitic I have said in my political career."
Click here for the full story
---
---
From the Jewish Telegraphic Agency
British trade union boots pro-Israel stand after harassment by opponents
(JTA) — Organizers of a trade union festival in Britain asked pro-Israel activists to leave and pack up their stand following harassment by supporters of the Palestinian cause.
Members of the Bournemouth Action for Israel (BAFI) grassroots group claimed that their kiosk was defaced and they were verbally abused by Palestine Solidarity Campaign supporters at the Tolpuddle Martyrs' festival last weekend in Bournemouth, The Jewish Chronicle of London reported Tuesday.
Owen Tudor, head of European Union and international relations at Britain's Trades Union Congress, or TUC, confirmed that festival organizers asked the pro-Israel stallholders "not to return for a second day" after "careful consultation and with due consideration given to our duty of care."
PSC has been represented at the annual festival for years, but last week was the first time BAFI attended.
Click here for the full story
---
---
From the Jewish Telegraphic Agency
Huckabee: Obama leading Israelis to 'door of the oven'
(JTA) — Republican presidential candidate Mike Huckabee, talking about the Iran nuclear deal, said President Barack Obama will march Israelis "to the door of the oven."
Huckabee, in an interview Saturday with Breitbart News, evoked Holocaust images of the ovens used to dispose of the bodies of Jews gassed in Nazi concentration camps.
"This president's foreign policy is the most feckless in American history," the former Arkansas governor said. "It is so naive that he would trust the Iranians. By doing so, he will take the Israelis and march them to the door of the oven."
Calling the deal signed earlier this month by Iran and world powers the "most idiotic thing," Huckabee said the agreement should be rejected by Democrats and Republicans in Congress, "and by the American people."
Click here for the full story
---
---
From the Jewish Telegraphic Agency
Pollard release set for Nov. 21 barring parole board objections
WASHINGTON (JTA) — Jonathan Pollard, who spied for Israel, is set to be released on parole on Nov. 21 unless the parole board objects, the U.S. Justice Department said.
A statement emailed to JTA on Saturday noted that Pollard, a civilian U.S. Navy analyst, was arrested in 1985 and in 1987 was sentenced to life for espionage.
"Under the laws in place at that time (and which are currently applicable to Pollard), a person with a life sentence is presumptively eligible for mandatory parole after 30 years unless the Parole Commission 'determines that he has seriously or frequently violated institution rules or that there is a reasonable probability that he will commit any Federal, State, or local crime'," it said. "Pollard is eligible for mandatory parole in November 2015."
Nov. 21 marks 30 years since Pollard was first jailed and for years has been listed as his release date.
Click here for the full story
---
---
From PressTV
Palestinian dies fleeing Israeli forces
A Palestinian man has been killed while struggling to escape Israeli troopers who were trying to arrest him in the occupied West Bank, Israeli police say.
Israeli forces entered the Qalandia refugee camp near the West Bank city of Ramallah on Monday to detain two suspected Palestinian activists, police said, adding that one of the Palestinians was shot in the leg as he was running away across a roof and then was killed as he tried to leap to another roof.
The victim, killed in Israel's third deadly arrest attempt in less than a week, was later identified as Mohammad Abu Latifa, 18.
On Thursday, Israeli soldiers shot dead a Palestinian in southern West Bank while detaining his son.
Another Palestinian was killed by Israeli forces during clashes near the northern West Bank city of Jenin last Wednesday.
Click here for the full story
---
---
From PressTV
Number of Palestinians detained by Israel doubled in year
Newly released figures indicate that the number of the Palestinian prisoners held captive in Israeli jails in the so-called administrative detention has doubled over the past year.
Local media outlets reported Sunday that the Israeli regime is currently holding 391 Palestinians in administrative detention, a two-fold increase compared to similar figures released in the summer of 2014.
The substantial hike in the number of the Palestinians held captive indefinitely without charge or any legal proceedings in administrative detention comes as a result of a decision by the Israeli military to lower the requirements for enforcing such kinds of detentions.
"The military prosecution in the West Bank has made a conscious decision to lower the bar for the evidence required to hold a prisoner without trial," Israeli daily Haaretz reported Sunday, citing sources in the Israeli military prosecutor's office as well as Palestinian defense lawyers.
According to the report, the decision mainly targets those Palestinian captives affiliated with the Gaza-based Hamas resistance movement in a bid to undermine the rising influence of the group in the West Bank.
Click here for the full story
---
---
From PressTV
Palestinians in Gaza protest UN refugee service cuts
Palestinians in the besieged Gaza Strip have staged a protest against cuts by the United Nations Relief and Works Agency for Palestine Refugees in the Near East (UNRWA) to services provided to refugees there.
UNRWA, said on Saturday, it was decreasing its aid to Palestinian refugees living in the Gaza Strip in recent years due to lack of funding from its international donors.
The UN agency usually provides health and educational services to Palestinian refugees in 58 refugee camps throughout the Middle East.
On Thursday, Nickolay Mladenov, the UN special coordinator for the so-called Middle East peace process, warned the UN Security Council that UNRWA has a shortfall of over $100 million that could lead to the closure of hundreds of schools.
"There is a clear policy by the international community to ignore the needs of Palestinian refugees. Many students will lose their education and teachers will lose their jobs because donors have failed to provide UNRWA with $100 million. UNRWA operations in all fields could stop because of the international community's failure to fulfill its commitments," warned Suheil al-Hindi, an employee at UNRWA in Gaza.
Click here for the full story
---
---
From PressTV
Israeli violence against detained Palestinian children on rise: NGO
An independent non-governmental organization (NGO) says violence against the Palestinian children detained in the occupied West Bank by Israeli forces has risen in the first half of 2015.
According to a report by Defense for Children International Palestine (DCIP), as much as 86 percent of the Palestinian children detained in the occupied West Bank are exposed to some form of physical violence during their arrest or interrogation by Israeli forces.
The data, compiled by the NGO since January 2015, indicate a 10-percent increase in the Israeli violence against the Palestinian children from 2014.
The DCIP said the ill treatment of Palestinian children in the Israeli military detention system remains widespread and systematic, adding that the arrested children are taken to Israeli interrogation centers blindfolded, bound and sleep-deprived.
The detained Palestinian children, under the Israeli rules, are deprived of the right to be accompanied by their parents and in most cases they have no access to legal counsel during interrogation, the NGO added.
Click here for the full story
---
---
From The Times of Israel
Kerry: Israeli strike on Iran would be 'huge mistake'
US top diplomat touts support of former Mossad, Shin Bet heads for controversial nuclear accord
July 24, 2015, 4:45 pm
US Secretary of State John Kerry said Friday that any future Israeli military action against Iran over its nuclear program would be a "huge mistake."
Asked on NBC's TODAY show if the nuclear deal signed between the world powers and Iran last week in Vienna would make it more likely that Israel would attempt an attack, Kerry said: "That'd be an enormous mistake, a huge mistake with grave consequences for Israel and for the region, and I don't think it's necessary."
He added: "Iran would then have a reason to say, 'Well, this is why we need the bomb.'"
Kerry is on a fervent campaign to promote the nuclear accord, which has been met with opposition, mainly from Israel and Saudi Arabia and other Gulf states.
He was speaking about the deal on Friday at the Council on Foreign Relations in New York City and was then set to meet with leaders from the American Jewish Committee and the Conference of Presidents of Major American Jewish Organizations. Some Jewish groups, including the Conference of Presidents and the Anti-Defamation League, have vehemently opposed the deal with Iran, which has pledged to destroy Israel.
Click here for the full story
---
---
From the Jewish Telegraphic Agency
Renovated Wagner museum includes composer's anti-Semitic essays
(JTA) — A renovated museum in Germany devoted to Richard Wagner addresses the 19th-century composer's anti-Semitism and his family's ties to Hitler.
The museum in Bayreuth, in northern Bavaria, was rededicated on Sunday in conjunction with the annual Bayreuth Wagner Festival, Reuters reported, following a five-year, $22 million renovation project. Several speakers at the opening mentioned the Wagner family's links to Nazism.
Opened originally in 1976, the museum comprises the composer's home and the home of his son. It now exhibits the anti-Semitic tracts published anonymously at first by the composer and then under his name, and includes displays showing his family's close links to Hitler and the Nazi movement that occurred after his death in 1883, according to Reuters.
Wagner was Hitler's favorite composer and he often attended the festival in Bayreuth.
Click here for the full story
---
---
From PressTV
OIC calls on Security Council to stop Israel's attacks on al-Aqsa
The Organization of Islamic Cooperation (OIC) has called on the United Nations Security Council to take measures for an end to Israeli attacks on the al-Aqsa Mosque compound and violation of the Islamic holy site.
OIC Secretary General Iyad Ameen Madani said in a Sunday statement that Israel should be held responsible for consequences of continued systematic attacks on the mosque.
He added that Israel's actions against one of Islam's holiest sites "fuels religious conflict, extremism, and instability in the region."
"Incursion into and desecration of the blessed al-Aqsa Mosque by groups of extremist settlers under the protection of the Israeli occupation forces" is considered " an act of provocation and blatant violation of relevant international resolutions and instruments," he said.
Madani also noted that the settlers blocked access to the mosque and "savagely attacked" the worshipers there.
Earlier in the day, Israelis broke into the al-Aqsa compound and got engaged in violent clashes with Palestinians.
Click here for the full story
---
---
From PressTV
500,000 Palestinian children may miss school this year: UN
The United Nations has warned that some 500,000 Palestinian children may be kept out of school due to limited funding from donor countries.
​Schools run by the United Nations Relief and Works Agency for Palestine Refugees in the Near East (UNRWA) will not be able to reopen in the autumn due to a shortage of USD 100 million unless the international community donates the amount to the UN agency, UN Special Coordinator for the Middle East Peace Process Nickolay Mladenov said on Thursday.
He added that the donors' contribution could avert a "serious risk" by allowing "UNRWA schools, which educate 500,000 children throughout the Middle East," to open.
Lack of the funding "will have grave implications for Palestine refugee children in Gaza, the West Bank, Jordan, Lebanon and Syria, and for the stability and security of a region already in turmoil," Mladenov told the UN Security Council.
According to UNRWA, over 1.5 million Palestinians – almost a third of the registered Palestinian refugees – live in 58 recognized refugee camps in Jordan, Lebanon, Syria, the besieged Gaza Strip and the occupied West Bank.
Click here for the full story