Anyone who might be deluded into thinking that recent public spats between Israel and the Obama administration have led to any weakening in the Jewish Lobby's control and direction of US policy will have had their mistaken beliefs corrected by the latest pronouncements of a bipartisan visit to the Zionist state.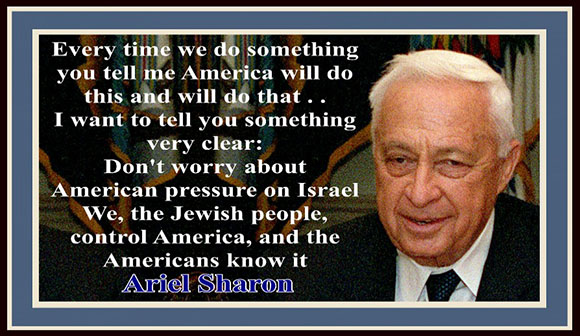 According to an article in The Times of Israel, top-level Democrats and Republicans have met with Israeli Prime Minister Benjamin Netanyahu, Israeli president Shimon Peres and others, and have insisted that "despite tensions, [the] US-Israel alliance [is] unharmed by recent spats."
Senator Kelly Ayotte of New Hampshire, Senator Joe Donnelly of Indiana and Congressman Stephen Lynch of Massachusetts "insisted on Thursday that high-profile disagreements — and even disparaging comments in recent months — have not dampened support for the US-Israel alliance.
Shortly after meeting with Netanyahu Thursday afternoon, Senator Kelly Ayotte (R-NH) suggested the meeting "emphasized how unbreakable the relationship is with Israel regardless of what any official says at any one time."
Following the discussion with the prime minister, primarily on the Iran nuclear talks and the peace process with the Palestinians, "I can say [Israel and the US] are very much aligned," Ayotte told The Times of Israel.
Asked how recent disparaging remarks by Defense Minister Moshe Ya'alon's about Secretary of State John Kerry and American foreign policy generally might affect the relationship, Ayotte said she "will let [Ya'alon] address his own comments." But she added: "I don't think his comments can be interpreted at all as [an expression of] the friendship being weakened."
According to Donnelly, a Democrat, the "relationship" between the US and Israel is "as strong as could be.
"When we were with [Netanyahu] tonight, there was a very clear understanding on both [sides] that we're standing shoulder to shoulder."
Lynch added that the "alliance itself was unshaken. The relationship is at the citizen level," he insisted.
And tensions were nothing new. "We've often had leaders in Israel and the US who said or did controversial things, whether that's President [Jimmy] Carter or President [Ronald] Reagan or Prime Minister [Ariel] Sharon. But we get past those things."
The three lawmakers also met with Peres, in part to present a Congressional medal to the president for "his years of work in fostering the US-Israel alliance."
The three lawmakers also visited Iron Dome and Arrow missile defense facilities — Ayotte and Donnelly are both on the Senate Armed Services Committee, and therefore played a major role in getting American taxpayers to pay for these armanents.
Finally, to add insult to injury, the "American" ambassador to Israel, Dan Shapiro said the three lawmakers "communicated their strong support for US assistance to Israel and their commitment to Israel's security."
With a line-up like this, anyone who thinks the power of the Jewish lobby has been weakened by recent events, will have to think again.