Dr. Patrick Slattery's News Roundup
A service of DavidDuke.com
---
From the Jewish Telegraphic Agency
Ted Cruz spearheads call to shutter PLO's DC office
WASHINGTON (JTA) — More than 30 Republicans in Congress, spearheaded by presidential candidate Ted Cruz, called on the Obama administration to close the PLO office in Washington.
The letter, citing what it called incitement by Palestinian leaders during the recent spate of violence in the West Bank, said the administration should apply a 1987 law banning the Palestine Liberation Organization from operating in the United States.
U.S. presidents have waived the law since 1994, soon after the Oslo accords between Israel and the PLO, allowing the Palestinian body quasi-diplomatic status in the U.S. capital.
"Closing the PLO office in Washington, D.C., would send a clear statement that the kind of incitement to violence perpetrated by the PLO and its leaders will not be tolerated," said the letter sent Dec. 18 to Secretary of State John Kerry and released last week to the media.
Click here for the full story
---
---
From PressTV
Ankara troops cause lots of tension in Iraq: Premier Abadi
The Iraqi prime minister says Ankara shows no respect to an agreement on pulling back its troops from the country's north, accusing the Turkish forces of causing "lots of tension" in the region.
In a phone conversation with Turkish Premier Ahmet Davutoglu on Wednesday, Haider al-Abadi also reiterated his stance on the territorial integrity of his country and requested the Turkish government to withdraw its troops from the Iraqi territory immediately, the Arabic-language al-Soumeria news website reported.
"Turkish forces are not fighting the Daesh Takfiri terrorist group, so there is no reason why Ankara has sent its military trainers deep inside the Iraqi border, in a place like Mosul, and put their lives at risk. Instead, there are other safe camps in other areas, which they can go," Abbadi further said, adding that Daesh terrorists are much closer to Turkish borders from the Syrian side, yet Ankara does not fight with them.
Earlier in the day, Iraqi Foreign Minister Ibrahim al-Jaafari also told a press conference that Baghdad might resort to military action to defend its sovereignty if Ankara does not pull back its troops from the Iraqi territory.
The remarks came less than a month after Turkey deployed some 150 soldiers, equipped with heavy weapons and backed by 20 to 25 tanks, to the outskirts of the city of Mosul, the capital of Iraq's northern province of Nineveh.
Ankara claimed the deployment was part of a mission to train and equip Iraqi Kurdish Peshmerga forces in the fight against Daesh terrorists, but Baghdad denounced the act as a violation of Iraq's national sovereignty since they entered the Iraqi territory without the knowledge or approval of the central government in Baghdad.
On December 19, Turkey announced that it had begun withdrawing troops following an appeal by US President Barack Obama. Yet Baghdad says the Turkish forces will only be relocated from one area to another on the Iraqi soil.
Click here for the full story
---
---
From PressTV
Iraq urges Turkish troops pullout, threatens military action
The Iraqi foreign minister has once again called on Turkey to withdraw its troops from northern Iraq, warning that Baghdad may otherwise take military action against Ankara.
Iraq seeks a peaceful resolution of the issue, but if there is no other solution and if "fighting is imposed on us, we will consider it to protect our sovereignty," Ibrahim al-Jaafari told a press conference in Baghdad on Wednesday.
The remarks came more than three weeks after Turkey deployed some 150 soldiers, equipped with heavy weapons and backed by 20 to 25 tanks, to the outskirts of the city of Mosul, the capital of Iraq's northern province of Nineveh.
Ankara claimed the deployment was part of a mission to train and equip Iraqi Kurdish Peshmerga forces in the fight against Takfiri Daesh terrorists, but Baghdad denounced the uncoordinated act as a violation of Iraq's national sovereignty.
Later, Turkey announced that it had begun withdrawing troops following an appeal by US President Barack Obama. At that time, however, al-Jaafari cast doubt on Ankara's claims, saying the Turkish forces would be relocated from one area to another on the Iraqi soil.
The northern and western parts of Iraq have been plagued by gruesome violence ever since Daesh mounted an offensive in the country in June 2014.
Click here for the full story
---
---
From Russia Today
US created ISIS, seeks discord among Muslims – Ayatollah Khamenei
Published time: 30 Dec, 2015 18:05
Iran's Supreme Leader Ayatollah Ali Khamenei © Alexei Druzhinin / Reuters The US is hostile towards Islam and tries to create divisions between Muslims, said Iran's Supreme Leader Ayatollah Khamenei, also accusing Washington of conceiving the Islamic State terrorist group.
"One of the main tools used by the enemies to prevent the birth of modern Islamic civilization is through creating divisions among Muslims," Ayatollah Seyed Ali Khamenei said on Tuesday, as cited by Fars news agency.
Khamenei believes that the US is against the principles of Islam and promoting terror groups such as Islamic State (IS, formerly ISIS/ISIL).
"The present US officials are against the principles of Islam and, unlike their statements, they are after fomenting differences among Muslims, and its example is creating terrorist groups like Daesh (the Arabic acronym for ISIS) and other groups that have been created through the funding of the US affiliates and their political aids; they (the American officials) have caused the recent tragedies in the Muslim world," Khamenei said.
Click here for the full story
---
---
From Russia Today
Turkey supports ISIS, wants to revive Ottoman Empire – Syria's UN envoy
Published time: 30 Dec, 2015 06:31
Turkey's President Tayyip Erdogan walks down the stairs in between soldiers, wearing traditional army uniforms from the Ottoman Empire. © Adem Altan / Reuters
Syria's envoy to the UN has accused Turkey of supporting terrorist groups and covering for their invasion into Syria. Urging the UN to end Ankara's "violations and crimes," Bashar al-Ja'afari also warned that Erdogan's goal is to "revive" the Ottoman Empire.
"Since 2011, an unprecedented terrorist war has been waged against the Syrian Arab Republic by armed terrorist groups, the members of which come from more than 100 countries," Ja'afari, Syria's permanent representative to the UN, wrote in his letter to the world body, TASS reported. "Those groups are being provided with funding, weapons, materiel and logistical support by states and regimes from the region and beyond."
While mentioning other players allegedly involved in the spread of Islamist terrorism, Ja'afari accused Turkey and President Recep Tayyip Erdogan of playing the most active role.
"During the crisis, Turkish interference in Syria's internal affairs took many forms, including direct involvement of the regime of Erdogan, the Turkish armed forces in offensive military operations in support of terrorists," Ja'afari wrote to UN Secretary-General Ban Ki-moon and the UN Security Council, as cited by RIA Novosti.
Read more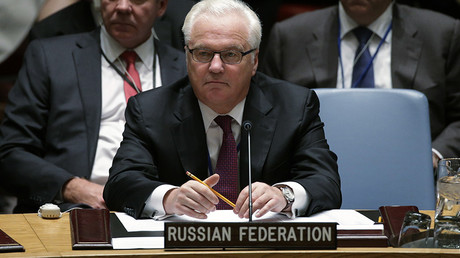 Turkey, US failed to notify UN Security Council of ISIS oil smuggling – Russian UN envoy Churkin
Click here for the full story
---
---
From Russia Today
Israeli justice minister turns to police after professor calls her 'neo-Nazi scum' on FB
Published time: 30 Dec, 2015 04:48
Ayelet Shaked, Israel's Justice Minister. © Gali Tibbon / Reuters
Two professors from Hebrew University accused Israel's Justice Minister, Ayelet Shaked, of facilitating arms sales and "genocide" in Africa, with one branding the right-wing minister a "neo-Nazi." Shaked wasn't amused and filed a police complaint against both.
Dr. Ofer Cassif from the university's Political Science Department shared a Facebook post made by his colleague, Professor Amiram Goldblum, which said that Shaked had received funds from Serge Muller, a Belgian-Jewish businessman arrested by Interpol earlier this year over allegations of illegal arms trading in South America and Africa.
The original post also criticized a bill approved on Sunday making it mandatory for NGOs receiving more than half their funding from other countries to publicly disclose their financial sources. NGOs would be slapped with a 29,000 shekel ($7,400) fine for failing to comply.
READ MORE: US taxpayers subsidizing Jewish terrorism in Israel, complaint alleges 
Click here for the full story
---
---
From Russia Today
Europe in 2015: Right-wing forces rise on back of worst refugee crisis since WWII
Published time: 29 Dec, 2015 17:06
Demonstrators march towards the prefecture in Ajaccio during a protest on December 26, 2015, a day after demonstrators vandalised a Muslim prayer hall and trashed copies of the Koran, following a night of violence that left two firefighters and a police officer injured © Yannick Graziani / AFP
Recently, three in five EU citizens told pollsters that they do not approve of migrants coming from outside the continent. With more than 1 million arriving in 12 months, rising tension is finding outlets at the ballot box and on the street.
Merkel faces backlash against Germany's open-door policy
Angela Merkel's Germany, the continent's unspoken leader, has borne the main brunt of the inflows, while failing to persuade neighboring states to follow its lead. But, perhaps due to the historical guilt of Nazism, and a restrictive public discourse, growing anger has not yet gone mainstream.
Merkel's own cabinet has backpedaled furiously in the past several months, re-introducing border controls, putting more and more countries on black lists, and making it more difficult for migrants to secure permanent residence. Whether this will divert the people smugglers' routes is unclear, but with over three-quarters of Germans telling EU's Eurobarometer survey immigration was one of their two biggest concerns, Merkel had better hope she is not shuttering an empty stable.
Nordic social conscience put to the test
Historically, the socially-oriented Nordic states have been a prime destination for asylum seekers, with Sweden regularly receiving more applications per 100,000 of the population than any other European country, and Finland and Norway not far behind.
But these are also some of the most homogeneous, cohesive societies in Europe, and the mass arrival of migrants has been highly noticeable, and has divided communities.
The partisan media reports these outbreaks either as understandable grievances boiling over, or evidence of racism, but with more migrants on the way, and no practical solutions in sight, Europe will have to get used to the hum of low-level confrontation with its migrant population, and the booming proclamations of triumph from its right-wing parties.
Click here for the full story
---
---
From the Jewish Telegraphic Agency
Christian-funded group begins bringing French Jews to Israel, challenging Jewish Agency
(JTA) — An Israeli organization with major funding from Christian donors brought 17 French Jews to Israel in what its founder said was an attempt to "end the monopoly" of the Jewish Agency for Israel.
Jewish Agency officials dismissed the move as "smoke and mirrors" designed to gain publicity.
The French Jews brought to Israel by the International Fellowship of Christians and Jews, or IFCJ, arrived Sunday. They constituted the first group whose aliyah, the Hebrew-language term for Jewish immigration to Israel, was facilitated by the organization since it began working in France six months ago, IFCJ founder Rabbi Yechiel Eckstein told JTA.
The group was among the nearly 7,900 Jews, a record number, who will have arrived this year from France, according to the Jewish Agency's France director, Daniel Benhaim. For a second straight year, France was Israel's largest provider of Jewish immigrants.
Click here for the full story
---
---
From the Jewish Telegraphic Agency
Report: US spied on Netanyahu during talks on Iran deal
The National Security Agency's foreign eavesdropping included conversations between Prime Minister Benjamin Netanyahu and his aides, and private conversations held between Israeli officials and U.S. lawmakers, according to the report published late Tuesday afternoon, citing  more than two dozen unnamed U.S. officials.
The White House declined comment on the issue.
Click here for the full story
---
---
From PressTV
Israel forces kidnap 28 Palestinians in West Bank
Israeli forces have abducted some 28 Palestinians during separate overnight raids across the occupied West Bank including al-Quds (Jerusalem).
According to local residents and the Israeli army, the abductions were made early Wednesday in the cities of al-Khalil (Hebron), Ramallah, Tulkarem and Jenin.
Israeli military officials claim the detainees, several of whom are members of the Palestinian Prisoners' Society (PPS), were involved in alleged terror activities and violent disturbances.
The Israeli military confirmed that two of the detainees are members of the Gaza-based Palestinian resistance group Hamas.
Israeli forces regularly conduct search and arrest operations in Palestinian territories. According to rights groups, over 6,700 Palestinians are currently held in Israeli jails.
There has been growing confrontation between Israelis and Palestinians over the past months.
Click here for the full story
---
---
From PressTV
Syria army enters militant-held town in Dara'a
The Syrian army has managed to move inside the town of Sheikh Maskin, which was controlled by foreign- backed militants, in the southern province of Dara'a.
The military said in a Wednesday statement that troops were in the town's main square, capturing its eastern and northern neighborhoods.
Sheikh Maskin is located on a major supply route from the Syrian capital of Damascus to the city of Dara'a.
Syria's official SANA news agency, meanwhile, said terrorists have started to move their operations' center from the town to the city of Nawa, adding that the militants are also fleeing Sheikh Maskin after a number of their leaders were killed in the army's operation.
Terror groups have confirmed the killing of at least 11 of their members, including four of their commanders, in Sheikh Maskin.
Separately, the so-called Syrian Observatory for Human Rights said at least ten Takfiri militants, including a top leader of the al-Nusra Front, were killed by the Syrian army near Dara'a.
The new advances came a day after army units succeeded in gaining control over Tal al-Hash and the 82nd brigade camp in the vicinity of Sheikh Maskin.
Click here for the full story
---
---
From Russia Today
Russia demands arrest of Su-24 pilot's murderer who gave interview to Turkish media
Published time: 30 Dec, 2015 20:07
A Russian Su-24 bomber. © Dmitriy Vinogradov / Sputnik
The Russian Foreign Ministry has demanded that Turkey brings to trial Alparslan Celik who confessed in an interview with Turkish media that he had participated in the murder of the Russian pilot of Su-24 downed by Turkish air forces in November.
"We demand that the Turkish authorities take immediate action to catch Alparslan Celik and his accomplices and charge them with criminal offence for killing a Russian pilot and taking part in hostilities as members of an illegal armed group in a foreign country," Maria Zakharova, spokesperson for the Russian Foreign Ministry said in a statement.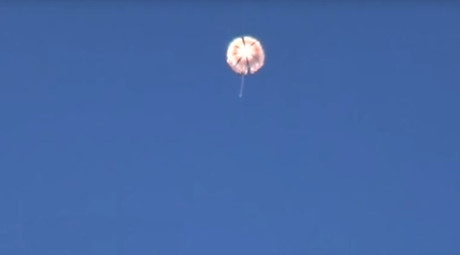 Russian Su-24 pilots shot dead while parachuting over Syria – Turkmen militia
Zakharova also expressed surprise and indignation that Hurriyet, a major Turkish newspaper, had given floor to the "murderer and terrorist" so that he could brag about his crime and disseminate nationalist ideology, "filled with hatred towards Russia and the Russian people."
The Russian Foreign Ministry also demanded Turkey to assess actions and statements of its citizen who confessed to an international crime – murdering a foreign pilot.
Click here for the full story
---
---
From Russia Today
ISIS oil business, Corbyn smear campaign, Jeffrey Sterling vs CIA: Underreported stories of 2015
Published time: 30 Dec, 2015 18:58
Mainstream media often shies away from stories that lack easy hooks or challenge ideological preconceptions. This is where RT comes in – these are seven crucial but underreported narratives that we covered in detail in 2015.
Islamic State shady deals and financing
How does Islamic State manage to keep its reign of terror going? The sale of oil would be a good start and Turkey has reportedly been involved in the illegal trade with the jihadists. The allegations go right to the top, with Turkish President Recep Tayyip Erdogan's family accused of engaging in the shady dealings. Russia says it has proof that Islamic State sends its oil through Turkey. President Vladimir Putin doesn't believe only Turkey is taking advantage of cheap oil. Russian intelligence agencies allege the terrorists appear to be financed from 40 countries, including some G20 member states.
Ankara's oil business with ISIS 
Russia has 'more proof' ISIS oil routed through Turkey, Erdogan says he'll resign if it's true
Putin: ISIS financed from 40 countries, including G20 members
'Je ne suis PAS Charlie': Cartoon outrage & opposition
There was an outpouring of grief and solidarity following the deadly attacks on the Charlie Hebdo offices in Paris in January. While millions around the world adopted the slogan "Je suis Charlie," the French satirical magazine has been less than sensitive to the plight of others experiencing utter anguish.
Click here for the full story
---
---
From Russia Today
Russia eliminates several ISIS commanders in Syria air op, data provided by opposition – MoD
Published time: 30 Dec, 2015 15:20
SU-34 © Dmitriy Vinogradov / Sputnik
The Russian Air Forces have eliminated several Islamic State commanders striking a building in Raqqa, where they were holding a meeting. The intelligence data for the operation was provided by opposition forces, Russia' Defense Ministry said.
"The reported area was constantly surveyed from air for two days. After the arrival of commanders was confirmed, a Su-34 targeted the building used as the venue of the meeting. The building was totally eliminated by a guided bomb," the ministry reported on its website Wednesday.
In total, Russian bombers carried out 121 sorties over the last two days, hitting a total of 424 targets across Syria. The raids were undertaken by Su-24, Su-25 and Su-34 warplanes.
In the Aleppo province, Su-25 planes conducted a number of airstrikes against terrorist targets. As a result, a tank and three vehicles were destroyed. Attacks in the Idlib province also targeted Al-Nusra Front forces, while an IS arms depot, which contained weapons and machinery, was destroyed around Homs.
Syrian troops also made significant gains in the Deraa province on Wednesday, aided by Russian air support. Soldiers entered the town of Sheikh Maskin, which is on a key supply route between the capital, Damascus, and the city of Deraa. A commander in a rebel group said that there had been at least 100 Russian raids over the last two days, which had given troops loyal to Syrian President Bashar Assad the upper hand, Reuters reports.
Click here for the full story
---
---
From Russia Today
'American exceptionalism' hampers its war on terror – Lavrov
Published time: 30 Dec, 2015 07:31
Russia's Foreign Minister Sergey Lavrov © Eduardo Munoz / Reuters
America's consciousness of being an "exceptional" nation interferes with its ability to fight terrorism in every direction and by all means, Russia's foreign minister has said, noting that Turkey is copying the behavior of its NATO mentor in Iraq.
"The factor that does no good to our cause is American exceptionalism. It sets a stamp upon how they decide to fight terrorism: in depth, in width and against individuals," FM Sergey Lavrov said, adding that the Americans believe that they can admonish everybody else.
The creation of a coalition on Syria is "absolutely" an American idea, Lavrov said, sharing that many of the US's allies in NATO would prefer that the issue is dealt with the "proper way," through UN institutions.
Click here for the full story
---
---
From Ynet News
IDF soldier wounded in friendly fire incident
During a live fire exercise near Bethlehem earlier this week, a soldier from the Artillery Corps who was 'playing' the enemy was accidentally shot by a friend from the same unit and hospitalized in moderate condition. The IDF says that such incidents are investigated and treated very seriously.
The biggest fear in army exercises involving live fire was realized on Monday when a soldier was accidentally shot and moderately wounded in a drill near Bethlehem.
The soldier, who was hospitalized in Jerusalem, was hit in the upper body by a bullet shot by a friend from the same unit, the Artillery Corps.
Click here for the full story
---
---
From the Jewish Telegraphic Agency
Israeli officials see growing local threat from ISIS
(JTA) — Israeli security officials are increasingly concerned about the threat of large-scale terror attacks by ISIS.
In an article Wednesday, Haaretz reported that Israel's "defense establishment" believes a growing number of Arab-Israelis are joining the Islamic extremist group, and that ISIS branches on the Syrian border with the Golan Heights and in Egypt's Sinai will recruit Arab-Israelis to commit terror attacks.
Also Wednesday, the Israel Defense Forces said ISIS operatives just north of the Israel-Syria border may be planning attacks on Israel, according to the Times of Israel. In particular, the IDF said it is concerned about the possibility that the Shuhda al-Yarmouk group of ISIS fighters there will send an explosives-packed vehicle over the border, fire anti-tank missiles and rockets, or plant explosive devices along the border fence. In response, Israel has stepped up security along the fence.
Over the weekend, the Iraq- and Syria-based Islamic terrorist group, which has not previously targeted Israel, threatened attacks against "the Jews in Palestine" in an audio tape reportedly made by ISIS leader Abu Bakr al-Baghdadi.
Click here for the full story
---
---
From the Jewish Telegraphic Agency
Israel's detention facility for illegal African migrants reaches capacity
(JTA) — Israel has run out of space in its detention center designated for migrants and asylum seekers who have entered the country illegally.
The Israel Prison Service announced Tuesday that with 3,300 inmates, its Holot center is full, several Israeli media outlets reported.
Inmates are permitted to leave the Negev facility during the day, but are required to check in each morning and evening. Because it is the only detention facility run in the manner, the government — which has ordered hundreds of people to report to the facility in the coming months — has no other place to assign them,according to Haaretz.
Click here for the full story
---
---
From the Jewish Telegraphic Agency
Likud to hold early leadership primaries, per Netanyahu's request
JERUSALEM (JTA) — The central committee of the Likud Party has approved early leadership primaries requested by Prime Minister Benjamin Netanyahu.
The primaries will be moved up from six months before the next scheduled national election to Feb. 23.
Critics claim the action will consolidate Netanyahu's support as head of the party. The leadership vote determines the party leader and list of candidates.
Netanyahu says the move will allow the party to be "ready for every scenario," including early national elections. Early elections are likely, since the Likud-led government coalition has a majority of one seat.
---
---
From Russia Today
ISIS targets educated youth lacking patriotic background – Jordanian MP whose son blew himself up
Published time: 30 Dec, 2015 09:36
 Jihadist recruiters operate in universities all over the world to attract new educated converts, Jordanian MP Mazen Dalaeen, who lost his son to ISIS, told RT. The politician is proposing patriotic education to fight against the false jihadist ideology.
The Jordanian MP revealed that his son Muhammad was recruited in Karazin University in Ukraine's Kharkov, where he had enrolled to study medicine. The young man became radicalized in a matter of months after coming into contact with Islamist students who came to Ukraine from Azerbaijan, Russia's Chechen Republic and Tunisia.
Muhammad Dalaeen
"He was urged to join Islamic State by the group's proponents, who claim that Muslims living in Syria and Iraq risk being overrun by the Shiites who rule Iraq – they refer to the al-Maliki government," Dalaeen said, recalling that the Muslim youth he met while visiting with his son in Ukraine used to call the Shiites in Iraq"corrupt."
"They say a lot of people in that country have been imprisoned, even women," Dalaeen said, adding that supporters of Islamic State (IS, previously known as ISIS/ISIL) would say they "want to liberate these women" from oppression at the hands of the "Safavids (Iranians) and the Shiites."
"He would talk about an Islamic caliphate returning to the Levant. He'd say, "By God's will, we will aid the caliphate with our Jihad."
Click here for the full story
---
---
From Ynet News
Holocaust denial on the rise in Eastern Europe
After Lithuania changed the definition of 'genocide' and Baltic countries have turned murderers of Jews into national heroes, Holocaust researchers are accusing the State of Israel of standing idly by as history is being re-written. The testimonies are fading away, the memorial sites are turning into entertainment centers, and the historical story is seen as just another "Jewish narrative": If anyone thought that Holocaust denial was a marginal phenomenon among a few anti-Semites and Israel haters, evidence shows that is it a much wider, more well-established and dangerous phenomenon that is receiving reinforcement on the ground from eastern European countries.
In Lithuania, for example, people are doing everything to downplay the significance of the horrors of the war as a unique event in the history of mankind, and in Ukraine a famous mass murder site has turned into a thriving jogging spot.
According to Dr. Efraim Zuroff, a Nazi hunter and director of the Simon Wiesenthal Center office in Jerusalem, many countries have adopted an intentional policy leading to de facto Holocaust denial. While researchers and historians are trying to fight the new phenomenon and to get western Europe to join the battle, the State of Israel is actually standing back and doing nothing.