Dr. Patrick Slattery's News Roundup
A service of DavidDuke.com
---
The Independent
---
---
From Russia Today
Risks rising for migrants entering Europe through Balkans – UN
Published time: June 13, 2015 15:40
The UN refugee agency said on Friday that migrants trying to get into Europe from the Middle East and Africa through the Balkans are facing increased dangers from accidents on the railways they follow, as well as violence and abuse from criminal gangs.
Over the last two years, in addition to migrants trying to cross the Mediterranean, the so-called 'Western Balkans route' through Macedonia and Serbia has jumped in popularity, AP reports.
Although it is less dangerous than crossing the sea, the risks of taking the Balkan route are growing, as the number of migrants using it rises. Most of them come from Syria, Iraq, Afghanistan, Eritrea and Somalia, according to the UN.
The number of illegal crossings though the Balkans have jumped seven-fold from 6,391 in 2012 to 43,357 in 2014.
In Serbia alone, 22,000 asylum seekers were registered in the first five months of 2015 and 10,000 of these were in May. Civil society organizations in southern Serbia are dealing with up to 200 asylum-seekers every day in need of humanitarian assistance, according to UNHCR spokesman Adrian Edwards.
Click here for the full story
---
---
From The Times of Israel
Dieudonne fined 130K euros for distorting Jewish French singer's work
Court rules anti-Semitic comedian must pay damages to family of songstress Barbara for writing new, 'humiliating' version of song
June 13, 2015, 8:57 pm
A top French court fined anti-Semitic comedian Dieudonne M'bala M'bala 130,000 euros on Thursday for distorting a famous song by a Jewish French singer.
The decision was the final ruling in a case that has been ongoing for for the past year. In July 2014, Dieudonne was ordered by a judge to pay 50,000 euros in damages to the beneficiaries of singer Barbara, after he released a video in which he rewrote her famous chanson L'Aigle Nior (The Black Eagle) as Le Rat Nior (The Black Rat), adding insults against the artist and calling her "crazy" and "senile."
Barbara's estate, led by nephew Bernard Serf, had sued the provocative comedian, accusing him of using anti-Semitic imagery to "humiliate" the late singer, who passed away in 1997. Barbara's representatives demanded the video's immediate withdrawal, as well as compensation of damages.
When the judge ruled in the family's favor, he also ruled that Dieudonne would be fined an additional 1,300 euros for every day the video remained online. The French comedian filed an appeal against the ruling, not only claiming his song was a legitimate parody, but simultaneously delaying the removal of the video.

Click here for the full story
From PressTV
Egypt opens borders with Gaza for three days
The Egyptian government has reopened the Rafah border crossing with the Israeli-blockaded Gaza Strip for a three-day period.
The head of Gaza's border authority, Maher Abu Sabha, said Cairo had opened the Rafah border crossing on Saturday morning.
The crossing, which is Gaza's only gateway to the outside world with no Israeli control, will operate for three days, allowing Palestinians to travel in both directions. Some 15,000 people have applied to exit, Abu Sabha said.
Egypt has been keeping closed the Rafah border crossing, Gaza's only land terminal that bypasses Israel, since the Palestinian resistance movement Hamas took control of the coastal strip in 2007.
Cairo tightened the restrictions on the Rafah crossing after the Egyptian military ousted President Mohammed Morsi, the country's first democratically elected president, in a 2013 coup.
Click here for the full story
---
---
From PressTV
Israeli troops attack Palestinian demo, injure five
Five people have been wounded as Israeli forces opened fire on Palestinian protesters marching against the Tel Aviv regime's illegal settlement construction in the occupied West Bank.
On Friday, Israeli soldiers attacked a weekly protest in Kafr Qaddum, a town in northern West Bank, with live fire and injured five people, the Ma'an News Agency reported.
Two of the injured protesters, aged 20 and 35, are reportedly in critical condition. Dozens others suffered from teargas inhalation.
Clashes also erupted between Israeli troops and Palestinian marchers in Bil'in, a village in the central West Bank, but there are no reports on the possible casualties.
Figures show Tel Aviv's illegal settlement activities have more than doubled in the first quarter of this year amid growing international criticism.
Click here for the full story
---
---
From Ynet News
Thousands call on Israel to save Syrian Druze in mass protest
Israel's Druze accepting donations to send to family, friends in Syria who face threat of massacres; 'We are all ready to take them into our homes.'Thousands protested in Israel's Druze villages Saturday, calling on Israel and the international community to take action and aid the Druze community in Syria, which is facing a growing threat of being massacred at the hands of Islamic State militants, al-Qaeda affiliates and other rebels locked in a civil war with the Syrian regime under Bashar Assad.
"Stop the massacres," cried some protesters, "We want the Druze among us," called others. Donations were accepted during the protests, which the Druze hope will reach their family members in Syria.
---
---
The Telegraph (UK)
Revealed: The true scale of Tony Blair's global business empire
Secret documents seen by the Telegraph disclose details of private jets, five-star hotel stays and police guards funded by taxpayer
The scale of Tony Blair's globe-trotting is exposed for the first time in secret documents that suggest the taxpayer is paying up to £16,000 a week to help the former prime minister build his business empire.
Documents seen by The Telegraph contain details of Mr Blair's travels around the world, accompanied by a squad of police bodyguards, flying on private jets and staying in five-star hotels.
The files suggest Mr Blair has used identical trips to carry out both private business meetings and talks in his capacity as Quartet Representative to the Middle East – leaving him open to accusations of a potential conflict of interest.
Click here for the full story
---
---
From PressTV
Norwegian fund divests from firms operating in Israel-occupied lands
A Norwegian insurance giant has dropped two building-materials companies from its investment portfolio over their activities in quarries in the occupied Palestinian lands.
KLP announced on Thursday that it was divesting from Germany's HeidelbergCement and Mexico's Cemex "on the grounds of their exploitation of natural resources in occupied territory on the West Bank," Israel's Haaretz newspaper reported.
The companies' operations constitute "an unacceptable risk of violating fundamental ethical norms," KLP said.
The insurance fund further noted that the Israeli subsidiaries of HeidelbergCement and Cemex "pay license fees and royalties" to Tel Aviv and sell "products deriving from the quarries" for use in Israel's construction market.
Recently, the German and Mexican firms respectively acquired the Israeli firms Hanson Quarry Products Israel and Readymix Industries Israel, which both run quarries in the occupied West Bank.
Click here for the full story
---
---
From Russia Today
US considers storing heavy weapons in Baltic and Eastern Europe – report
Published time: June 13, 2015 20:47
The Pentagon is reportedly poised to store battle tanks, infantry fighting vehicles and other heavy equipment for up to 5,000 US troops in Eastern European and the Baltic countries. It says the move is to reassure its NATO allies.
According to the New York Times citing American and allied officials, the equipment would be stored in each of the three Baltic nations: Lithuania, Latvia and Estonia, as well as Poland, Romania, Bulgaria and possibly Hungary.
The move, if it is approved, would be the most serious deployment of military hardware in Europe since the end of the Cold War; although the plan falls short of a permanent presence of boots on the ground.
After NATO initially expanded into the Baltic States in 2004, the permanent stationing of equipment and troops in these countries was avoided so as to consider Russia's interests.
---
---
From Ynet News
IDF to investigate video of IDF soldiers beating Palestinian
Video shows Palestinian civilian being beaten during violent protest in the West Bank as soldier yells, 'Get the cameras out of here.' The IDF announced that an investigation would be launched as the result of a video spread on social media showing several Israeli soldiers beating a Palestinian man during a protest on Friday afternoon in Jalazun, north of Ramallah.
The video, filmed by Palestinian media in the presence of other journalists and photographers, shows an Israeli soldier audibly cursing a Palestinian civilian and swinging a rifle at him. Additional soldiers then join in the scuffle, bringing the Palestinian man to the ground at which point one of the Israelis can be heard yelling, "Get the cameras out of here."
After being pulled to the ground, one of the soldiers can be seen punching the man in the face.
---
---
From Ynet News
Lapid: Why is Herzog jumping to save the Likud?
Lapid calls out Opposition Chairman on his decision to offset votes in the Knesset, aimed at stabilizing the coalition while it deals with MK Oren Hazan's scandel. Yair Lapid, head of the Yesh Atid party criticized opposition leader Isaac Herzog Saturday, saying Herzog had provided a safety net to embattled Likud MK Oren Hazan. Hazan has been accused of allegedly pimping out call girls, and taking drugs while serving as a casino boss in Bulgaria, "There are distasteful trends in the coalition, corruption is taking over Likud party politics – so why should we jump to save the Likud," Lapid said.
Lapid's remarks referred to Herzog's decision to offset votes and debates with the coalition in the Knesset, so that the coalition can deal with the Hazan affair without fear of Hazan's retribution based absence during important votes, and thus threaten the coalition's governance. The current coalition government has only 61 seats in the Knesset, a slim majority requiring every MK's presence during important votes.
Click here for the full story
---
---
From Ynet News
Jenna Jameson is converting to Judaism
Former adult film star has begun tweeting in Hebrew, buying Israeli products, and even cooking kosher for her Israeli fiancé. "I'm coming to Israel soon," former adult film star Jenna Jameson tweeted in Hebrew this week. The 41 year-old mostly-retired actress has recently been embracing her Jewish side, thanks to her Israeli fiancé Lior Bitton.
Jameson seems to be joining the ranks of other adult actresses who prefer the Star of David to the cross. This past Friday the actress cooked her first Shabbat dinner, making Chilean sea bass chraimeh, potato pancakes, Israeli salad, and of course, freshly baked challah.
---
---
From the Jewish Telegraphic Agency
7 of the most famous Jews in porn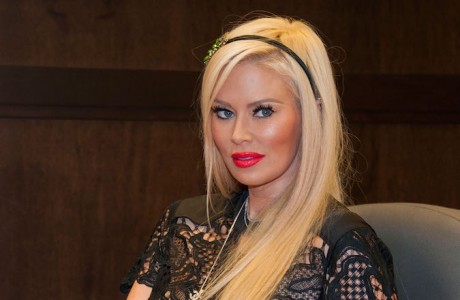 This week the news surfaced that "Queen of Porn" Jenna Jameson is converting to Judaism. Jameson, who has been married twice before, is engaged to Israeli Lior Bitton (who works in L.A.'s diamond business and has been charged with stealing merchandise from his stores). Jameson's Instagram page is filled with photos of challah and other kosher dishes she's been cooking up; she's even dropping  Hebrew words on Twitter.
As it it turns out, Jameson will be in great company — several other members of the tribe are (or have been) major stars in the adult film industry. In honor of Jameson's high-profile conversion, we give you seven of the most famous Jews in porn.
You might not want to Google them in an office or other public place.
Click here for the full story
---
---
From The Times of Israel
Iran urges Austrians, Swiss to secure nuke talks against spying
Tehran concerned by reports of cyber-breaches at venues linked to negotiations, which Iran attributes to Israel
June 13, 2015, 10:32 am
Iran urged the Austrian and Swiss government to secure future nuclear talks between the six world powers and Tehran on their respective soils, after several cyber-breaches, attributed to Israel, were reported at venues linked to the talks.
Israel has denied involvement.
The Iranian Foreign Ministry sent a letter to the two governments, that each hosted several rounds of negotiations between the P5+1 and Iran over the past year.
Iran asked Austria and Switzerland to "to take whatever measures necessary to provide security, including cyber-security, for the venue of the talks," according to the semi-official Fars news agency.
Iran's embassies in Vienna and Bern expressed their government's "serious concern" over the alleged breaches, currently being investigated separately in the respective European countries.
Click here for the full story
---
---
From The Times of Israel
Druze leader tries to calm fears in Syria, says Israel's help not needed
After 20 villagers killed this week by Nusra Front, Lebanon's Walid Jumblatt tells worried community it was an 'individual' incident
June 13, 2015, 6:54 am
BEIRUT — Lebanon's political leader of the Druze community tried on Friday to calm members of neighboring Syria's minority sect after a deadly al-Qaeda raid there killed as many as 20 Druze villagers.
Walid Jumblatt said the attack earlier this week on Qalb Lawzeh village in Syria's northwestern Idlib province was an "individual" incident. Syria's al-Qaeda branch, the Nusra Front, killed at least 20 Druze members there on Wednesday.
The Lebanese leader added that the Druze in Syria were not seeking assistance from Israel. "We do not need neither Assad nor Israel," he said during a press conference in Beirut, according to Haaretz. "Both sides are talking in a sectarian tone, which aims to perpetuate sectarianism and divide the country."
The Idlib killings were the deadliest since Syria's civil war started in March 2011 against the minority Druze sect, which has been split between supporters and opponents of President Bashar Assad — but has largely stayed out of the fighting.
---
---
From The Times of Israel
Kerry out of hospital, 'fully engaged' on Iran
After recovering from bike accident, US secretary of state set to attend nuclear negotiations ahead of June 30 deadline for deal
June 13, 2015, 4:19 am
US Secretary of State John Kerry was discharged from a Boston hospital Friday, 10 days after undergoing surgery on a broken leg he sustained in a bicycle accident in France, and he declared he had not missed a tick on key foreign policy issues during his recovery.
Kerry left Massachusetts General Hospital on crutches but under his own power. He told reporters he planned to go to his nearby home in the Beacon Hill section of Boston for a few days before traveling to Washington next week.
He promised to be "absolutely, totally and fully engaged" in nuclear negotiations with Iran, saying he remained confident the June 30 timetable for completing a deal could be achieved. He said he expected to travel overseas to join in the discussions later in the month as they neared a critical juncture.
"Our team is in Vienna right now working out very complex … details of this agreement," Kerry said "It's a tough slog. It's not easy."
Kerry was injured May 31 when his bike struck a curb and he fell on a regular Tour de France route southeast of Geneva. He was taken by helicopter to a hospital in Geneva where X-rays confirmed the fracture of his right femur.
Click here for the full story
---
---
From The Times of Israel
US African-American leader apparently isn't
Family members say Rachel Dolezal, the NAACP Spokane chapter head, has falsely portrayed herself as black for years
June 13, 2015, 2:30 am
SPOKANE, Wash. (AP) — Rachel Dolezal leads the Spokane chapter of the NAACP, teaches African studies to college students and sits on a police oversight commission.
But the 37-year-old artist and activist with dark curly hair and light-brown skin now finds herself at the center of a furor over racial identity after family members said she has falsely portrayed herself as black for years when she is actually white. As proof, they produced pictures of her as a blonde, blue-eyed child.
The city is also investigating whether she lied about her ethnicity when she applied to be on the police board. And police on Friday said they were suspending investigations into racial harassment complaints filed by Dolezal, including one from earlier this year in which she said she received hate mail at her office.
The NAACP issued a statement Friday supporting Dolezal, who has been a longtime figure in Spokane's human-rights community.
"One's racial identity is not a qualifying criteria or disqualifying standard for NAACP leadership," the group said. "In every corner of this country, the NAACP remains committed to securing political, educational and economic justice for all people."
Click here for the full story
---
---
From The Times of Israel
Mexican girls' cheer-dance team does Nazi-themed routine
Performers aged 10-16 wear red armbands, display swastikas as they strut in marching-style formation on stage
June 13, 2015, 2:08 am
A cheer-dance team in Mexico drew criticism Friday for a routine in which they displayed flags with swastikas, dressed in pseudo-military outfits. One girl also appeared to toss a Nazi salute to the crowd.
The performance by about two dozen girls aged 10 to 16 and one boy came at a cheer-dance competition in the western city of Guadalajara at the end of May.
The girls wore red armbands, camouflage dance outfits and carried red flags as they strutted in marching-style formations.
A video of the performance drew condemnation when it began to circulate Friday on social media sites.
On local news sites, many readers said the girls probably didn't know much about the Nazis, and blamed the event organizers and the team's choreographer for the questionable routine.
Click here for the full story
---
---
From The Times of Israel
Obama's latest wooing of Jews not working, poll suggests
As US-Israel ties remain frosty, president's targeted charm offensive has little effect on his approval ratings
June 12, 2015, 4:03 am
WASHINGTON (JTA) — It's early days for the White House's latest charm offensive among American Jews, but a new poll suggests that the wooing effort is having little effect.
The poll, published Wednesday by J Street, a liberal pro-Israel group that generally backs President Barack Obama's Middle East policies, shows Obama stuck at the same mid-50s approval ratings he was registering in April, when US-Israel tensions were prominently in the news.
Jim Gerstein, whose GBA Strategies conducted the poll, suggested that Obama and his supporters face an environment among Jews that has been shaped largely by the president's critics.
"The balance of criticism against the president on issues related to Israel has far outweighed the statements of support for the president, certainly among the organizations that have the largest reach," Gerstein told reporters on Wednesday.
The 56 percent approval rating among Jews that Obama scored in the GBA poll is still about 10 points higher than the national average. It's also not the first time he has scored in the 50s among Jews. Obama's numbers among voting-age Jewish Americans have fluctuated throughout his seven years in office.
Click here for the full story
---
---