George H.W. Bush, Zio-Warmonger Who Couldn't Please Them Enough!
Now in Full ZioMedia Rehab Because He Fought Donald Trump!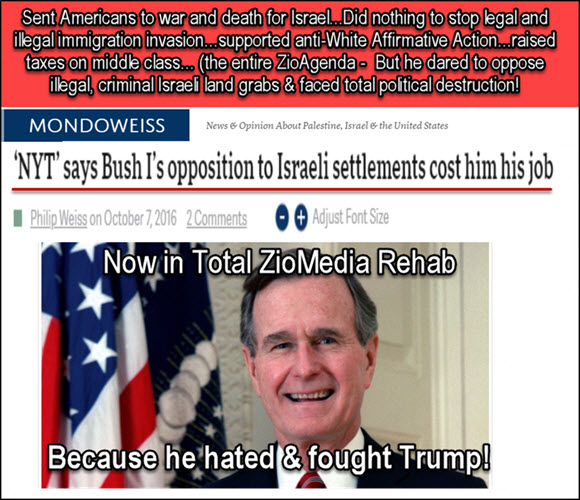 George H. W. Bush was a total Shabbos Goy supporting the entire Zio Agenda from open borders to affirmative action (racial discrimination against Whites) to betraying his no new taxes solemn "read my lips" promise. He even went to war against our ally at the time, Iraq, based on Zio lies about unplugged incubators in Kuwait.
He was so popular in the media, he thought he was the real President of America, rather the President of the Council of Presidents of Major Jewish Organizations. He actually tried to stop the criminal illegal stolen settlements in the military occupied West Bank. He threatened Israel with withholding loan guarantees.
For that he earned a massive media attack on him, and the fewest Jewish votes than any major candidate ever got for president, only 11 percent of the vote. Of course, that means that 99.99 percent of the establishment opposed him!
But, Bush became a huge anti-Trump symbol… so now he is a great man and great statesman.