Far-right Jews Join War on Christmas
Members of anti-Arab Lehava group assert that YMCA event in Jerusalem, which previously focused on local Christians, targeted Jewish children this year.
Haaretz Dec 01, 2015 2:35 AM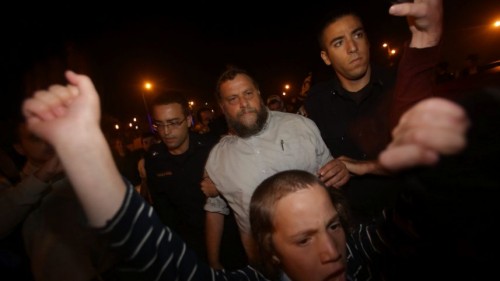 Lehava protesters, among them their leader, Benzi Gopstein, at night in Jerusalem, October 8, 2015. Olivier Fitoussi
Israeli public security minister considers outlawing Jewish extremist organization Lehava
Right-wing protesters march in Jerusalem, chant 'Death to Arabs'
Far-right activists chant 'death to Arabs,' assault passersby in Jerusalem after terror attack
Far-right activists demonstrated on Sunday night in front of Jerusalem's YMCA building to protest an event inside in which they claimed Jewish children were decorating Christmas trees, Israel National News reported.
"The Arabs won't defeat us with knifes, and the Christians won't buy us with presents," chanted the protestors, representing the anti-Arab Lehava organization. "Jews want a hanukkiah [menorah], not a fir tree," they shouted, referring to the Jewish candelabra used on the holiday of Hanukkah.
The event had targeted only Christian residents in past, but this year, according to right-wing activists, a general appeal was made to Jerusalem residents, ultra-Orthdox news site Kikar Shabbat reported on Sunday.
"The appeal was in Hebrew this year, and meant for all of Jerusalem's children, especially the Jewish ones," said a Lehava member.
Among the demonstrators, according to the report, were Lehava leader Benzi Gopstein and former MK Baruch Marzel.
"It is inconceivable that at a time when there are daily attacks in Jerusalem, a gathering is held that is entirely an attempt to convert Jews," Gopstein said before the protest, according to Kikar Shabbat.
In October, Israel's Public Security Minister Gilad Erdan said he was considering outlawing the group for inciting to violence.