In a move described by a leading civil rights group as a "dark day for European democracy," Moshe Kantor, President of the European Jewish Congress (ECJ) and former president of Poland, Aleksander Kwasniewski, have called on the European Union to establish national surveillance units to monitor citizens of all 27 EU member states suspected of "intolerance."
According to an article in The New Observer, the two EJC leaders made the call at a "European Council on Tolerance and Reconciliation" (ECTR) submission to the European Parliament's Committee on Civil Liberties (LIBE).
These "special administrative units," the report says, "should preferably operate within the Ministry of Justice."
"There is no need to be tolerant to the intolerant," it states, especially "as far as freedom of expression is concerned."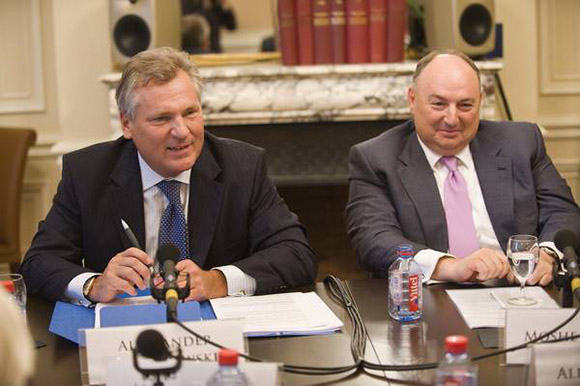 European Dignity Watch (EDW), a civil rights watchdog group based in Brussels, has warned that this directive "aims to impose governmental control over the social and economic behavior of citizens in the widest possible sense."
EDW said that according to Section 1, it broadly defines "tolerance" as "respect for and acceptance of the expression, preservation and development of the distinct identity of a group."
Further, the draft statute goes on to say that "defamatory comments made in public and aimed against a group (…) with a view to (…) slandering the group, holding it to ridicule or subjecting it to the false charges" may be considered group libel and, therefore, may be treated like acts of intolerance — as well as hate crimes.
Of course the Jewish Zionist organization promoting such suppression knows that it will never be enforced against the ultra-racist Jewish extremists who in the media who constantly show disrespect and complete opposition to the expression, preservation of European identity, Muslim Identity, or any identity that opposes Jewish supremacism.
The target is Europeans and nonEuropeans in Europe who dare to oppose the racist Zionist, tribalist overlords of media, government and international finance.
Conspicuously absent,of course is any mention of balancing this with freedom of speech.
"The authors of the document — a so-called Group of Experts composed of Yoram Dinstein, Ugo Genesio, Rein Müllerson, Daniel Thürer and Rüdiger Wolfrum — go even further by declaring that 'tolerance must be practiced not only by Governmental bodies but equally by individuals,'" an EDW statement said.
"They call this approach to ensuring tolerance a horizontal relationship, which refers to group-to-group or person-to-person relationships.
"This is in contrast to the more traditional vertical relationship between Government and individuals. The draft statute then firmly stipulates: 'It is the obligation of the Government to ensure that intolerance is not practiced either in vertical or in horizontal relationships'.
"The extent to which this thinking has already found its way into EU policy becomes apparent with the proposed 5th Equal Treatment Directive.
"This proposal has been the subject of negotiations in the European Council for more than three years without finding a way forward, precisely because of all the controversial claims made in it."
"Clearly such language could lead to situations in which vague or unwarranted accusations are leveled against individuals and groups.
"Faith-based groups and schools, adherents of a particular religion or even just parents who want to teach their children certain moral values would all be put under general suspicion of being intolerant.
"Even worse, if enshrined as EU policy, such language also could lead to the possibility that charges are brought on unclear or even without legal grounds.
"The chilling result of this would be the dramatic diminution (and possible disappearance) of the fundamental freedom of expression — individuals and groups would censor themselves, afraid that they might be prosecuted for expressing their own personal moral views.
"The authors of this proposed statute — under the aegis of an international NGO for tolerance and reconciliation — have invited the Civil Liberties, Justice and Home Affairs Committee to endorse it as a legal project.
"But not only would an adoption of this statute at the national level of the European states be a significant step backward, but the supra-national surveillance that it would imply would certainly be a dark day for European democracy," the EDW said.
Every imperialist, racist, supremacist power acts to criminalize criticism of itself. This is true of Jewish supremacism as well as any other oppressive imperialist power. Today, imperialism is no longer the preserve of a few nations, but the greatest danger to all nations is the globalist Zionist, tribal imperialism that seeks to control the politics, economy and media of every nation in the service of the most racist entity on earth.