The "shock" defeat of (now) former House Majority Leader Eric Cantor in his Virginia Primary has left "Jewish organizations in both parties reeling," according to Politico magazine—but the reality is that rising awareness of the pernicious influence of Jewish  Supremacist power politics has played a major part in the "upset."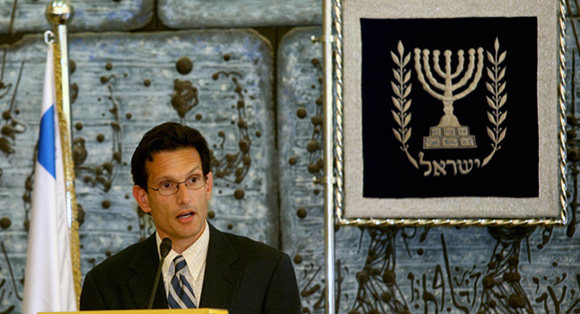 According to an article in Politico magazine, suitably titled "For Jewish Republicans: Oy veh" the "dream of a Jewish Republican speaker of the House is no more" with Cantor's defeat.
The defeat of someone who, according to Politico, was "on a track to be the highest-ranking Jewish official in American history" has "left Jewish organizations in both parties reeling, especially the GOP's long-suffering Jewish coalition groups."
The Politico magazine goes on to point out how Cantor had always put Israel's interests ahead of America's:
"Now, with Cantor's defeat, there's no longer a point man to help organize trips to Israel for junior GOP lawmakers, as Cantor routinely did. Jewish nonprofits and advocacy groups have no other natural person in leadership to look to for a sympathetic ear.
"No other Republican lawmaker can claim to have precisely the same relationship with gaming billionaire Sheldon Adelson, a primary benefactor of both the Republican Party and the Republican Jewish Coalition.
"And no other member can play quite the same role in promoting Jewish Republican congressional candidates, as Cantor did in one election after another."
Steve Rabinowitz, a Democratic public relations consultant who works with a range of Jewish groups, said that for non-partisan Jews, Cantor was "definitely a loss." He cited Cantor's reliable backing not just for Israel and tough-on-Iran policies
Cantor was defeated by a little-known economics professor in Virginia's Republican primary, Dave Brat, who had less than $200,000 against a reputed $5 million in Cantor's election fund.
While the pundits in the controlled media will claim that Cantor's defeat had "nothing" to do with his Jewishness and his Israel-first stance, it is clear that these factors certainly played a role.
There can be little doubt that, thanks primarily to the internet, there is a rising awareness of the role and influence of the Jewish lobby in Washington D.C., and Cantor's "unexpected" expulsion is just a foretaste of what is to come.
As awareness and consciousness of the role of the Jewish lobby in politics, media and the financial sector spreads, Americans can look forward to even more dramatic events like Cantor's defeat.
His primary loss does not mean the end of the Jewish lobby's attempt to take leadership of one or both of the chambers of Congress. Several of Cantor's co-religionists, including New York Senator Chuck Schumer, Florida Rep. Debbie Wasserman Schultz and New York Rep. Steve Israel already hold important roles of legislative and partisan leadership.
Unlike Cantor, a large number of their voter base is Jewish, and therefore not the "untrustworthy troublesome goyim" with which Cantor had to deal.