---
From PressTV
Israel to cut electricity supplies to Palestinians
An Israeli electricity company has decided to intermittently cut the power supplies to Palestinians in the occupied West Bank.
"Due to a mounting debt worth nearly 1.8 billion shekels (USD 459 million), we have decided that as of today, electrical supply will be cut" for an hour each morning and another hour each night, said an Israeli official with the energy company on Thursday.
The official, who was speaking on the condition of anonymity, said the measure, which would "not cause general power cuts, will remain in place until the Palestinian Authority begins to settle its debts."
Click here for the full story
---
---
From PressTV
Israeli forces demolish Palestinian house in West Bank
Israeli forces have demolished a Palestinian house and barn in the south of occupied West Bank as the Zionist regime continues its violence against Palestinians.
Israeli bulldozers accompanied by several military vehicles moved into the area of Khirbet al-Ras in the west of Idhna town on Thursday, destroying a house and a mobile home belonging to a Palestinian civilian named Ahmad Jamal al-Jiyawi, the Palestinian non-governmental Ma'an News Agency reported.
Israeli military also demolished a large barn belonging to another civilian named Mahmoud Musallam Abu Ijeheisha in Wadi Rishe, also located in the western area of the town, local sources said.
On Wednesday evening, Israeli troops and intelligence officers ransacked several houses and commercial stores in the Old City of al-Quds (Jerusalem) and detained three young Palestinians, locals said.
The United Nations has slammed Israel's destruction of Palestinian homes in the occupied West Bank and East al-Quds as illegal and unfair, after a series of demolitions last week left dozens of Palestinians – mostly children – homeless.
Click here for the full story
---
---
From PressTV
Spain blames Israel for peacekeeper's death
Spain has held the Tel Aviv regime accountable for the death of a Spanish peacekeeper serving with the United Nations Interim Force in Lebanon (UNIFIL) during an exchange of fire between Israeli forces and fighters from Lebanon's Hezbollah resistance movement. 
"It was because of this escalation of violence, and it came from the Israeli side," Spanish Ambassador Roman Oyarzun Marchesi told reporters in New York on Wednesday.
Marchesi further noted that his country demands full investigation into the killing.
For more information on the firefight between Israel and Hezbollah, Press TV readers can click on live update.
The Spanish defense ministry said in a statement that 36-year-old Corporal Francisco Javier Soria Toledo "died this [Wednesday] morning during incidents between Hezbollah and the Israeli army in the area of responsibility of the Spanish contingent."
Click here for the full story
---
---
From the Jewish Telegraphic Agency
Iran sanctions bill advances
WASHINGTON (JTA) — A key Senate committee advanced new Iran sanctions.
The Senate Banking Committee on Thursday voted 18-4 to advance a bill authored by Sens. Mark Kirk (R-Ill.) and Robert Menendez (D-N.J.) to the full Senate, although a number of the lawmakers who approved noted that the measure would not be considered by the body until March 24 at the earliest.
Menendez has said that Democrats will delay voting on the bill until then to give time for the talks between the major world powers, including the United States, and Iran on swapping sanctions relief for guarantees that Iran is not advancing toward a nuclear weapon.
March 24 is the deadline for a framework of an agreement; June 30 is the deadline for the final deal. The Obama administration opposes new sanctions now, saying that their passage would unravel the talks.
Click here for the full story
---
---
From PressTV
Fate of 14-year-old in Israel jail worries parents
The parents of a 14-year-old Palestinian girl who has been sentenced by an Israeli court to two months in prison have voiced concern over their daughter's fate.
The youngest girl detained by Israel so far, Malak al-Khatib was arrested on December 31, 2014 in the village of Betin, near Ramallah.
Following at least three hearings, an Israeli court sentenced Malak to two months and a fine of $1,500 on charges of stone-throwing and the possession of a knife; the girl's parents have vehemently rejected both charges.
Click here for the full story
---
---
From Ynet News
Deal with Iran at heart of Argentine prosecutor's death mystery
Sources say Argentina's shamed spy agency spent years helping prosecutors build case against Iran for Jewish center bombing, despite president's insinuation they may be behind Nisman's death.
President Cristina Fernandez Kirchner has portrayed Argentina's spy agency as sinister, accountable to no one, and possibly responsible for the mysterious death of a prominent prosecutor in his Buenos Aires apartment.
As a result, Fernandez Kirchner declared this week, the Intelligence Secretariat needs to be totally shut down – and a new agency built from scratch: "You can't extort me. You can't intimidate me. I'm not afraid of you," she said, speaking directly to the agency's leaders, in a nationally televised address on Monday.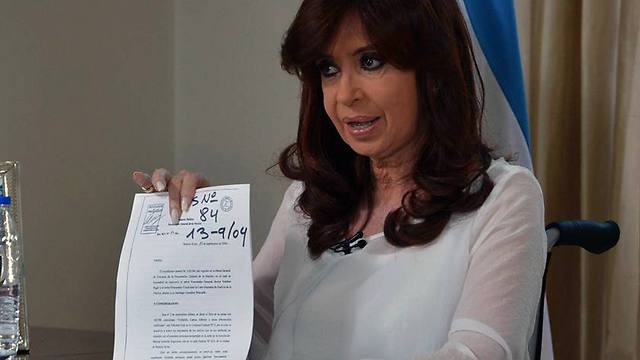 Photo: AFP PHOTO/ PRESIDENCIA
---
---
From Ynet News
Islamic State reportedly extends deadline for hostage swap
Radical Islamist group releases new, unverified message from Japanese journalist saying Jordanian pilot will be killed unless Jordan releases Iraqi prisoner. An audio message purportedly from a Japanese journalist being held by Islamic State militants said a Jordanian air force pilot also captured by the group would be killed unless an Iraqi female prisoner in Jordan was released by sunset on Thursday.
The message appeared to postpone a previous deadline set on Tuesday in which the journalist, Kenji Goto, said he would be killed within 24 hours if the Iraqi was not freed.
---
---
From the Jewish Telegraphic Agency
Portugal adopts return law for Jewish descendants
(JTA) — Portugal's government adopted legislation that offers citizenship to some descendants of Sephardic Jews.
The letter of the legislation passed Thursday by the Council of Ministers is expected to be made public next month, according to the Jewish Community of Porto.
The legislation was passed in 2013 by the parliament, making Portugal the second country in the world after Israel to pass a law of return for Jews. Spain is poised to pass a similar law.
Portugal's Jews were forced out of the country along with their Spanish correligionists in the 14th and 15th centuries because of the church-led persecution known as the Inquisition.
---
---
From the Jewish Telegraphic Agency
Senators waiting on Palestinian aid pending review of ICC moves
WASHINGTON (JTA ) — Three in four U.S. senators pledged not to support assistance to the Palestinian Authority until the Obama administration reviews the admittance of Palestine to the International Criminal Court.
"Current law prohibits economic assistance to the Palestinian Authority if the Palestinians initiate an ICC investigation of Israeli nationals or 'actively support such an investigation,'" said the letter sent Thursday by 75 senators to Secretary of State John Kerry.
"Although we believe it is in the interest of the United States for urgent humanitarian assistance to continue to be provided to the Palestinian people, we will not support assistance to the Palestinian Authority while you undertake a review of this matter," it said.
It is not clear that the Palestinian Authority violated U.S. law with its actions. The ICC prosecutor, not the Palestinians, initiated the preliminary examination of whether crimes were committed during last summer's Gaza war, and a formal investigation has yet to be launched. Typically it takes years for examinations to become investigations.
Click here for the full story
---
---
From the Jewish Telegraphic Agency
Greet Muslim visitors with Israeli flag, Texas lawmaker tells staff
WASHINGTON (JTA) — A Texas lawmaker instructed staff to greet Muslim visitors with an Israeli flag.
Molly White, a Republican state representative, said in a Facebook posting that she would be out of the office on Thursday, Muslim Capitol Day, organized by the local Council on American-Islamic Relations chapter.
"I did leave an Israeli flag on the reception desk in my office with instructions to staff to ask representatives from the Muslim community to renounce Islamic terrorist groups and publicly announce allegiance to America and our laws," she said. "We will see how long they stay in my office."
The Texas Tribune said about 100 Muslims visited the capitol, most of them students and children.
Click here for the full story
---
---
From the Jewish Telegraphic Agency
Pelosi says she told Netanyahu speech could hurt Iran talks
WASHINGTON (JTA) — Rep. Nancy Pelosi, the House minority leader, said she told Israeli Prime Minister Benjamin Netanyahu that his speech to a joint session of Congress could hurt ongoing negotiations with Iran over its nuclear program.
Speaking to reporters Wednesday, Pelosi (D-Calif.) said the March 3 address, which will focus on Iran's nuclear ambitions, could lower the chances for the United States and world powers to reach an accord with Iran to limit the program.
She also criticized the speech's timing, coming two weeks before Israeli elections on March 17, and said the speech should have been coordinated in advance with President Barack Obama and congressional leadership.
"Such a presentation could send the wrong message in terms of giving diplomacy a chance," Pelosi said. "That's my view, and I shared that with the prime minister today."
Click here for the full story
---
---
From Ynet News
'Sara Netanyahu pocketed bottle deposits cash'
Report in Haaretz claims PM Netanyahu wife's kept thousands of shekels from deposits on empty bottles; Netanyahus reportedly paid state back roughly $1,000, though deposits estimated at over $5,000.
Prime Minister Benjamin Netanyahu's wife reportedly pocketed thousands of shekels in cash from deposits of bottles during the couple's second term in office, which began in 2009, a report in Haaretz said Thursday.
The report further claimed that in 2009 the Netanyahus had returned some $1000 to the state – which legally owned the empty bottles and thus the deposit as well – though the actual value of the cash is between $5,000-$6,000.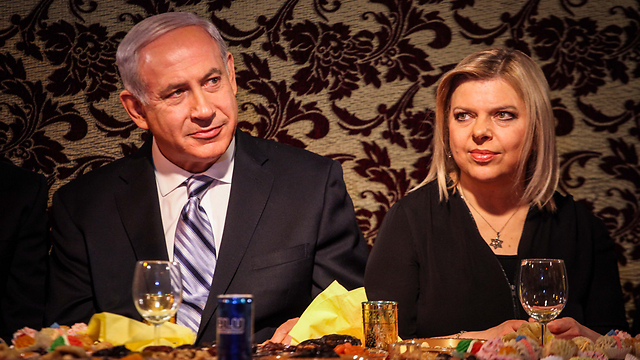 Benjamin and Sara Netanyahu (Photo: Avishag Shaar Yeshuv)