---
From the Jewish Telegraphic Agency
France's prime minister appeals to Jews to stay
(JTA) — Prime Minister Manuel Valls of France appealed to his country's Jews to stay in the wake of a call by his Israeli counterpart Benjamin Netanyahu for European Jews to move to Israel.
"My message to French Jews is the following: France is wounded with you and France does not want you to leave," Valls said Monday following a weekend that saw two deadly shootings in Copenhagen that mirrored two attacks in Paris last month, the French news agency AFP reported.
In the wake of the Copenhagen attacks, including one outside a synagogue that left a Jewish volunteer security guard dead, Netanyahu said Sunday in a statement, "To the Jews of Europe and to the Jews of the world, I say that Israel is waiting for you with open arms."
Also Sunday, Netanyahu at the start of the weekly Cabinet meeting said that a 180 million shekel (about $45 million) plan will be submitted to the Cabinet encouraging the absorption of immigrants from France, Belgium and Ukraine.
Click here for the full story
---
---
From Russia Today
​France should recognize Crimea as part of Russia – Le Pen
The leader of the French National Front Party, Marine Le Pen has urged the French government to recognize Crimea as part of Russia's territory and to restore ties with Moscow, a "natural ally of Europe."
There is no alternative, but to recognize the legality of Crimea's ascension into the Russian Federation, Le Pen told the Polish Do Rzeczy in an interview. The French politician says that Paris must accept Crimea's choice, as it became part of Russia in the time of lawlessness following an orchestrated "coup" last year, when "Neo-Nazi militants organized a revolution in Ukraine."
Le Pen says the Peninsula had no other choice as "power in Kiev was illegal," at that time. "The authorities [in Kiev] started to make decisions that would lead to civil war," she added.
The leader of the French National Front emphasized that "Russia is a natural ally of Europe."
Click here for the full story
---
---
From Ynet News
Bennett: Palestinians need to forget about statehood
In interview with AP, Bayit Yehudi leader says 'Israel not going to give up more land' and urges Palestinian to lower expectations, saying all Israel can do is 'make their lives better.'
With the Israeli prime minister under fire internationally for his hard-line policies, a key partner of Benjamin Netanyahu is standing firmly behind him ahead of the March parliamentary elections – heralding what could be an even tougher stance toward the Palestinians if the two sit together in the next government.
Naftali Bennett, leader of the Bayit Yehudi (Jewish Home) party – a lynchpin of Israel's religious-nationalist right that takes an even tougher line toward the Palestinians than Netanyahu's Likud – told The Associated Press that the Palestinians should lower their expectations and forget about statehood.
---
---
From Ynet News
French condemn ex-minister's claim that PM 'under Jewish influence'
Former French foreign minister Dumas faces criticism after saying that French PM under 'Jewish influence' in reference to his Jewish wife. France's ruling Socialists rushed to condemn an aging former minister from among their ranks on Monday after he suggested Prime Minister Manuel Valls was probably acting under Jewish "influence".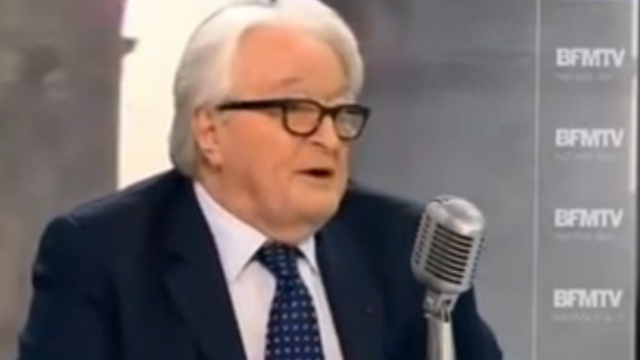 Valls has been vocal in his defense of Jews in France, both before and after the January Islamist attacks that killed 17 people, including four Jews.
Click here for the full story
---
---
From The Times of Israel
Israelis said to be annoyed at US claiming 2008 Mughniyeh hit
Leaks revealing CIA involvement in Damascus operation downplay the major Mossad role, Israeli sources reportedly complain
February 16, 2015, 12:57 pm
Israelis are reportedly miffed that US spies are taking too much credit for helping kill Hezbollah commander Imad Mughniyeh in 2008, saying the covert operation was mostly a "blue-and-white mission."
Israeli sources offered a revised version of the dramatic assassination of a top Hezbollah commander after earlier reports put US intelligence services front and center in the joint CIA-Mossad operation.
Details of the 2008 slaying of Mughniyeh were last month leaked to Newsweek and The Washington Post, and revealed that he was killed in a joint Mossad-CIA operation.
However, the reports played up the US involvement in what was in essence an Israeli operation, angering Israelis who then complained to Western counterparts, CBS presenter and author Dan Raviv reported in an essay published by CBS Sunday.
Mughniyeh was killed by a car bomb outside his apartment in Damascus, Syria.
Click here for the full story
---
---
From The Times of Israel
Egyptian jets bomb Libya after jihadists behead 21 Copts
Cairo targets Islamic State weapons caches and training camps 'to avenge bloodshed' of slain Christians; Libyan planes hit city taken over by Islamists
February 16, 2015, 8:18 am
Egyptian warplanes struck Islamic State targets in Libya early Monday morning, hours after a video of mass killing of Christians was published on the Internet, enraging Cairo.
A spokesman for the Armed Forces General Command announced the strikes on state radio Monday, marking the first time Cairo has publicly acknowledged taking military action in neighboring Libya, where extremist groups seen as a threat to both countries have taken root in recent years.
A commander in the Libyan air force, Saqer al-Joroushi, told Egyptian state television that dozens of militants had been killed in the bombing attacks, Reuters reported.
"There are casualties among the individuals, ammunition and the communication centers belonging to them," al-said. "The number of deaths are not less than 40 or 50 for sure."
The statement said the warplanes targeted weapons caches and training camps before returning safely. It said the strikes were "to avenge the bloodshed and to seek retribution from the killers.
Click here for the full story
---
---
From the Daily Mail
'I will not let people believe that Jews no longer have a place in Europe': Hollande's fury after Netanyahu makes plea for 'mass emigration' to Israel in wake of anti-Semitic terror attacks
Israel's Benjamin Netanyahu told Jews: Move here to stop more murder
Comments sparked outrage among European leaders and Jewish groups
French President Francois Hollande said he cannot let the comment pass
He said Netanyahu was 'leading people to believe that Jews no longer have a place in Europe and in France in particular'
German Chancellor Angela Merkel said her government will do everything possible to protect Jewish sites
Danish Chief Rabbi Jair Melchior said he was 'disappointed' in Netanyahu 
European leaders have reacted with anger at Israel's Prime Minister Benjamin Netanyahu extraordinary plea for Jews to leave Europe to escape the rising tide of antisemitic terror attacks.
Netanyahu said that Europe was no longer a safe haven for Jews following terror attacks in Paris and Copenhagen, adding that Israel is now the only country in the world where Jews can feel safe.
The remarkable comments were promptly savaged by the leaders of France, Germany and Denmark, and were met with fury from Jewish groups.
French President Francois Hollande said. 'I will not just let what was said in Israel pass, leading people to believe that Jews no longer have a place in Europe and in France in particular,' while German Chancellor Angela Merkel said her government is doing everything possible to protect Jewish sites.
---
---
From The Times of Israel
Denmark gunman openly 'hated Jews,' ex-classmate says
Omar el-Hussein, suspected in twin Copenhagen attacks, loved to discuss Islam and Israeli-Palestinian conflict, newspaper reports
February 16, 2015, 3:24 pm
The Danish Muslim suspected of killing two people in separate attacks over the weekend harbored a hatred for Jews and enjoyed talking about the Israeli-Palestinian conflict, a former classmate told daily Ekstra Bladet in a report published Monday.
Omar El-Hussein, 22, was killed by police Sunday after staging at an attack at a free speech event in Copenhagen, killing one, and then shooting and killing a Jewish guard outside a synagogue several hours later.
Citing the Danish paper, the Israeli Ynet news website said a former classmate of El-Hussein described him as being passionate about his religion and the Middle East Conflict.
Click here for the full story
---
---
From The Times of Israel
As Hezbollah fights on Golan, borders are redrawn
With geopolitical lines shifting, the sliver of Syria controlled by Assad has become part of Iran's greater Lebanon
February 16, 2015, 2:55 am
It's too early to be certain, but it seems the battles waged by Hezbollah, along with thousands of Syrian army troops and members of the Iranian Revolutionary Guards, against the anti-Syrian opposition militias on the Syrian Golan Heights, are only getting started.
But for now at least, the momentum is on the side of the Shiite axis, which has managed to capture several villages and towns from the Syrian Southern Front group and the Nusra Front, the organization affiliated with al-Qaeda, considered to be the dominant military power in the southern Daraa province.
Still, the outcome on the Golan has not been decided. After a few days of progress, the snow and the rain slowed down Hezbollah. But even now that the weather is improving, the task is not proving easy for the organization, which has been driven to the edge of its military capabilities. The region's south, i.e. the triangle between Quneitra, Daraa and the southern suburbs of Damascus, is still considered a stronghold of Hezbollah's opponents not affiliated with the Islamic State. While the rebels' weapons and military abilities are limited, their motivation is high as the area is considered to be nearly the "last bastion" of non-IS opposition forces in Syria.
But even if Hezbollah's operation in Syria succeeds and the group is able to occupy the Golan Heights, that won't mean the battle has been won. The organization has made visible strategic gains, defeating opposition forces in the mountains along the Lebanese border, only to see the combat renewed a few short months later. In the Syrian Golan Heights, this is also a likely scenario, as, just as before, opposition fighters will most likely try to regain control of the area, which they too consider critical for their military purposes.
But regardless of the outcome of the week-old operation, the very fact that Hezbollah set out on a ground campaign inside Syrian territory is an extraordinary statement. The placement of thousands of the group's soldiers near the Syrian-Israeli border, with the organization not even trying to conceal its involvement in the battles, signifies much more than just another operation. This is a new strategy. First, on the geopolitical level, Hezbollah is trying to implement the vision only recently introduced by its leader, Hassan Nasrallah, according to whom the Syrian Golan Heights and South Lebanon are a united front. To put it more bluntly, the old order and the old geographical distribution between Syria and Lebanon is now utterly irrelevant as far as the group is concerned.
Click here for the full story