Download
Today Dr. Duke talked about the case in Kansas City where a black man set out to "kill all the white people" and wound up murdering five before he was arrested by police. Dr. Duke noted that Django Unchained star Jamie Foxx used the exact same wording on the Jewish produced Saturday Night Live when he pushed his (((Weinstein Brothers))) film by commenting "I kill all the white people in the movie. How great is that?"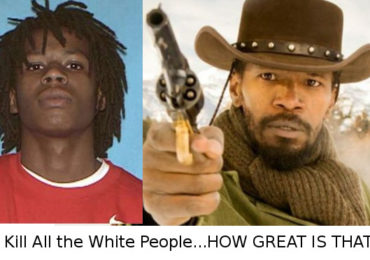 Daily Stormer journalist Eric Striker pointed out that blacks have been indoctrinated to hate white people, and that while their violence towards whites has long been a problem it is nothing compared to the prospect of an American in which white people are a minority. He also pointed out that the indoctrination is coming from Jews.
This was another great show.
Please keep us on the air and on-line. Send your contribution to:
P.O. Box 188, Mandeville, LA 70470
Thank you.
This is an entertaining and informative show that you will want to spread widely.
Click here and look for the show dated 8-31-17.
Our show is aired live at 11 am replayed at ET 4pm Eastern
This is a must watch video of David Duke on the murder of policemen in Dallas by a Black Lives Matter supporter.
Here is Mark Collett's latest video: