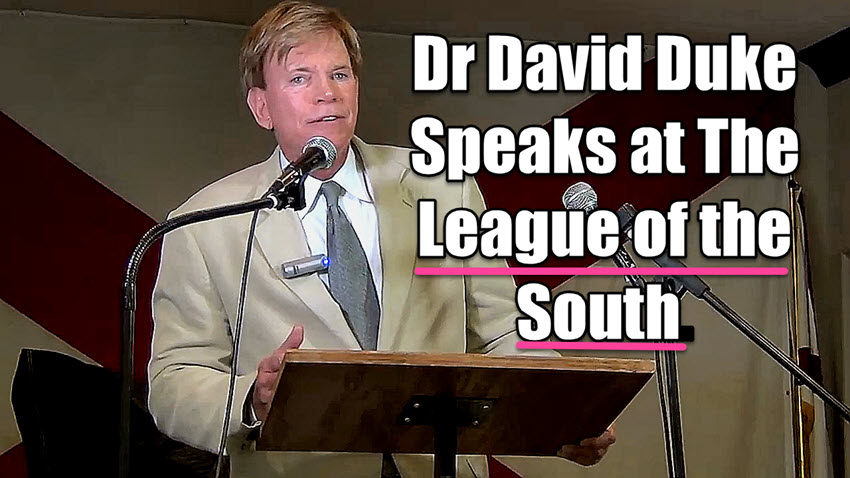 Duke Speaks at the League of the South!
Here's one of my speeches made at the League of the South in honor of its organization and fine leader Dr. Hill. It was broadcast live and was available when I had my Twitter account and Periscope until the Jewish shutdown of free speech in our country. Luckily someone had a good copy, and now we can share with you this speech which is the length of a typical hour and a half lecture at a university. But, I promise it will keep your attention! This is not for the half-hearted, this talk is nothing but unadulterated truth, and is spoken with love for liberty and freedom and human rights in the face of the biggest threat to Liberty in the history of the world. It was given before the Covid Madness was put upon us and the abject tyranny we now face, but the issues are the same.
The most essential human right of all the right of all peoples to exist and to be free, and that is what is at stake in the Jewish Global Tyranny being installed at this moment across the Western world.
I hope this talk inspires you and motivates you!
Sincerely, Dr. David Duke 
The Bitchute and underneath is the Odysee.com upload if you need it to avoid the censorship! in many parts of this ZioWorld.
https://odysee.com/@RealDavidDuke:5/Duke-Speaks-at-League-of-the-South:5?r=G6zWhDJkZD6VX55akZ32zmJVfjHPsFPy