Dr. Duke Exposes Trump's DACA Fiasco at WH & Demolishes the fundamental Contradictions of Libertarianism!
Today Dr. Duke and Dr. Slattery broke down President Trump's televised meeting with Congressional leaders over DACA. There is a great deal of alarm over President Trump's apparent willingness to give amnesty to DACA recipients before finalizing a deal on chain immigration, the visa lottery, and the border wall. Dr. Slattery felt that Trump may be playing a dangerous game in which he signals softness on DACA in order to provoke an outcry that will rein in Republicans and keep them caving in.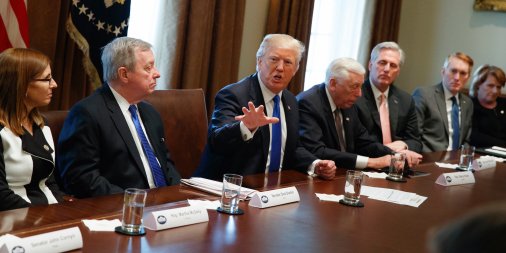 Next they moved to the Libertarian philosophy, which they see as to a large extent a Jewish creation to divert whites who reject liberal orthodoxy into a individualistic ideology that does not allow for the kind of ethnic solidarity necessary to stand up to the ultra-ethnocentric Jews.
This show is a powerful show. Please share it widely. And the David Duke show has done more to make it possible for us to even say "Merry Christmas" than any other show. So please keep us on the air and on-line. Please visit our contribution page or send your contribution to:
P.O. Box 188, Mandeville, LA 70470
Thank you.
Click here and look for the show dated 1-10-18.
Our show is aired live at 11 am replayed at ET 4pm Eastern
Please watch Dr. Duke's video on affirmative action:
Here is Mark Collett's latest video :
Be sure to check out Mark's Twitter feed. And follow him while you're at it.