Download
Today Dr. Duke exposed the massive Jewish role in the Georgia special election for Congress. The Democratic candidate is a young Jewish man, and Jewish money is flooding into the race from all over the country as the Zio-media attempts to turn the race into a referendum on President Trump.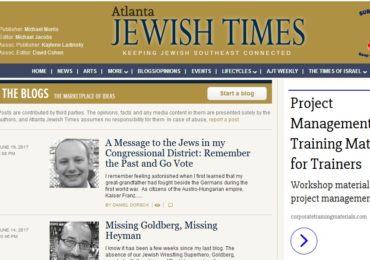 He also pointed out that the Atlanta Jewish Times was covering the race strictly from the point of view of "what's good for the Jews" rather than "what's good for the country" or "what's good for the district." Dr. Slattery pointed out that Jews are far more likely to think and act ethnocentrically than other groups, and in a multicultural environment this is going to lead to group success, especially when their main rival group, the European Americans, are legally prohibited from acting ethnocentrically. He added that the Jewish mantra is "think globally, act tribally."
This is a great show that you won't want to miss. Please share it widely.
Please send a contribution to keep us on the air.
Click here and look for the show dated 6-20-17.
Our show is aired live at 11 am replayed at ET 4pm Eastern and 4am Eastern.
Here is a video that really unveils the racist nature of Israeli society:
Note: This clip is a year old. This has been going on for a while. This clip is insane. They are openly talking about Israel as existing to "preserve the race."