Dr. Duke and Reverend Mark Dankof started the program with a eulogy to the late Michael Collins Piper, who passed away recently. They discussed Piper's short but extremely productive life and his many books, including the definitive book on the Kennedy assassination, "Final Judgment: The Missing Link in the JFK Assassination Controversy."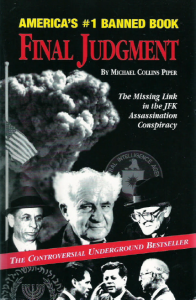 The also got into the attack by Jewish Voice for Peace (JVP) on the peace activist Allison Weir. Paster Dankof noted that JVP slammed Weir for her relationship with him, although the "relationship" actually consists of exactly one radio interview with him a number of years ago. He then recounted a fascinating inside story about a conference organized by the Iranian government on misinformation about their nuclear program at which Gareth Porter was the featured speaker. Apparently Porter and some anti-Zionist Zionists pressured the Iranians to uninvite participants who might hold non-kosher views of Israel's links to 9-11, Jewish power, and the Zio cultural agenda.
This is a fascinating show with loads of new information that will form the basis for many future conversations. Please spread it around!
Click here and look for the show dated 6-8-15.
Our show is aired live at 11 am replayed at ET 4pm Eastern and 4am Eastern time.