Dr. Duke went to the movies today, looking at the hate and hypocrisy of the Jewish moguls who control Hollywood. He discussed the irony of Harvey Weinstein, the producer of the film Inglourious Basterds, being honored by the "human rights organization" the Simon Wiesenthal Center. Inglourious Basterds glorified the torture of German POWs by a fictitious Jewish army unit, portraying the violation of all international rules of wartime behavior as something positive that the audience was supposed to relate to. Of course, the Simon Wiesenthal Center is has nothing to do with human rights, but is in fact a watchdog that protects Jewish supremacism by censoring all those who dare speak out against it.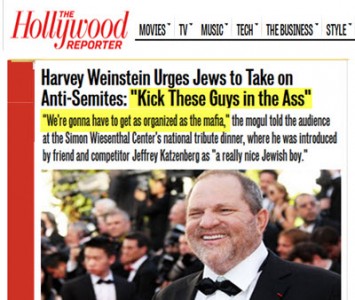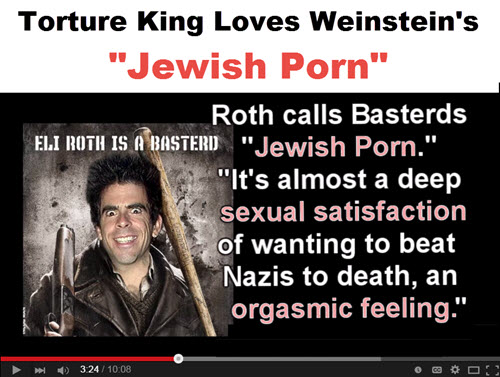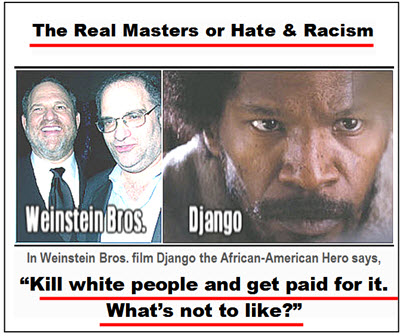 Then Dr. Slattery joins the show to discuss his latest article about the new teen movie The DUFF. While by modern Hollywood standards it hardly pushes the envelope, The DUFF still portrays typical high school kids, both boys and girls, as talking about sex incessantly on camera and by insinuation engaging in it as a matter of course off camera. Dr. Duke and Dr. Slattery then quote numerous high-profile Jewish academics and journalists who describe the utilization of obscenity and pornography by Jewish media moguls as being motivated by hatred of Europeans and as an attempt to undermine traditional family-friendly values.
Professor Nathan Abrahms has the following quotation in one of his studies on Jewish domination of the porn industry:
Jewish involvement in porn, by this argument, is the result of an atavistic hatred of Christian authority: they are trying to weaken the dominant culture in America by moral subversion. Astyr remembers having "to run or fight for it in grammar school because I was a Jew. It could very well be that part of my porn career is an 'up yours' to these people."
They also dissect the reasons it can be so difficult for people to wake up to the obvious truths right before their eyes.
This is a foundational show, one of the most important that Dr. Duke has done on this topic. Please listen to it and circulate it widely.
Click here and look for the show dated 3-30-15.
Our show is aired live at 11 am replayed at ET 4pm Eastern and 4am Eastern time.