Dr. Patrick Slattery's News Roundup
A service of DavidDuke.com
---
From the Jewish Telegraphic Agency
British Jewish MP blasts would-be Labor Party head for 'anti-Semitic' ties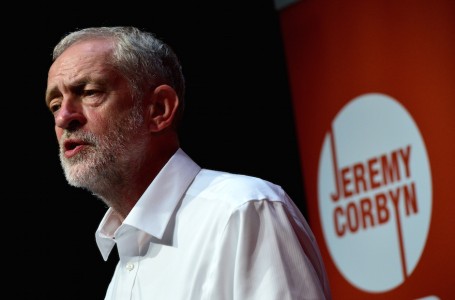 (JTA) — A Jewish politician from Britain's Labor Party said the views of Jeremy Corbyn, the frontrunner to head the party, are cause for "serious concern."
Ivan Lewis, the shadow, or minority, party cabinet minister who is also a former chief executive of the Manchester Jewish Federation, urged his party not to vote for Corbyn.
"Some of [Corbyn's] stated political views are a cause for serious concern," Lewis said in letter to his local party members on Friday, according to the Guardian. "At the very least he has shown very poor judgment in expressing support for and failing to speak out against people who have engaged not in legitimate criticism of Israeli governments but in antisemitic rhetoric."
Click here for the full story
---
---
From PressTV
Israeli forces shoot Palestinian dead
Israeli forces have shot a Palestinian dead in the occupied West Bank after he allegedly wounded an Israeli trooper in a stabbing attack. 
The 16-year-old Palestinian, identified as Ahmad Kamel Taj, was gunned down in the village of Bita south of the city of Nablus on Saturday.
Israeli forces alleged that the 16-year-old Palestinian attacked and slightly wounded an Israeli trooper with a knife.
"An assailant stabbed a Border Police officer at the Beta Junction, south of Huwara", claimed the Israeli military, adding that the "forces on scene responded immediately, shooting and wounding the attacker."
Abdelhalim Jaafreh, head of the Red Crescent in Nablus, announced later that the Palestinian had succumbed to injuries sustained during the Israeli attack.
Click here for the full story
---
---
From PressTV
Israeli settlers beat Palestinian worker with steel rods
A group of Israeli settlers have attacked a Palestinian worker in occupied East al-Quds (Jerusalem), landing him in hospital with a broken hand and a number of other injuries.
The Palestinian man, identified as 31-year-old Loay Bakri, was repairing a traffic light in the settlement of Pisgat Ze'ev, which is located in the northern part of East al-Quds, earlier this week, when he was approached by six young Israelis, Ma'an news agency reported on Friday.
Bakri was attacked with steel rods and suffered a broken hand and multiple injuries in the assault. He was taken to a hospital in East al-Quds to receive medical treatment.
The development comes in the wake of the recent death of an 18-month-old Palestinian baby boy in an arson attack on his home by Israeli settlers in the West Bank.
On July 31, a large fire broke out after settlers threw firebombs and Molotov cocktails into two Palestinian houses in the town of Duma, located 25 kilometers (15 miles) southeast of Nablus. Palestinian toddler Ali Sa'ad Dawabsheh burned to death as a result.
---
---
From PressTV
Over 50,000 demand Netanyahu arrest for war crimes during UK visit
More than 50,000 people have signed a petition calling for Israeli Prime Minister Benjamin Netanyahu to be arrested for war crimes when he pays an official visit to Britain next month.
The petition, published on the UK parliament website, demands the arrest of Israel's 65-year-old chairman of the Likud party upon arrival in London for "the massacre of over 2,000 civilians in 2014."
The British government is expected to respond to the demand as all petitions that get more than 10,000 signatures should be seen into.
Moreover, any petition that receives in excess of 100,000 signatures must be considered by the UK parliament for debate. The deadline for signing the petition is on February 7, 2016.
Israel has rejected the petition as meaningless.
It is "a PR exercise with no real meaning. Bilateral ties between Britain and Israel are closer than ever before," the Israeli Foreign Ministry said in a statement earlier this week.
Click here for the full story
---
---
From The Times of Israel
UK's Labour heads to polls with anti-Israel MP favored as new leader
Jeremy Corbyn, scrutinized for ties to anti-Semitic figures and statements seemingly in support of Hamas and Hezbollah, likely to take reins of opposition party
August 14, 2015, 5:36 am
Britain's main opposition Labour Party starts voting for a new leader Friday, with Jeremy Corbyn, a veteran socialist whose reported support for anti-Israel extremists has rankled many in the Jewish community, favored to win.
The 66-year-old only entered the race as a wildcard but has attracted surging grassroots support, prompting backers to adopt the slogan "Jez We Can" in an echo of Barack Obama's 2008 presidential campaign rallying call.
But Corbyn's policies are closer to Greece's hard-left Syriza than Obama. Many top Labour figures warn the party under him could not take power in a country where elections are typically won or lost on the center ground.
"The party is walking eyes shut, arms outstretched, over the cliff's edge to the jagged rocks below," Tony Blair, Labour's prime minister between 1997 and 2007, wrote in Thursday's Guardian. "It is a moment for a rugby tackle if that were possible."
"If Jeremy Corbyn becomes leader it won't be a defeat like 1983 or 2015 at the next election," Blair wrote. "It will mean rout, possibly annihilation."
Click here for the full story
---
---
From the Jewish Telegraphic Agency
Chicago Jewish federation comes out against Iran deal
(JTA) — Chicago's influential Jewish federation has come out against the Iran deal.
After a three-hour discussion by the board of directors, "a majority opinion emerged and was adopted: to call on Congress to oppose the JCPOA as originally submitted, and to ask legislators to work with the Administration to produce better solutions addressing Iran's nuclear program," the board said in a statement released Friday.
JCPOA stands for Joint Comprehensive Plan of Action, the official name of the nuclear agreement reached between world powers and Iran on July 14.
Click here for the full story
---
---
From the Jewish Telegraphic Agency
Op-Ed: Obama is 'dog whistling' about Jews? Ridiculous
CHICAGO (JTA) — Debaters know that when they are losing an argument, a good tactic is to change the subject. So it goes with the current accusations, completely untethered from reality, that President Obama is resorting to anti-Jewish "dog whistles" in his defense of the nuclear deal with Iran.
Let's begin with the facts. The president has continuously requested that opponents of the deal present an alternative that actually stands a chance of being implemented. None have been forthcoming.
The mantra that more pressure will cause Iran to shut down its nuclear program is belied by the country's history of proceeding full steam ahead in spite of severe economic hardship from existing sanctions. It also ignores the fact that the most effective sanctions, those enforced by the international community, are soon to be abandoned.
More recent suggestions, that Iran will be well-behaved even without a deal because it fears the consequences of nuclear development, reflect an abandonment of the underlying motivation for negotiating with Iran in the first place. Overall, the call for "a better deal" is empty in the absence of a credible explanation of what it means and how we get there.
Click here for the full story
---
---
From The Times of Israel
ADL urges 'no' on Iran deal, but calls to brace for day after 'yes' vote
Jewish group and Haim Saban both say Israel and the US should focus on bolstering alliance to thwart Iran, no matter the outcome of congressional vote
August 14, 2015, 4:22 am
The Anti-Defamation League urged lawmakers Thursday to vote against the Iran nuclear agreement, but also called for those involved to work toward preparing for the 'day after' Congress votes on the controversial deal, as focus shifts from fighting the pact to dealing with its outcome.
In a statement, the ADL said it had "continued deep reservations" about the deal and urged members of Congress to vote against the deal, adding its voice to a chorus of other American Jewish organizations opposing the controversial pact.
"Until the administration acts in clear ways to address its deep concerns regarding the [Joint Comprehensive Plan of Action], ADL has concluded that Congress should vote no on the deal," the Washington-based group said in a statement.
Yet the anti-Semitism watchdog also said stakeholders needed to begin laying the groundwork for how to deal with the fallout once the accord was either confirmed or rejected by Washington.
Among a raft of bipartisan measures, the ADL urged a robust stance against Iranian anti-Israel and anti-Jewish rhetoric and actions, including sanctions, and a bolstered commitment to Washington's alliance with Jerusalem, including military aid.
Click here for the full story
---
---
From The Independent
---
---
From The Times of Israel
As EU eagerly eyes Iran trade, sanctions snapback may be tough sell
Some insist Europe can ween itself off business with Tehran for second time, but with economies faltering, doing so may be easier said than done
August 14, 2015, 6:19 am
JTA — Among his rationales for opposing the nuclear deal with Iran, US Sen. Charles Schumer said that he did not trust the three European Union partners to punish Iran should it violate the terms of the accord that offers the Islamic Republic sanctions relief in exchange for scaling back its nuclear activities.
The New York Democrat's assertion served as a reminder that while Washington has been the driving force behind the deal, which was reached July 14 between Iran and six world powers, the agreement is an international one. Its implementation, therefore, will be determined in part by the foreign policies and interests of Britain, France, Germany, China and Russia.
"It is reasonable to fear that once the Europeans become entangled in lucrative economic relations with Iran, they may well be inclined not to rock the boat by voting to allow inspections" that would bring about renewed sanctions, Schumer wrote in an August 6 statement.
Russia and China are unlikely to introduce new obstacles to trade with Iran, judging by their apparent eagerness to sell arms to Tehran. Qassem Soleimani, an Iranian defense official who is still the subject of a United Nations travel ban over his country's nuclear activities, reportedly traveled to Moscow to discuss, among other matters, the sale of air defense missiles. China, meanwhile, has agreed to provide Iran with 24 fighter jets in exchange for access to Iranian oil fields for the next 20 years, Taiwanese media reports have said.
Schumer, the highest-ranking Jewish Democrat in the Senate, has said that he would vote against the deal in Congress, where it is expected to fail. President Barack Obama has vowed to veto any bill of disapproval, for which both houses of Congress would need a two-thirds vote to override.
Click here for the full story