By Dr. Patrick Slattery — Blacks across the country are going on a misguided rampage of revenge against the police. We all know about the Dallas shootings. But much of the other violence is going below the radar.
In Ballwin, Missouri, just hours after Micah Johnson shot-and-killed six police officers in downtown Dallas during a Black Lives Matter protest, Antonio Taylor shot a Missouri cop twice, once while the officer lay injured on the ground. County Prosecuting Attorney Robert McCulloch said "It was clearly an ambush, an attack. There was no confrontation, no argument, no nothing."
In Tennessee, a black Army veteran named Lakeem Keon Scott shot indiscriminately at passing cars and police on a highway, killing a white woman. He told investigators he was angry about police violence against African Americans. Meanwhile, police have been targeted in Georgia, and other departments reported being bombarded with threats.
The common thread is that all these shooters are reportedly angry at police over the deaths of two blacks suspects at the hands of police last week. They, and most of the country, has been sold the narrative that police are more likely to shoot black suspects just because of their race. In fact, police have shot almost twice as many white suspects as black suspects over the past few years, despite the fact that blacks commit more violent crime.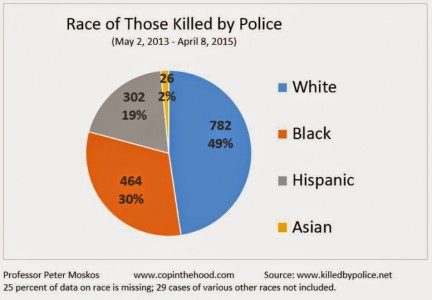 Given the way the stories have been reported in the media, one would think that blacks risk being summarily executed for selling bootleg CDs or having broken tail lights. Of course, information that has come out over the past week indicates that there is no reason to assume that the two suspects' deaths at the hands of police were at all racially motivated. In both cases, the suspects were confronted by police based on reports of men fitting their descriptions brandishing guns. Neither were obeying police orders and both suspects were armed.
In the case of Alton Sterling, police were responding to a complaint about him brandishing a gun in the same parking lot where he later died. In retrospect, his long and sorted criminal record makes it at least plausible that the risk police felt he posed was real. Of course, it is always better to have justice determined in a court of law rather than by police at a crime scene, but in order to have your day in court you have to submit yourself to police. Arrests do not require the consent of those being arrested.
The first reports of the case of Philando Castile painted a more sympathetic picture. They were based on the bizarre video live streamed by his female companion, who seemed remarkably unemotional, in stark contrast to the obviously distraught police officer. The woman was calmly asking the Latin American officer why he shot Mr. Castile after having pulled him over for a broken tail.
As it made clear in the news video below, the officer in fact had pulled over the car because the driver matched the image of a man captured in a security video holding up a gas station the day before. Much remains to be learned about Castile, but his female companion is receiving a great deal of attention for her weird behavior and her penchant for uploading videos of herself riding around in a car with her little daughter while smoking marijuana.
The fact is that these two cases, along with other high-profile cases such as Michael Brown, completely fail to establish any pattern of blacks being subjected to lethal police violence for racial reasons. If anything, they underscore the fact that police are operating in a dangerous and thankless environment of black resentment fueled by a completely erroneous narrative spun by a media that is willing to sacrifice the best interests of blacks in order to push their agenda of white guilt.