From Ynet News
Apathetic showing for pro-refugee rally in Copenhagen
Few Danes joined in a demonstration for the rights of refugees in Denmark, despite more popular turnouts at pro-Palestinian rallies; rally called for an improvement in the conditins for the refugees.
Compared to the presence of leftist organizations and Scandinavian anarchists during protests against the security barrier in Israel, it appears that the problems faced by the refugees in Denmark doesn't evoke as much public fervorl.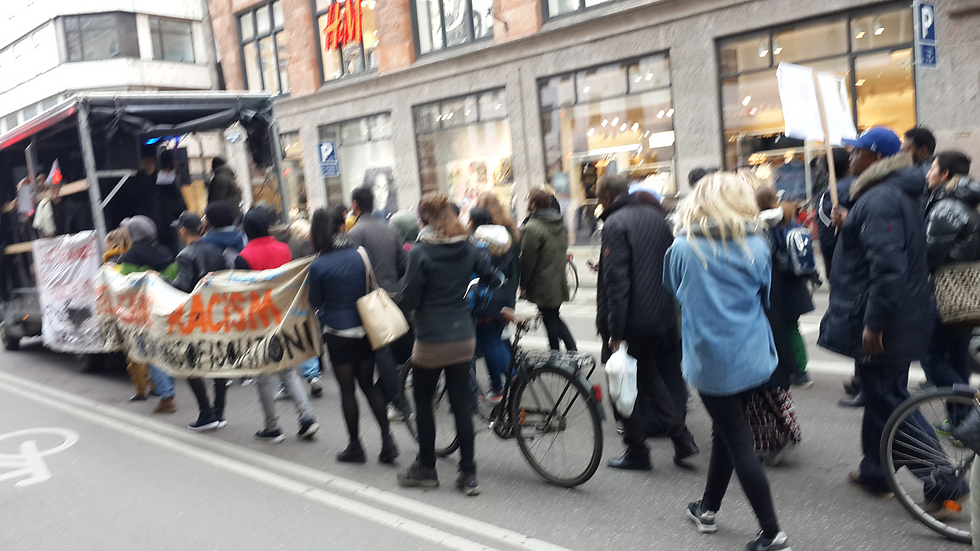 The main speech pleads: 'Please join our protest'
The main speaker on the back of the pickup was wearing a scarf designed to look like a Palestinian kaffiyeh. He called, in English, for the immediate closure of the refugee camps, and the new prison facilities which the Danish government established following the "European Refugee Crisis," and to create legislation to absorb the immigrants.
Click here for the full story
---
---
From PressTV
NATO mulls deploying AWACS 'against Daesh'
Fri May 20, 2016 5:51AM
NATO weighs deploying sophisticated AWACS surveillance aircraft to Iraq and Syria to fight Daesh, but observers believe it is aimed at Russia which is carrying out airstrikes in support of the Syrian government.   
NATO chief Jens Stoltenberg said on Thursday that the surveillance aircraft could be flown over "NATO territory and international airspace" to help the fight against Daesh.
AWACS are aircraft with powerful radars that allow them to monitor airspace for hundreds of kilometers around.
The use of such a complicated system against Daesh and other militants, as claimed by the US and NATO, is questionable.
The system is designed to detect aircraft, ships and vehicles at long ranges and control and command the battle space in an air engagement by directing fighter and attack aircraft strikes.
According to Stoltenberg, the deployment of AWACS aircraft comes at the request of US which is opposed to the Syrian government.
Click here for the full story
---
---
From PressTV
West backing terrorist groups to topple Assad: Russia official
Thu May 19, 2016 4:35PM
A senior Russian official says US-led Western governments have been using terrorism and militant groups to overthrow the government of President Bashar Assad in Syria.
Russian Deputy Foreign Minister Gennady Gatilov said on Thursday that the West has closed its eyes to terrorism in order to use radical groups to topple President Assad.
"Unfortunately, it needs to be said that several years ago when we began speaking about the problem of terrorism, our Western partners tried to turn a blind eye for one single reason, which was that they attempted to use terrorism and radical groups to overthrow the Bashar Assad regime. This is obvious today," Gatilov told journalists in St. Petersburg.
Since the Syria conflict started in 2011, the US and its allies have been providing military and financial aid to the militants who are accused of widespread war crimes.
The US has on several occasions airdropped weapons for anti-Damascus militants, which ended up in the hands of the Takfiri Daesh terrorists.
Russia rejects claims Syria violated ceasefire
Click here for the full story
---
---
From Russia Today
Recognize Crimea as Russian, lift harmful sanctions: Italy's Veneto passes defiant resolution
Published time: 19 May, 2016 11:27
© Manuel Silvestri / Reuters
A council in Italy's northeastern Veneto region has adopted a resolution recognizing Crimea as part of Russia and urging the Italian government and the EU to lift anti-Russian sanctions imposed in the wake of the Ukrainian crisis.
The resolution was backed by 27 out of 51 local councilors, with only nine voting against it, Italy's Corriere del Veneto newspaper reports.
Click here for the full story
---
---
From Russia Today
'Unsafe': Chinese fighter jets intercept US military spy aircraft over South China Sea
Published time: 19 May, 2016 02:32
© Wikipedia
Two Chinese military jets "unsafely" intercepted an American reconnaissance plane patrolling over the the South China Sea on Tuesday, according to Western media reports citing Pentagon's official.
"Two tactical [J-11s] aircraft from the People's Republic of China" intercepted the Navy EP-3 Orion, a US maritime reconnaissance aircraft, which was on a "routine patrol" in international airspace, Defense Department spokesperson Lieutenant Colonel Michelle Baldanza told NBC News.
The Chinese jets flew by the US aircraft at a distance of approximately 50 feet (15 meters). "Initial reports characterized the incident as unsafe," Baldanza said.
The US Pacific Command is in charge of investigating the incident.
The confrontation comes amid heightened China-US tensions over three disputed islands in the South China Sea. US ally Japan has contested China's right to the island chain, which is also claimed by Taiwan. The standoff has been fueled by the area's natural resources, as well as China extending its Air Defense Identification Zone (ADIZ) over areas claimed by neighboring states for their own ADIZs. China argues that Japan unfairly and unilaterally declared its ADIZ in 1969, and accuses the US and other Western critics of having double standards.
Click here for the full story
---
---
From Ynet News
Ya'alon: 'Those who lead us must do so based on ethics'
The resigning minister of defense is addressing the media and his decision to take a break from political life; Ya'alon tendered his resignation on Friday morning.
After resigning on Friday morning both from the position of defense minister and as an MK, Moshe Ya'alon held a press conference at noon in Tel Aviv at the headquarters of the Ministry of Defense.
At the conference, Ya'alon began by stating that, though he was taking a break, he did "not intend to leave political and public life."
Click here for the full story
---
---
From Ynet News
Ya'alon resigns as defense minister, MK
Deciding not to wait for Yisrael Beytenu to reach an agreement on joining the coalition, Ya'alon has announced his resignation via social media Minister of Defense Moshe Ya'alon announced on Friday morning on his Facebook and Twitter feeds that he has resigned from his ministerial position and from the Knesset. He further announced a break from political life.
The post reads, "I informed the prime minister this morning that following his recent actions and developments, and given the lack of faith in him, I am resigning from the government and the Knesset and taking a break from political life."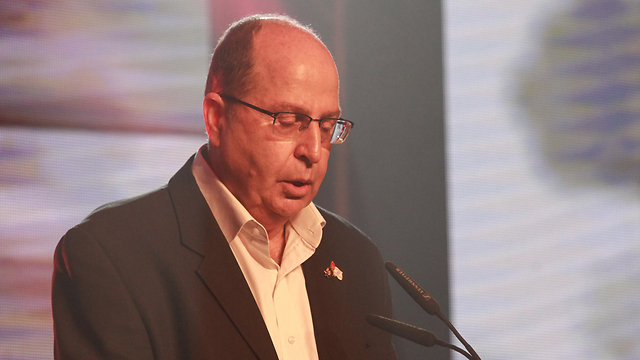 Moshe Ya'alon (Photo: Knesset Spokesperson)
---
---
From the Jewish Telegraphic Agency
2 Brazilian senators associate Holocaust with country's political crisis
RIO DE JANEIRO (JTA) — Two leftist Brazilian senators compared Nazi Germany and the Holocaust to Brazil's political environment in light of President Dilma Rousseff's suspension as part of an ongoing impeachment process.
"In times of crisis, the Jewish people are historically designated as 'guilty' for the evil that does not concern it. And history is repeated," Israel's honorary consul in Rio, Osias Wurman, told JTA on Thursday.
The Brazilian Israelite Confederation, the country's umbrella Jewish organization, condemned the comparison in a statement.
Click here for the full story
---
---
From the Jewish Telegraphic Agency
John Kerry confirms attendance at rescheduled Paris peace summit
(JTA) — U.S. Secretary of State John Kerry confirmed that he will attend a summit of foreign ministers in Paris to discuss the peace process between the Israelis and Palestinians.
The summit hosted by France was rescheduled for June 3 in order to accommodate Kerry, who could not attend on the original date, May 30, which is Memorial Day in the United States.
On Thursday, Kerry told reporters at NATO headquarters in Brussels that he had informed French Foreign Minister Jean-Marc Ayrault during a NATO conference that he would attend the summit.
Click here for the full story
---
---
From the Jewish Telegraphic Agency
Netanyahu supports 2-state solution, even with Liberman in coalition, Israeli official says
(JTA) — Responding to Palestinian condemnations of Avigdor Liberman's appointment as Israel's defense minister, an unnamed Israeli official said the government will continue to support the two-state solution.
"If a coalition is formed, it's important to note that both [Prime Minister Benjamin] Netanyahu and Liberman support a solution based on two states for two peoples," the official told The Times of Israel on Thursday. "In fact, it has historically been right-wing governments, like that of Menachem Begin, which achieved peace with our Arab neighbors like Egypt."
The announcement on Wednesday that the hawkish Liberman and his right-wing Yisrael Beiteinu party were joining the governing coalition prompted Palestinian outrage, with the Palestinian Authority Foreign Ministry saying it "confirms the lack of a peace partner in Israel."
Click here for the full story
---
---
From the Jewish Telegraphic Agency
What Avigdor Liberman could learn from the last non-general to be Israel's defense chief
He was an outspoken politician with little military experience, appointed by a rival and promising to bring a new approach. Current and former officials at the Defense Ministry called his appointment an "enigma," fretting that "it will take some time until he understands how things work" and that "he'll have to undergo basic training."
The subject of that criticism wasn't Avigdor Liberman, the hard-line nationalist with scant army experience who was offered the defense portfolio in a surprise move Wednesday. It was Amir Peretz, the last non-general to hold the post, briefly, from 2006 to 2007.
Peretz and Liberman don't actually have much in common. Before serving as defense minister Peretz, who hails from the Gaza border area, was the head of the Labor Party and the chairman of Israel's Histadrut Labor Federation. He's known as a dove who supports Israeli-Palestinian peace.
Liberman, who lives in a West Bank settlement, is head of the hawkish Yisrael Beiteinu party. His peace plan includes drawing Israel's border to exclude a large portion of its Arab citizens.
---
---
From PressTV
Palestinians slam Lieberman appointment as new Israeli military affairs minister
Fri May 20, 2016 1:55AM
Palestinians have denounced the appointment of hawkish Avigdor Lieberman as the new Israeli minister of military affairs, saying the Tel Aviv regime prefers spreading extremism and building illegal settlements to peace.
The Palestinian Foreign Ministry, in a statement released on Thursday, said Lieberman's appointment to the post by Israeli Prime Minister Benjamin Netanyahu confirms the lack of a peace partner in Israel."
"The development does not surprise the Foreign Ministry. Whoever follows daily the procedures and violations carried out by the extremist Netanyahu administration against the Palestinian people, [sees] the racist, radical and violent nature of the politics of the cabinet since day one," the statement noted.
"The inclusion of Lieberman, known for his extreme right-wing stance toward the Palestinians, is new evidence that Netanyahu, as usual, has preferred to promote extremism in his government, which has become, as described by the Hebrew media, the most extreme administration in Israel's history," it further pointed out.
Earlier on Thursday, Israel's Hebrew-language media outlets reported that Lieberman, who heads the far-right Yisrael Beiteinu party and previously served twice as foreign minister, had accepted Netanyahu's offer to become the Israeli minister of military affairs.
Lieberman reportedly accepted the post after Netanyahu agreed to his demands during a Wednesday afternoon meeting that lasted less than an hour.
Lieberman's appointment came after Netanyahu summoned outgoing Israeli Minister of Military Affairs Moshe Ya'alon and reproached him over supporting an analogy between Israel's situation and Nazi Germany.
Lieberman has said the introduction of death penalty for the Palestinians accused of carrying out attacks against Israelis is among his top priorities.
Click here for the full story
---
---
From PressTV
Turkish army shelling Kurdish-populated city in Mardin Province
Thu May 19, 2016 11:16PM
Turkish military forces have continued the heavy shelling of a Kurdish-populated city in the country's southeastern province of Mardin amid clashes between government troops and members of the outlawed Kurdistan Workers' Party (PKK) there.
Video footage released by Russia's RT TV network on Thursday showed plumes of smoke rising over Nusaybin, situated 792 kilometers (492 miles) east of the capital, Ankara, following bombardments by Turkish army forces.
The development comes as activists and eyewitnesses say the Turkish army has purportedly used internationally-banned phosphorus bombs in its military campaign against Nusaybin.
Akram Baraka told Syria's Kurdish news agency ARA News that the Turkish army used phosphorus bombs in its attack on the Kurdish city on Tuesday.
"After the bombardments, we saw a pillar of white smoke followed by a black cloud of smoke. Flames leaped from the targeted buildings later on," he said.
Kurdish activists say Turkish army forces have been bombing residential neighborhoods in Nusaybin with heavy artillery and tanks over the past few months.
Click here for the full story
---
---
From PressTV
EU to miss deadline on Turkey visa-free travel: source
Thu May 19, 2016 12:47PM
Sources in the European Union say it would be nearly impossible for the 28-nation body to meet an end-June deadline for granting Turkish citizens visa-free travels to Europe as disputes still remain between the two sides on how to go ahead with terms of a wide-ranging deal on refugees.
Sources familiar with negotiations between the EU and Turkey said Thursday that Ankara's refusal to fulfill EU criteria for narrowing its anti-terror law has made a decision on visa-free travels for Turks to Schengen area almost impossible.
"De facto a decision in June 'EU to miss Turkey visa deal deadline' is not possible anymore," said the source, adding that members of the European Parliament could still theoretically vote on the plan at their final plenary session on July 4-7 although a more realistic scenario would be a vote after summer break.
EU Parliament President Martin Schulz had said earlier that he did not see a resolution on visa-free travels happening before the end of June.
Turkey has repeatedly said it will not heed calls by the EU for changing its counter-terror law in return for privileges promised in the refugee agreement which the two sides signed in March. The EU had vowed a series of incentives to Turkey as part of the mega deal which was aimed at curbing the unprecedented flow of refugees into the continent. Among them was providing Turkish citizens with visa-free travels to European countries.
However, another EU source endorsed the idea that visa-free travels could come in July but he said it could also happen in October, based on the Turks' compliance with EU demands.
Click here for the full story
---
---
From Russia Today
'EU is in process of collapsing on itself' – Marine Le Pen to RT (EXCLUSIVE)
Published time: 20 May, 2016 04:01
Head of French far-right party Front National (FN) Marine Le Pen. © Philippe Lopez / AFP
The EU is on the brink of collapse, as two of its main "pillars" are "crumbling" despite the billions of euros spent on keeping the structure from falling, far-right French leader Marine Le Pen told RT, adding that the union would fail if France left it.
READ MORE: Brexit poll: Almost half of Europeans want own vote on leaving EU
"The two pillars on which it's founded – Schengen and the euro – are in the process of crumbling," Le Pen told Marie De Douhet of RT France in an exclusive interview. "So they're in a sort of mad downward spiral in which they're capable of anything today to try and keep this building standing."
The leader of France's hard-right Front National party believes the collapse is not a matter of "if" but "when," saying the EU "shines from the light of a dead star" while its leaders are struggling to play for time "at the cost of billions trying to hold this structure up."
Click here for the full story
---
---
From Russia Today
Female Turkish journo loses custody of children after leaking video from Syria arms smuggling trial
Published time: 19 May, 2016 01:03
Arzu Yıldız © Twitter
Journalist Arzu Yildiz was sentenced to 20 months in jail and lost her parental rights after exposing a video related to a weapons-smuggling scandal denied by the Turkish government, in what her lawyer said was "an act of revenge" by Recep Tayyip Erdogan.
"Nobody can take my children away from me… not even the Sultan himself, let alone the court," Yildiz told Can Erzincan TV, outside the court in the southern city of Mersin.
Click here for the full story
---
---
From Ynet News
Jewish/Muslim couple video goes viral
Actors dressed up as mixed Jewish/Muslim couples walk hand in hand in the streets of New York and receive insults, abuse but some find it 'highly liberating'.
A new YouTube video in which actors dressed as mixed Jewish/Muslim couples walking hand-in-hand in the streets of New York caused quite a storm online and got more than a million hits in only two weeks.
The two couples, a Jewish man with a Muslim woman and a Muslim man with a Jewish woman, walked about in clothing that clearly identified their religious afiliations. While quite a few people reacted positively upon seeing the couples, many expressed their anger with aggression and hostility, throwing bottles and insulting them—all in front of the camera.
Click here for the full story
---
---
From the Jewish Telegraphic Agency
House passes bill protecting circumcision, ritual slaughter as religious freedoms
WASHINGTON (JTA) — A bill unanimously approved by the U.S. House of Representatives would extend religious protections to advocates of circumcision and ritual slaughter as well as atheists, addressing what its sponsors describe as an increase in religious persecution in recent years.
The bill, passed Monday, would broaden the definition of "violations of religious freedom" in the International Religious Freedom Act of 1998 to include the persecution of advocates of male circumcision or ritual animal slaughter. Atheists would become a new protected class.
The measure, which moves to the Senate for consideration, was named for retired Rep. Frank Wolf, R-Va., a longtime champion of human rights who authored the 1998 law.
"The world is experiencing an unprecedented crisis of international religious freedom, a crisis that continues to create millions of victims; a crisis that undermines liberty, prosperity and peace; a crisis that poses a direct challenge to the U.S. interests in the Middle East, Russia, China and sub-Saharan Africa and elsewhere," Rep. Chris Smith, R-N.J., who authored the bill, said in a statement.
Click here for the full story
---
---
From Russia Today
Japanese PM 'outraged' over 20yo woman's murder after US Okinawa base contractor arrested
Published time: 20 May, 2016 07:56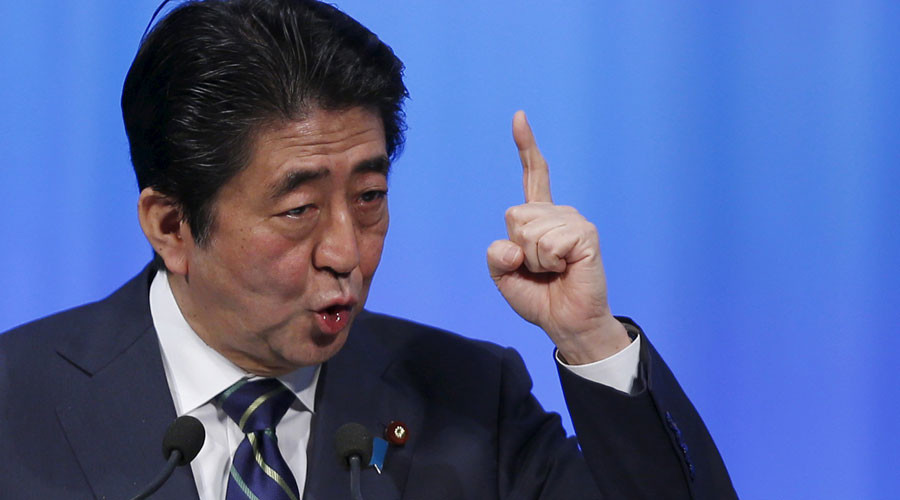 Japan's Prime Minister Shinzo Abe © Yuya Shino / Reuters
Japanese Prime Minister Shinzo Abe says he's outraged at the murder of a 20-year-old woman, following the arrest of a US man on suspicion of homicide in Okinawa. Japanese media later reported that the suspect admitted killing his victim.
"I feel extremely strong outrage," Abe told reporters.
He added that he has no words "to express, considering how the family" of the victim feels.
"We urge the US side to take thorough measures to prevent the recurrence of such events."
Click here for the full story
---
---
From Russia Today
Founder of Finland's anti-migrant 'Soldiers of Odin' convicted of aggravated assault
Published time: 19 May, 2016 14:02
Mika Ranta, founder of the 'Soldiers of Odin' pictured on February 5, 2016 in Kemi. © Sam Kingsley / Reuters
One of the founders of far-right anti-refugee Finnish group the 'Soldiers of Odin' has been slapped with a suspended sentence of 18 months, a fine and community service for an assault on a man and a woman resulting in a broken jaw.
The group, named for the Norse god of war and death, roams the streets of their native Finland and neighboring states, claiming to protect locals from immigrant attacks. It was founded last year in the northern Finnish town of Kemi. The group says its actions are in response to local police struggling with the sheer number of crimes since the migrant influx last year.
The group accuses "Islamist intruders" of increasing crime and distributes placards reading, "Migrants not welcome."
Click here for the full story
---
---
From Russia Today
German air authority let radical Islamist work at Berlin airports, ignored warning – report
Published time: 19 May, 2016 06:14
© Johannes Eisele / AFP
A Turkish-born airport cleaner known to the authorities as a hardline Islamist had an access to major German airports' most sensitive security areas almost a year after Berlin authorities briefed an airport safety watchdog of his ties to radical beliefs, a report has revealed.
The employee, identified in a new report by Germany's Morgenpost on Wednesday as "Recep Ü," was eventually sacked in October 2015 after four years of working for the German airport operator FBB, which runs Berlin's Tegel and Schönefeld airports. However, his dismissal was triggered not by concerns over a possible terrorist threat but by a separate incident involving a security breach. He had been apprehended by airport security officers while attempting to smuggle a knuckle-duster into the security area of Schönefeld airport, the newspaper reported.
Click here for the full story
---
---
From Russia Today
EgyptAir Flight 804 disappears en route from Paris to Cairo with 66 on board
Published time: 19 May, 2016 03:08
Families of passengers who were flying in an EgyptAir plane that vanished from radar en route from Paris to Cairo react as they wait outside a services hall at Cairo airport on May 19, 2016. © Khaled Desouki / AFP
An EgyptAir flight en route from Paris to Cairo has gone missing with 56 passengers and 10 crewmembers on board. While a search and rescue operation is under way, authorities and experts say no scenario can be ruled out, including terrorism.
LIVE UPDATES: Search for EgyptAir flight missing over Mediterranean

Flight MS804, an Airbus 320, left Charles de Gaulle Airport in Paris at 11:09 p.m. local time (2109 GMT) on Wednesday and was expected to arrive in Cairo by 03:00 a.m. Thursday. A direct flight usually takes just over four hours. It went off radar screens just as it was leaving Greek airspace at 0230 GMT.
French President Francois Hollande confirmed that the missing plane had crashed, and added that "no hypothesis" could be ruled out on the causes of the incident. Speaking in a televised address, he offered "solidarity" with the families of those on board.
"It could be a terrorist hypothesis but at this stage we should express our solidarity to the families and to find out the cause of the catastrophe," Hollande said.
Click here for the full story
Related