Commentary by Dr. Patrick Slattery — In France, efforts by the Zio-puppets who run the government, including President Hollande, Interior Minister Valls, and (Jewish) Finance Minister Moscovici, to silence the bold anti-Zionist humorist Dieudonné M'bala M'bala have completely backfired. European Frenchmen and those of African descent, nationalists and immigrants, leftists and rightist have come together to support Dieudonné and voice their disgust with their treasonous leaders. Could this happen in America? The following article that appeared recently in Minister Farrakhan's Nation of Islam publication "Final Call," Tingba Muhammad defends Dieudonné as well as prominent African Americans from attacks from Abraham Foxman and the rest of the Zio-establishment. He also recounts the leading role of Jews in the transatlantic slave trade. See Tingba Muhammad's article below. And for those who are unfamiliar with Dieudonné, an interview from a few years ago on Iran's PressTV is a good introduction.
Press TV-Face to Face-Dieudonné M'bala M'bala-04-07-2010(Part 1) – YouTube.
Both of these gentlemen of African heritage sound a lot like Dr. Duke. What the Dieudonné interview and the article by Tingba Muhammad demonstrate is the enormous common ground between the various peoples who have been repressed by Jewish supremacists and the great potential there is for coming together to overthrow our Zio-rulers.
The NBA's Tony Parker, The ADL & Dieudonné the 'French Farrakhan'
BY TINGBA MUHAMMAD -GUEST COLUMNIST- | LAST UPDATED: JAN 17, 2014 – 10:12:12 PM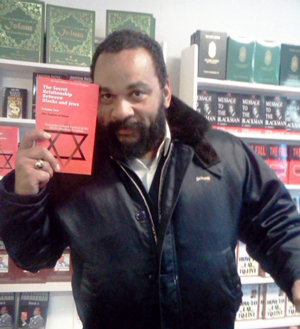 French humorist Dieudonne M'bala M'bala
(FinalCall.com) – The Anti-Defamation League's (ADL) sheer determination to make every Black person an "anti-Semite" knows no bounds or restraint. Its head, Abraham Foxman, fresh from his ambush of rapper Kanye West last month, did not even need NBA basketball star Tony Parker to speak actual words before he dragged yet another Black man's good name through the mud.