Dr. Patrick Slattery's News Roundup
A service of DavidDuke.com
---
From Russia Today
Almost 1,500 underage refugees arrived in Germany married, one fourth 14yo – report
Published time: 10 Sep, 2016 10:17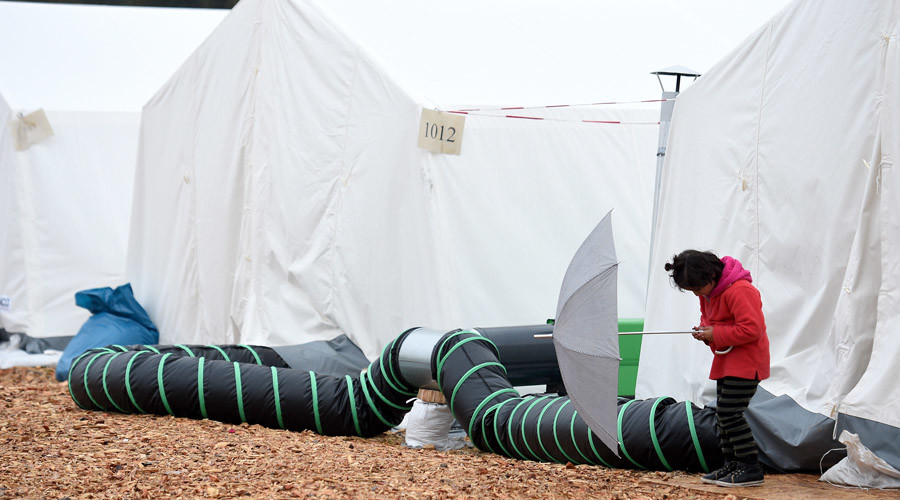 © Fabian Bimmer / Reuters
Some 1,475 minor refugees, mostly girls, have arrived in Germany already married, the majority of whom come from Syria, Afghanistan, and Iraq, an official report cited by German media says. Almost one in four are reportedly less than 14 years old.
The numbers from the government migration office were released in the Westdeutsche Allgemeine Zeitung (WAZ) newspaper on Friday.
According to data collected in July of this year, some 1,475 refugee minors were recorded by the migration office as married. The usual minimum age for marriage in Germany is 18, but an exception can be made for 16-year-old children if they have their parents' permission.
READ MORE: No more polygamy & underage wives for immigrants, says German minister 
Click here for the full story
---
---
From the Jewish Telegraphic Agency
The alt-right emerges joyous into the light — and then they argue. About Jews.
WASHINGTON (JTA) — This was the unveiling of the alt-right, this was its moment, its confident stride onto the national stage, and there was unity — until there was internal dissent, until there was pronounced disagreement, until there was almost – almost – a voice raised against one's white European kith and kin.
And of course it was about the Jews.
Rewind a bit.
The email said the alt-right guy would meet you in front of Old Ebbitt Grill, the hoary Washington eatery beloved by tourists and hard by the White House. He would "be wearing a charcoal suit and brown tie," the email said, but these details turned out not to be necessary: The crewcut, the sunglasses, the tight, thin frown, the pacing. This was the alt-right guy.
Click here for the full story
---
---
From Russia Today
Russia & US-brokered Syria ceasefire coming into force, 48hr pause to start at sunset
Published time: 11 Sep, 2016 21:00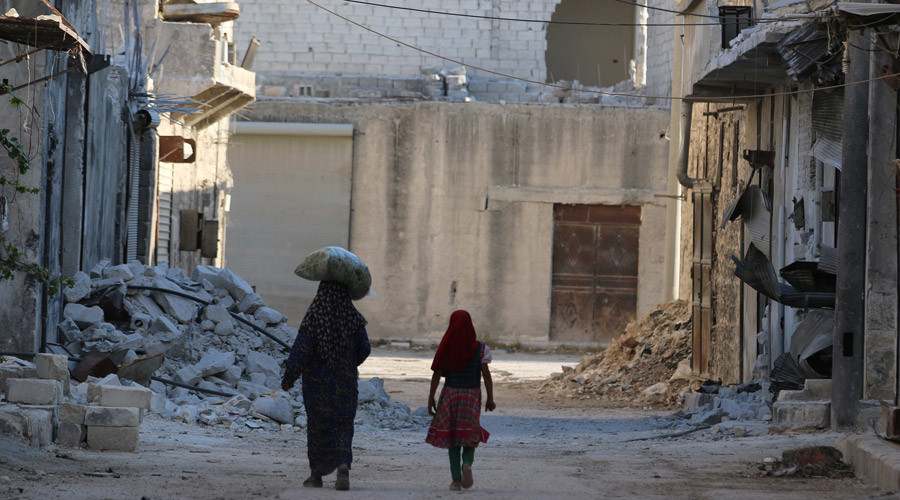 © Abdalrhman Ismail / Reuters
The landmark new Syrian ceasefire plan, brokered in Geneva by Russian Foreign Minister Sergey Lavrov and his US counterpart, John Kerry, is set to start on Monday evening. It will initiate an initial 48-hour truce, which must then hold for the entire week.
The truce is to see the nationwide halt of Syrian government military action against rebels as well as cooperation on strikes against terrorist targets. The agreement also envisions a halt to offensives by the rebel forces in Syria and their separation from terrorist groups.
Kerry previously said that the ceasefire comes into effect "at sundown" on September 12, Damascus time.
Click here for the full story
---
---
From Russia Today
Migrants injured after becoming trapped atop Spanish border fence for hours (VIDEO)
Published time: 11 Sep, 2016 15:48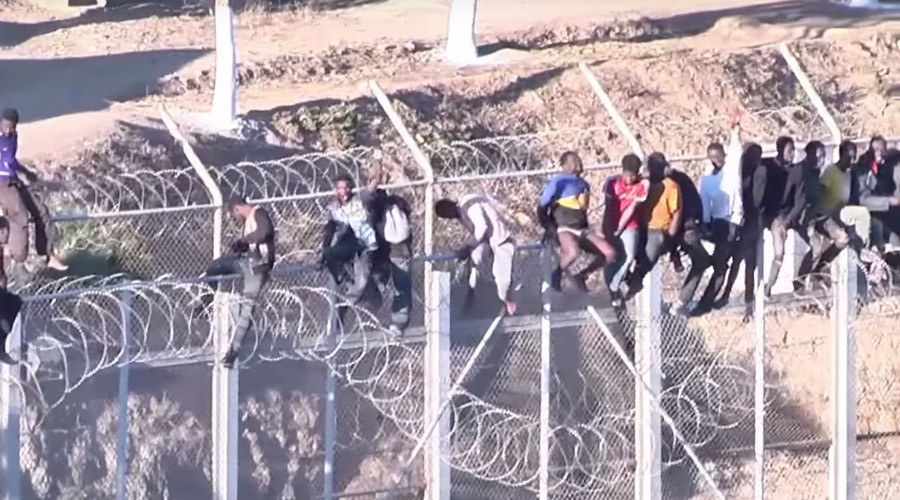 Five of the migrants were taken to hospital with injuries. © Ruptly
Five migrants were reportedly injured when they climbed to the top of a border fence in northern Africa and became stuck there for several hours.
The migrants were attempting to enter the Spanish enclave of Ceuta on the north coast of Africa from neighboring Morocco when they became trapped on top of the six-meter-high wire fence.
Around 150 migrants were attempting to illegally enter Spain by climbing over the fences surrounding the Ceuta border crossing when some 85 people climbed on top to avoid being caught by the authorities, officials said in a statement.
Video of the incident shows dozens of people sitting on top of the fences, which are covered with barbed wire.
The UNHCR said they were monitoring the situation with concern and reminded Spain of their obligation to provide asylum to those in need of protection.
One of the migrants involved, who had traveled from Cameroon to attempt the crossing, described those on top of the fence as singing songs despite their ripped clothes and injuries, according to
El Faro de Ceuta
.
Click here for the full story
---
---
From Russia Today
Forces of opposition commander take all three key Libyan oil ports
Published time: 11 Sep, 2016 15:42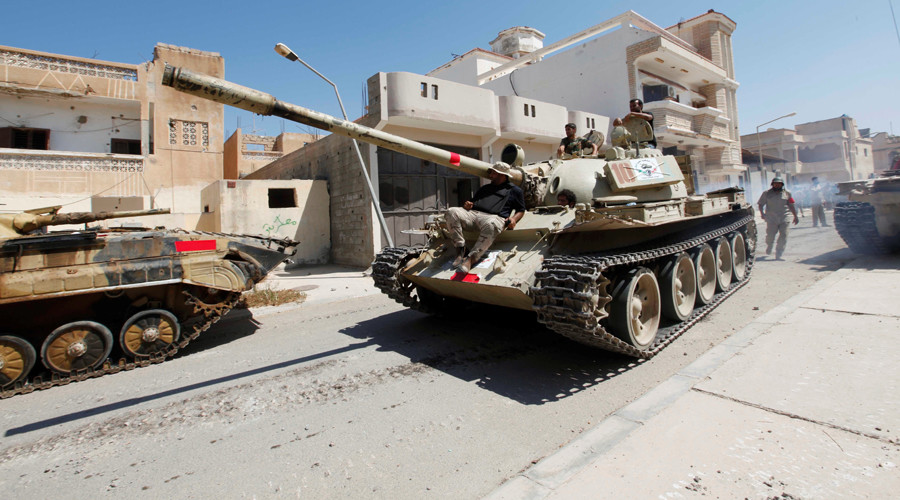 Libyan forces © Ismail Zetouni / Reuters
Libyan National Army forces loyal to a controversial eastern Libyan commander have seized all three of Libya's oil ports, ruining the plans of the Tripoli-based UN-backed Government of National Accord (GNA) to put them back into operation.
Colonel Ahmad Mesmari, a Libyan National Army (LNA) spokesman, reported that LNA forces had taken control over the ports of Ras Lanuf and Al-Sidra on Libya's Mediterranean coastline to the east of the capital, Tripoli, Libya's Lana news agency said on Sunday.
Click here for the full story
---
---
From Russia Today
Crimea 'cannot be given back' to Ukraine – Czech president
Published time: 9 Sep, 2016 14:23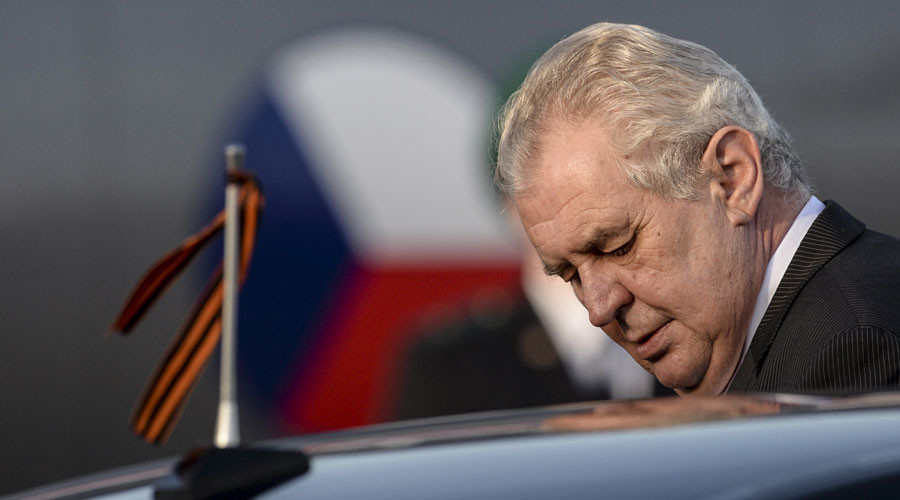 Czech Republic's President Milos Zeman ©  / Reuters
The Crimean peninsula can never be returned to Ukraine, notwithstanding the fact that it was "annexed," Czech President Milos Zeman said in answering a reader's question in the Czech newspaper Parlamentni Listy.
"[Nikita] Khrushchev committed an unforgivable stupidity and the world's politicians acknowledge today that Crimea cannot be given back to Ukraine," Zeman said, referring to the Soviet leader who in 1954 made Crimea part of Ukraine, which was then a part of the Soviet Union.
Click here for the full story
---
---
From The Times of Israel
Clinton health concerns could impact time on fundraising trail
Nominee's war chest outstrips Trump's, even after nixing California trip, but Democrats say future efforts to bring in donor money could help other down-ticket races
September 12, 2016, 7:45 am
WASHINGTON (AP) — Hillary Clinton could spend $2.2 million every day until the November 8 election without running out. And every month she widens her cash advantage over Donald Trump. As of September 1, it was a $55 million gulf.
But the Democratic nominee's plans to keep up her fundraising schedule were slowed up this weekend by health concerns.
Clinton was scheduled to return to California on Monday for still more finance events, but called off plans out West for two days of fundraising, campaign events and an appearance on Ellen DeGeneres' talk show after she had to abruptly leave a 9/11 anniversary ceremony Sunday complaining she was overheated.
She had to be helped into a van before going to rest at her daughter Chelsea's home. Clinton has been diagnosed with pneumonia, put on antibiotics and advised to rest.
---
---
From The Times of Israel
WASHINGTON (AP) — Hillary Clinton's stumbles as she left Sunday's 9/11 memorial ceremony put her health at the forefront of a presidential campaign in which the two major party nominees are among the oldest ever and have disclosed a limited amount of information about their medical history.
The Democratic presidential nominee "became overheated and dehydrated," her doctor said, leaving the ground zero ceremony after about 90 minutes. A video of her departure show Clinton appearing to stumble as three staff members hold her up and help her into a van.
While the former secretary of state later emerged from her daughter's nearby apartment, saying she was "feeling great," the episode focused attention on Clinton's health with eight weeks remaining in a contentious election in which Republican rival Donald Trump has sought to sow doubt about her health and fitness to serve.
Trump has repeatedly questioned Clinton's health, telling supporters last month she "lacks the mental and physical stamina" to serve as president and fight Islamic State militants. The billionaire businessman also attended Sunday's memorial, and said "I don't know anything" when asked about Clinton.
It's an accusation that Clinton has sought to play off as a "wacky strategy" from Trump and evidence that he embraces an "alternative reality." She poked fun of the idea during an appearance on ABC's "Jimmy Kimmel Live" last month, jokingly opening a pickle jar as proof of her vigor.
Click here for the full story
---
---
From PressTV
Israel launches new airstrikes on Syria's Golan
Israeli military aircraft have launched yet more strikes on the Golan Heights in southwest Syria.
The Israeli military said Saturday that "artillery positions" were hit in Golan after "a projectile" coming from Syria hit the Israeli-occupied part of the territory.
The projectile caused no injuries or damage, the Israeli military said.
Similar attacks had been carried out against Syrian military positions on Thursday under the same pretext. Attacks had also been carried out in July and before.
An Israeli military spokeswoman said the firing of projectile from Syrian-controlled Golan was most likely unintentional, calling it "spillover" from the fighting in the Arab country.
Golan belongs to Syria, and Israel's occupation of around 1,200 square kilometers (460 square miles) of the territory during the 1967 Six-Day War and its later annexation have never been recognized by the international community.
Click here for the full story
---
---
From the Jewish Telegraphic Agency
6 revealing stats about Jewish nonprofits and the people who work for them
Jewish nonprofit workers are inspired, respected and challenged. They're also stretched thin, lack regular feedback from their bosses and are itching to switch agencies.
Those are some lessons from "Are Jewish Organizations Great Places to Work?" a study released Thursday by Leading Edge, a partnership of Jewish foundations and federations aiming to draw talented employees to the Jewish nonprofit sector. The study, which interviewed more than 3,000 Jewish nonprofit employees at 55 organizations, painted a picture of an industry in flux — filled with passionate, yet transitory, staff members.
Here are the report's key takeaways.
About one percent of America's Jews works in a Jewish nonprofit
Click here for the full story
---
---
From Russia Today
Saudi-led coalition airstrikes kill over 20 civilians in Yemen – reports
Published time: 12 Sep, 2016 02:23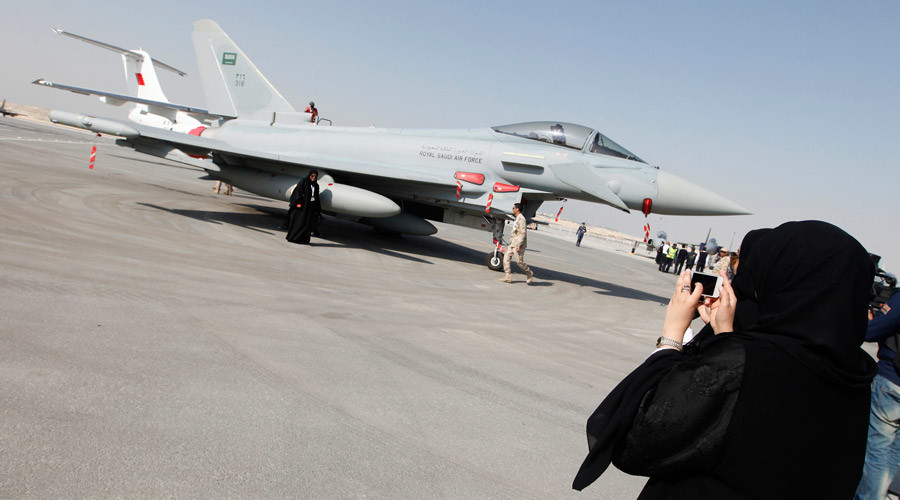 © Hamad I Mohammed / Reuters
Two separate airstrikes carried out by the Saudi-led coalition on Saturday claimed the lives of at least 21 civilians in northern Yemen, according to accounts of witnesses cited by Reuters. Local media sources claim the number of deaths exceeds this figure.
Click here for the full story
---
---
From Russia Today
Syria talks: Lavrov, Kerry hold record marathon talks in Geneva as suspense builds
Published time: 9 Sep, 2016 17:58
U.S. Secretary of State John Kerry (L) and Russian Foreign Minister Sergei Lavrov take their seats during their meeting in Geneva, Switzerland, to discuss the crisis in Syria, September 9, 2016.© Kevin Lamarque / Reuters
Russian Foreign Minister Sergey Lavrov has been locked in negotiations with his US counterpart John Kerry for more than 12 hours, beating the record in their bilateral marathon talks on Syria. With both diplomats still behind closed doors, no result has yet been reached.
Sergey Lavrov told the journalists that the two top diplomats are thinking of ending this round of Geneva negotiations on Syrian crisis after waiting for more than five hours for Kerry to get approval on the deal from Washington. He said that the two might be continuing their discussions next week.
"We are there, I don't know where our friends are, but I believe it's important for them to check with Washington," Lavrov said, referring to the fact that Russia had approved a text of a deal and the US is still working on its position. Answering a reporter's question, Lavrov also said that the Russian side approved the text of the deal on Syria, which is being negotiated at the meeting.
"We're thinking of maybe calling it a day, maybe meeting next week," he said before he went back behind closed doors.
While Kerry was still thrashing out the details of the deal with Washington, the Russian FM attempted to cheer up the exhausted and starving journalist pack with pizzas and a couple of vodka bottles.
Entering the press hall with starving journos, Lavrov carried six pizza boxes, and clarified they were a present from the American delegation.
Click here for the full story
---
---
From The Times of Israel
NEW YORK (AP) — Barbra Streisand put her feelings about Donald Trump into song Friday night.
At an LGBT fundraiser for Hillary Clinton Friday, the singer performed a parody of the Stephen Sondheim song "Send in the Clowns" with lyrics about the Republican nominee.
"Is he that rich, maybe he's poor, 'til he reveals his returns, who can be sure?" Streisand sang to an applauding crowd of about 1,000. "Something's amiss, I don't approve, if he were running the free world, where would we move?"
Streisand preformed before a large effusive crowd at the New York City fundraiser. She followed Clinton, who stressed her support for the LGBT community and said, "We all love this woman, either from afar or luckily enough up close."
The event raised money for the Hillary Victory Fund, a joint fundraising committee between Clinton's campaign, the Democratic National Committee and state parties. Contributions ranged from $1,200 to over $250,000.
Click here for the full story
---
---
From PressTV
Syrian forces use heavy artillery on militants in Hama: Video
Syrian and Russian air forces have bombarded militant-held positions in the western-central province of Hama.
According to Syrian military sources, the three villages of Helfaya, Taybat al-Imam, and Souran — seized recently by al-Qaeda-linked militants — in the province's northern regions were the target of airstrikes on Monday.
Syrian ground troops also used heavy artillery and tanks to retake several militant-held areas in the region.
Meanwhile, the so-called Syrian Observatory for Human Rights said nearly 90 people were killed in unidentified air raids on various militant-held parts of Idlib and Aleppo
Over the last few weeks, Syrian forces have been making vast gains in and around the province, located north of Damascus, which is partially controlled by groups backed by Jaish al-Fateh and the so-called Free Syrian Army militants.
Click here for the full story
---
---
From PressTV
Syrian government approves US-Russia ceasefire deal: SANA
The Syrian government has "approved" a truce deal announced by Russia and the United States as part of a plan to find a political solution to the crisis in the Arab country, the state news agency says.
Early on Saturday, Moscow and Washington agreed on a nationwide "cessation of hostilities" which will go into effect at sundown on September 12. It also calls for increased humanitarian aid for the embattled Syrian city of Aleppo.
If a cessation of hostilities holds for one week, the US and Russia could start joint airstrikes against Takfiri terrorist groups wreaking havoc in the Arab country.
"The Syrian government has approved the agreement, and a cessation of hostilities will begin in Aleppo for humanitarian reasons," the Syrian official news agency, SANA, said on Saturday.
Citing "informed sources," the agency said one of the agreement's goals was "reaching the necessary political solutions for Syria."
"The entire agreement was reached with the knowledge of the Syrian government," SANA said.
The European Union has welcomed the truce deal, calling on the United Nations to "prepare proposals for political transition" to serve as "the starting point for resumption of the intra-Syrian talks."
Click here for the full story
---
---
From PressTV
Israeli police admit slain Palestinian innocent
The Israeli police have acknowledged that a Palestinian youth, who was shot dead by the regime forces this week, was innocent.
The police initially said they killed 27-year-old Mustafa Nimr in Shuafat refugee camp in East Jerusalem al-Quds on Monday over an alleged attempt to carry out a car-ramming attack targeting Israeli officers.
On Wednesday, however, Israeli police spokeswoman Luba Samri said the victim was not attempting an attack and 20-year-old, Ali Nimr, the car's driver who was wounded and arrested in the attack, was suspected of involuntary manslaughter.
The driver was being investigated over driving without a license, driving under the influence of alcohol and reckless endangerment, Samri added.
She further noted that an inquiry had been opened by an Israeli ministry of judicial affairs unit that probes police activity.
The Monday incident took place when the two Palestinians were driving near the scene of clashes between local youths and Israeli soldiers during a military raid in the refugee camp. The two were returning home after picking up food for their family.
The Israeli daily Haaretz quoted witnesses as saying that the Palestinian vehicle posed no danger to the Israeli forces.
Click here for the full story
---
---
From the Jewish Telegraphic Agency
Israel joins US in marking 15th anniversary of 9/11
JERUSALEM (JTA) — Israeli Prime Minister Benjamin Netanyahu marked the 15th anniversary of the 9/11 attacks on the United States.
"Today we mark 15 years since the terrorist attacks on 9/11. We remember the victims. We embrace their loved ones," Netanyahu said Sunday at the beginning of the Cabinet meeting.
"We stand with our greatest ally, the United States of America, and with other partners in the battle against militant Islamic terrorism that spreads its fear, its dread, its murder, around the world. Our memories are long, our determination is boundless. Civilized societies must band together to defeat these forces of darkness, and I'm sure we will," Netanyahu said, addressing the Cabinet in English.
Click here for the full story
---
---
From the Jewish Telegraphic Agency
Alan Gross endorses Hillary Clinton, citing her Cuba policy
WASHINGTON (JTA) — Alan Gross, imprisoned for five years in Cuba for his efforts to assist its Jewish community, endorsed Hillary Clinton for president, citing in part her commitment to the Obama administration's new openness to Cuba.
"I support her commitment to continue and improve our new Cuba policy," Gross, who was arrested in 2009 for distributing internet equipment to the island's Jewish community, wrote in an Op-Ed that appeared Friday in the Sun-Sentinel in southern Florida where Clinton and her Republican opponent, Donald Trump, are expected to battle for the Jewish and Cuban vote.
"It was about time to recognize that if we want the Cuban Government to get out of the way of its private sector and private citizens, we also need to get out of the way," he said.
Click here for the full story
---
---
From the Jewish Telegraphic Agency
NY venue nixes Black Lives Matter benefit over Israel-bashing platform
(JTA) — A New York venue cancelled a concert raising money for Black Lives Matter over a recent policy platform by an affiliated group, which called Israel an "apartheid state" perpetuating "genocide" against the Palestinian people.
An email sent to ticket holders this week said that the owners and managers of Feinstein's/54 Below had "become aware of a recent addition to the BLM platform that accuses Israel of genocide and endorses a range of boycott and sanction actions."
The cabaret club, which is located close to Times Square, "would have preferred to hold the concert in support of the #BlackLivesMatter movement, without endorsing or appearing to endorse the entirety of the Black Lives Matter organization and its platform but we've found that a distinction impossible for us to effect," the email read, according to Playbill.
Click here for the full story
---
---
From the Jewish Telegraphic Agency
Norman Podhoretz, neoconservative founder, endorses Donald Trump
WASHINGTON (JTA) — Norman Podhoretz, a founder of the neoconservative movement, said he backs Donald Trump for president.
With his endorsement in an interview this week in the Times of Israel, the former editor of Commentary magazine parts ways with the many neoconservatives who say they cannot support the Republican nominee because of his foreign policy views.
Podhoretz, 86, said that any concerns he had about Trump are outweighed by his trepidation at a Hillary Clinton presidency.
He cites especially her role, as secretary of state in President Barack Obama's first term, in shaping last year's deal in which Iran rolled back nuclear development in exchange for sanctions relief.
Click here for the full story
---
---
From The Times of Israel
Australian school: Letting student wear Hitler costume was 'innocent mistake'
Teen at high school in Northern Territory given 'best dressed' award while Jewish students visited
September 10, 2016, 6:11 am
A private school in Australia said allowing a student to dress up as Adolf Hitler while students from a Jewish school visited was "an innocent mistake."
The Jewish students were present at an assembly on Wednesday when the boy was given a "best dressed" award for his Nazi costume, which a teacher at the private school had given him permission to wear. Students were encouraged to dress in costume for "book week."
A statement posted Friday on the Facebook page for St. Philip's College, a Christian school for grades 7-12 located in the country's Northern Territory, called the incident "an innocent mistake by a teacher who is a respected, honourable and lovely person who got it wrong on the day."
"In a busy school, this student did go to a respected staff member [and] said 'is this OK?' and the staff member said 'yes,'" principal Rogert Herbert told The Australian Broadcasting Corporation. "Now she is absolutely shattered that she said that, and I'm really concerned about her well-being."
Herbert said the exchange students and the principal from the Jewish school Bialik College accepted the apology.
Click here for the full story