Download
Today Dr. Duke linked the suicide bombing in Manchester, England, with the Zionist deep state. ISIS has claimed responsibility for the Manchester bombing, and it certainly fits well with their methods and objectives. Yet ISIS is very much a creation of the Zionist deep state, and not simply unintended blowback from misguided U.S. foreign policy.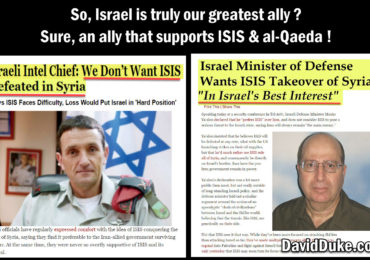 As evidence, Dr. Duke cited video documentary produced by Jewish reporters at the British newspaper The Daily Mail, which followed Israeli military medics as they treated ISIS fighters and sent them back to fight in Syria. He cited the weapons shipments by Hillary, Obama, and Biden to Saudi Arabia, despite their knowledge that these would get into the hands of ISIS. And he cited the pronouncement former Israeli Defense Minister Yaalon that ISIS apologized to Israel for once having accidentally attacked Israeli forces. Don Advo also joined the show.
This is a great show that you won't want to miss. Please share it widely.
Please send a contribution to keep us on the air.
Click here and look for the show dated 5-23-17.
Our show is aired live at 11 am replayed at ET 4pm Eastern and 4am Eastern.