Dr Duke & Mark Dankof – According to 8Ch El Paso Shooter DID NOT POST the "Manifesto" So Who Did? And Why

?
Download
Today Dr. Duke and Pastor Mark Dankof expose the tale of two shootings, one allegedly a "White Supremacist" and the other, just a depraved wacko who just happened to be pro-communist, antifa, pro Warren and Bernie and who hated white people.
Ironically, there are many questions about the El Paso Shooter as well. I turns out that the "Manifesto" he allegedly posted on 8Ch, HE DIDN'T POST! The head of 8Ch said when he saw the manifesto he contacted law enforcement and informed them that the alleged shooter did NOT POST the Manifesto!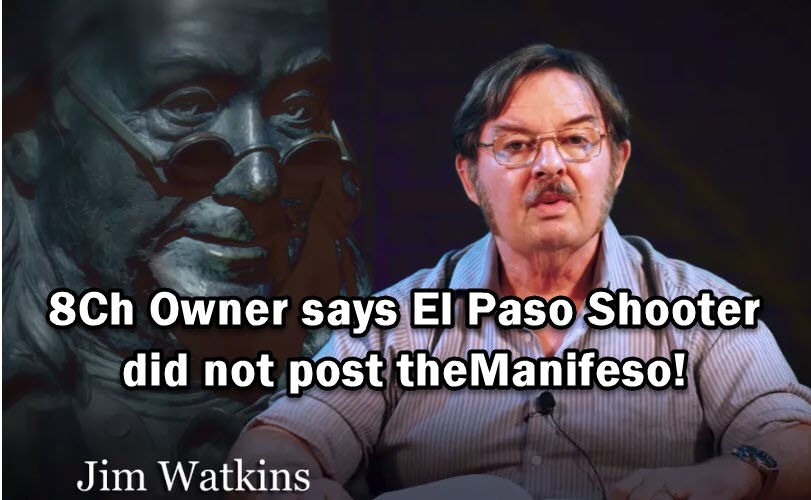 Meanwhile, Indian Princess and presidential candidate Elizabeth Pocahontas Warren, who has pledge to sic the FBI on white advocates, is strangely silent on the issue of her supporter having shot up a country music venue filled with white people.
Listen to the show for the full story.
Please share this show widely. And please keep us on the air and on-line. Please visit our contribution page or send your contribution to: P.O. Box 188, Mandeville, LA 70470 Thank you.
Click here
and look for the show dated 8-7-19 Our show is aired live at 11 am replayed at ET 4pm Eastern Check out this classic video from Dr. Duke
Here is Mark Collett's recent viral video:
Be sure to check out Mark's Twitter feed. And follow him while you're at it.