By Dr. Patrick Slattery — Whenever the racist attitudes or actions of high-profile Jews towards "people of color" are exposed, the Jewish media engages in a practice that I call "white-washing." That is to say, when the racism cannot be defended, then the racist Jew puts on a magic white yarmulke and disappears in a puff of white smoke. The media then portrays the actions of the racist Jew as yet another example of white racism.
This was very much in evidence in the uproar over Elena Kagan's nomination to the Supreme Court, when some black and Hispanic law professors complained about her lack of hiring "people of color" to Harvard Law School while she was its dean. The subsequent debate over "white privilege" obscured the fact that actually half of her hires were Jewish professors, and that she hired white European American professors at a rate significantly below their share of the population!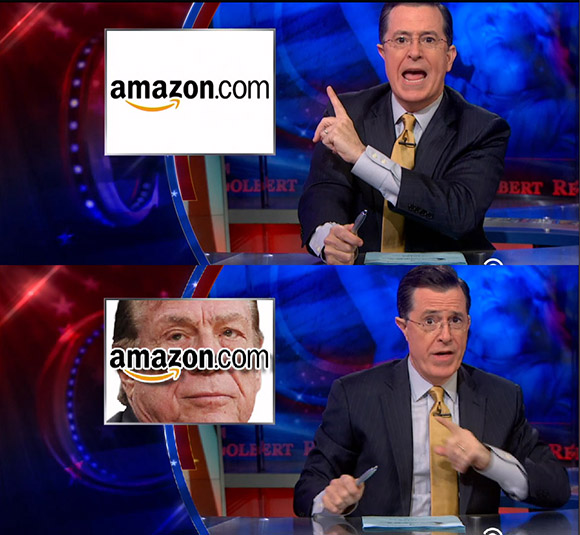 Whitewashing consists of efforts to associate the racist behavior in question with whites rather than with Jews. The Donald Sterling controversy is an excellent case in point. On May 14, the Colbert Report did a segment on Amazon.com patenting photography against a white background. When Colbert noticed that the Amazon logo being displayed on screen was against a white background, he told his director to switch the background in order to avoid infringing on Amazon's patent regarding white backgrounds. The background of the Amazon logo was promptly switched to a picture of Donald Sterling's face, to which Colbert complained that the background was still "white."
Of course, Sterling had nothing to do with the Amazon story, but Colbert's crew manufactured an opportunity to repeat the message that "Sterling is white," and thus his racism is white racism.
Colbert's program is produced by Jon Stewart, who fills the time slot preceding Colbert's. Stewart has decided not to avoid the issue of Sterling's Jewishness, perhaps because Sterling's Jewish speech mannerisms mirror so closely the "Jewish gram-pa" character that Steward frequently breaks into.
Still, he tries to present Sterling's Jewish racism as simply a flavor of white racism. On one of his first programs dealing with the issue, Stewart played audio of Sterling saying that it was alright for his mistress to sleep with black men, but just don't be seen with them. Then he juxtaposed a video of a couple of Klan members saying that they have black friends, but just don't think that blacks and whites should interbreed.
Stewart then joked that this demonstrated the  "gorgeous mosaic of racism in America. All the way from those who say, 'You can f*** them, just don't be seen with them,' to those who say, 'You can be seen with them, just don't f*** them.'"
Of course, Stewart hardly needed to resort to the Klan to find an organization opposed to interbreeding with blacks. So many mainstream Jewish organizations are opposed to Jews mixing with blacks, or anyone else for that matter.
While Stewart acknowledges Sterling's Jewish heritage, he engages in damage control for Jewish supremacism even while trashing Sterling the individual. Stewart has kept the focus on Sterlings' personal views, and has not said a word about what Sterling blurted out about how in Israel "blacks are just treated like dogs."
Stewart engaged in more damage control this week following Sterling's interview with Anderson Cooper. In contrasting Jews with blacks, Sterling said: "That's one problem I have. Jews, when they get successful, they will help their people. And some of the African Americans – maybe I'll get in trouble again – they don't want to help anybody."
There is no doubt about the first part of Sterling's statement: wealthy Jews DO help their own people. I always laugh when I hear Jewish people talk about their grandparents arriving in this country with nothing but the shirts on their backs, because I know that 100 years ago there was already an extensive social support network for Jewish immigrants set up by wealthy Jewish bankers and businessmen (and gangsters). And affluent Jews continue to donate to a veritable empire of Jewish charities — tax-deductible, of course.
So how did Stewart spin this? He broke into his Jewish gram-pa voice and started mockingly babbling "Jews help people, but blacks…? Jews give charity, but blacks…?"
The spin was that while Sterling was actually saying that rich Jews are charitable to other Jews, Stewart made it seem as if Sterling were boasting that Jews were charitable in general, and even that Sterling was insinuating that Jews are more charitable than other ethnic groups.
To his credit, the very openly Jewish Stewart did admit that he has spent many Thanksgivings with a lot of people like Donald Sterling. Nonetheless, a simple Google search with Donald Sterling's name and alternatively the words white and Jew, or white racist and Jewish racist, will provide all the evidence you need that Donald Sterling's whitewashing is pervasive in the mainstream media.