Commentary by Dr. Patrick Slattery — Recent revelations that The Daily Show host Jon Stewart made two secret visits to the Oval Office to meet with President Obama come as no surprise to me. The Daily Show is one of the very few television shows I have watched over the past several years, and although I was willing to consider that I therefore over-estimated its importance, I still considered Jon Stewart extremely influential.
The article below, written by the very Jewish-looking Darren Samuelsohn of Politico, lauds Stewart for what Samuelsohn says were Stewart's leading role in getting better medical care for 9-11 first responders and military veterans, which if true would be meaningful accomplishments. But I have seen Stewart's influence elsewhere, and not always working for such benign causes. I see Stewart more than anyone else has the driving force behind the shift in public opinion behind gay marriage. And I don't think he did this through a reasoned presentation of information and arguments. His show basically engaged in simplistic sloganeering, casting the "debate" as one between open-minded proponents of equal rights versus blind adherents to religious dogma. In this way, he set the sides of the debate and helped stifle any real discussion of the implications of such a fundamental change in the structure of society based in scientific research.
Another massive influence he had was on the mainstreaming of obscenity. Stewart's show makes extremely liberal use of the bleeper, always carefully placed to keep the first and last letters of the obscene word in tact just in case someone might not be able to judge from the context just what word he was using. He also pushed the envelop on refraining from bleeping. Many of George Carlyn's seven words you can't say on TV were in fact often not bleeped, if they were used in a particular context. While Stewart does not deserve all the blame, he was definitely a leader. I recently was horrified to see the same bleeping techniques used in a Hyundai commercial on a prime time baseball broadcast.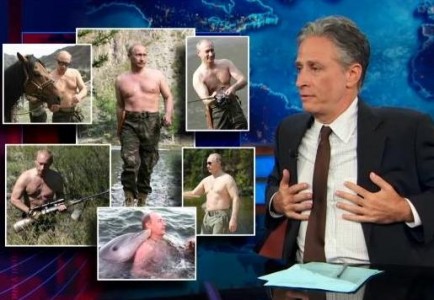 Of Stewart's two visits to the Oval Office, the second one in February 2014 deserves particular note. The article below reports that just hours after the meeting Obama went on national television with stark threats against Russia, and that evening Stewart's show vilified Vladimir Putin. February 2014, of course, was the month in which Zio Assistant Secretary of State Victoria Nuland engineered the violent overthrow of the elected president of Ukraine and replaced him with a Jewish Prime Minister and President.
While Stewart could be funny and occasionally speak forcefully against Zio outrages like the Iraq War and the Fed bailout of Goldman Sachs, he still must be viewed as an extremely effective champion of the Jewish agenda. He pushed homosexuality, obscenity, pornography, and drug use while he vilified Russia, Iran, and in a more subtle way Israel's Arab rivals. Even his outrage at the Fed bailout of Goldman Sacks can be seen as helping to keep the public from viewing the tribal nature of the financial meltdown and subsequent bailout.
Stewart will be leaving the Daily Show at the end of next week, but don't think we have heard the last of him.
Obama, aides took unusual steps to cultivate 'Daily Show' comic.