Dr. Patrick Slattery's News Roundup
A service of DavidDuke.com
---
From Ynet News
Jeb Bush announces run for president in 2016
Former Florida governor, son of 41st US president and brother of 43rd president, launches Republican presidential bid, vowing to get Washington 'out of the business of causing problems'.
Jeb Bush launched a Republican presidential bid Monday with a vow to get Washington "out of the business of causing problems" and to stay true to his beliefs, which is easier said than done in a crowded primary contest where his conservative credentials will be sharply challenged.
"I will campaign as I would serve, going everywhere, speaking to everyone, keeping my word, facing the issues without flinching," Bush said in excerpts of a speech released by his campaign before his afternoon announcement.
Click here for the full story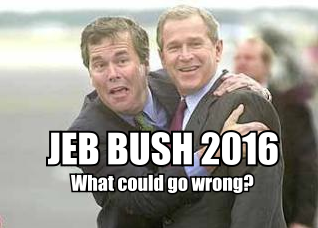 ---
---
From Ynet News
Report: Hamas discussing 5-year truce
Senior members said to be in Qatar to weigh accepting deal that would provide Gaza with a seaport in exchange for a halt in fighting.
Leading members of Hamas are meeting in Qatar to discuss a proposal for a long-term ceasefire with Israel, the Palestinian Al-Quds newspaper reported Monday.
The truce proposal, which is backed by both Qatar and Turkey, is based on an outline formulated by UN special envoy to the Middle East Nikolay Mladenov, according to Israel Radio.
Click here for the full story
---
---
From Ynet News
Obama invites Netanyahu to visit White House
Despite Obama previously saying he wouldn't invite the PM before Iran agreement is signed, Netanyahu was invited; Netanyahu expected to demand a compensation package for increasing threats facing Israel.
US President Barack Obama invited Prime Minister Benjamin Netanyahu to Washington next month, Ynet's sister publication Yedioth Ahronoth reported Tuesday morning. State Department sources said that the probable date for the visit is either July 15 or 16.
President Obama previously announced that a personal meeting with Netanyahu at the White House, after the latter's re-election as Israeli prime minister, would take place only after a final agreement between Iran and the six world powers was signed.
Click here for the full story
---
---
From The Times of Israel
Russian prosecutors raid second Jewish educational institution
Representatives arrive unannounced and without explaining purpose of inspection at Novgorod charity office
By JTA June 16, 2015, 6:20 am
For the second time in one month, Russian prosecutors conducted a surprise inspection at a Jewish educational institution.
The latest inspection occurred earlier this month in Novgorod, a city located 335 miles northwest of Moscow, according to Russian Jewish Congress President Yuri Kanner, who spoke of the incident in an interview published last week on the Russian-language, online edition of the German broadcaster Deutsche Welle.
The Novgorod incident, according to the report, involved a Hebrew class given by the local office of Hesed, a charity with ties to the American Jewish Joint Distribution Committee.
According to asianews.it, the inspection occurred on June 1, four days after prosecutors raided a Jewish school in Yekaterinburg, 900 miles east of Moscow, and confiscated some textbooks following complaints that the faculty had incited against members of other faiths.
Students were forced to present identifying documents to representatives of the public prosecutor's office, who arrived unannounced and without explaining the purpose of the inspection.
Click here for the full story
---
---
From PressTV
Israeli soldiers destroy Palestinian olive saplings
Israeli soldiers have once again attacked Palestinian properties in the occupied West Bank, destroying dozens of olive saplings near the city of Bethlehem.
On Monday, Israeli troops raided nearly five acres of land in Ein al-Hawyeh area in Husan, west of Bethlehem, and chopped down the saplings, according to Mohammed Shosheh, head of the village council.
The Israeli soldiers then took away the trees, he said
Meanwhile, the soldiers demolished a car wash in the village of al-Fureidis east of Bethlehem.
Settlers, mostly armed, regularly attack Palestinian villages and farms and set fire to their mosques, olive groves and other properties in the West Bank under the so-called "price tag" policy.
Click here for the full story
---
---
From PressTV
Israeli regime must be tried over Gaza war, UN official hints
A senior United Nations (UN) official has suggested that the Israeli regime must be prosecuted for committing human rights violations in its war on the Gaza Strip last summer.
Speaking ahead of the release of a UN Human Rights Council (UNHRC) report on the Israeli war on the blockaded Palestinian territory, the UN High Commissioner for Human Rights, Zeid Ra'ad Al-Hussein, said in Geneva on Monday that he hoped the report "will pave the way for justice to be done to all civilians who fell victim to the fighting last year by holding to account those alleged to have committed grave and other serious violations of international humanitarian law, through investigation and, where required, prosecution."
The UN official particularly voiced concern about the continuation of the crippling Israeli siege on Gaza, warning that "the longstanding blockade and slow reconstruction is generating more poverty and has further undermined economic and social rights" might cause "renewed violence."
He further stated that physical reconstruction was not sufficient for the Palestinian territory, and that Gaza also needed the reconstruction of hope, development, accountability and respect for human rights.
Al-Hussein also called on Israel to end its settlement construction and stop its illegal practice of destroying Palestinian homes in the West Bank.
Click here for the full story
---
---
From PressTV
Israel PM compares boycott campaign with Nazi brutality
Israeli Prime Minister Benjamin Netanyahu says the international boycott campaign against the regime equals the sufferings imposed on the Jews during the Nazi rule in Germany.
"What was done to the Jewish people then is being done to" Israel now, he said on Monday in a meeting with Polish Foreign Minister Grzegorz Schetyna.
The Israeli premier was launching a broadside against the pro-Palestinian Boycott, Divestment and Sanctions (BDS) campaign. The campaign is aimed at increasing economic and political pressure on Israel and end the Israeli occupation and colonization of Palestinian lands, besides pursuing respect for the right of return of Palestinian refugees.
The campaign has attracted subscribers worldwide, including some European businesses, which have taken stand against Israel's illegal settlement activities on the occupied Palestinian land.
"The attacks on the Jews were always preceded by the slander of the Jews," Netanyahu said of the Nazi era, while commenting on the BDS movement.
Click here for the full story
---
---
From Russia Today
US may send F-22 fighter jets to Europe to counter Russian 'threat'
Published time: June 16, 2015 05:36
​A senior US Air Force official called the current situation with Russia "the biggest threat" on her mind, hinting at a possible display of power that could see American military aircraft, including F-22 Raptor fighter jets, deployed to Europe.
The Air Force is now considering a plan to further increase the number of its rotational forces in Europe, the US Secretary of the Air Force, Deborah Lee James, told reporters at the Paris Airshow at Le Bourget.
"That's the beginning, there will be more. You'll continue to see more and more rotational forces," James said as quoted by Reuters. "The biggest threat on my mind is what's happening with Russia and the activities of Russia. That's a big part of why I'm here in Europe."
READ MORE: 'Most aggressive since Cold War': Russia may beef up border if US arms stationed in E. Europe
When it came to details, the official only said she saw "no reason" why the fifth-generation F-22 fighter jets could not be stationed in Europe, but refused to elaborate.
Click here for the full story
---
---
From Russia Today
Snowden destroyed files before going to Russia – Greenwald debunks Sunday Times report
Published time: June 15, 2015 19:39
Glenn Greenwald, a US journalist who published the first reports on documents leaked by Edward Snowden, says allegations in the British press that Russian and Chinese spies accessed Snowden's documents are lies aimed at smearing the whistleblower.
Greenwald, writing in the Intercept, said that reports by the BBC and the Sunday Times that claimed Chinese and Russian intelligence services had access to Snowden's files is based on the false premise that he kept them.
The Sunday Times cited a UK government source claiming that British agents in Russia and China had to be removed after Beijing and Moscow had gained access to Snowden's top secret documents.
"We know Russia and China have access to Snowden's material and will be going through it for years to come, searching for clues to identify potential targets," an intelligence source told the newspaper.
Greenwald was one of the very first journalists to have met Snowden in 2013 at his hotel in Hong Kong, before the revelations on the US and its allies' mass spying program were published by the Guardian, the Washington Post and the New York Times.
Click here for the full story
---
---
From Ynet News
Orange boss sues over 'death threats' amid Israel spat
Stephane RIchard, who angered many with his remark on withdrawing from Israel, files complaint after personal details leaked online. Orange boss Stephane Richard has taken legal action after receiving death threats against himself and family members amid a row over withdrawing his brand from Israel, legal sources said Tuesday.
Richard filed a complaint at a Paris court last week before heading to Israel in a bid to calm the controversy, a source close to the affair disclosed.
Click here for the full story
---
---
From The Times of Israel
Australians willing to fight IS despite terror fears, poll finds
Jihadist group ranks as country's greatest threat, but most support airstrikes in Iraq even though they say it increases terror risk
By AFP June 16, 2015, 7:58 am
SYDNEY — Australians support the country's involvement in the fight against the Islamic State group in Iraq, despite fears it raises the risk of terror acts against them, a poll revealed Tuesday.
The 2015 Lowy Institute Poll found that 69 percent of Australians were in favor of the current involvement in air strikes against the jihadists and providing support for Iraqi security forces.
At the same time, 55 percent said they believed Australia's involvement in Iraq increased the risk of terrorism at home now and 47 percent said it increased the risk "in the future". Only 20 percent felt it made Australia safer from terror in the future.
"Australians' concerns about security and terrorism appear to be driving a broad acceptance of our involvement in military action against Islamic State in Iraq," Lowy executive director Michael Fullilove said.
"That support is remarkable considering that so few think this military action makes Australia safer from terrorism in the future."
Click here for the full story
---
---
From The Times of Israel
Head of Spokane NAACP quits amid furor over racial identity
Parents of longtime civil rights worker Rachel Dolezal say their white daughter has been posing as black for years
By Nicholas K. Geranios June 15, 2015, 11:35 pm
SPOKANE, Washington (AP) — Rachel Dolezal resigned as president of the NAACP's Spokane chapter Monday amid a furor over racial identity that erupted when her parents came forward to say she has been posing as black for years when she is actually white.
The announcement, posted on the civil rights organization's Facebook page, said the attention surrounding Dolezal has distracted from the group's goals.
"In the eye of this current storm, I can see that a separation of family and organizational outcomes is in the best interest of the NAACP," said Dolezal, a longtime figure in Spokane's civil rights community who was elected to the NAACP post six months ago. "Please know I will never stop fighting for human rights."
City officials, meanwhile, are investigating whether she lied about her ethnicity when she landed an appointment to Spokane's police oversight board. On her application, she said her ethnic origins included white, black and American Indian.
---
---
From the Jewish Telegraphic Agency
Madrid alderman resigns over Holocaust joke
(JTA) — The Madrid alderman for culture under fire for posting a joke about the Holocaust on Twitter four years ago has resigned.
Guillermo Zapata resigned Monday after opposition parties and the umbrella group for Jewish communities in Spain demanded he step down, the Spanish daily El Pais reported. Madrid Mayor Manuela Carmena, who took office on Saturday, accepted the resignation.
Zapata, who previously worked as a script writer and novelist, assumed his post last week after his left-wing party won in municipal elections in May.
In 2011 he tweeted, "How do you fit five million Jews into a 600? In the ashtray."
Click here for the full story
---
---
From the Jewish Telegraphic Agency
The Global Family Reunion shows how far online genealogy has come
What is more unexpected: that Jewish author A.J. Jacobs, known for his ambitious lifestyle experiments, has some Asian and Scandinavian roots? Or that rapper Ludacris is 1/16th Jewish?
These are the types of questions that were raised by the Global Family Reunion on June 6, a Comic Con-esque celebration of the advancement of genealogy technology. People from countries as far away as New Zealand and Brazil, along with a diverse cast of celebrity speakers and musicians, gathered on the grounds of the New York Hall of Science in Queens, New York to emphasize one basic but uplifting idea: that we're all more related than we thought.
Before June 6, Jacobs, an Esquire editor-at-large and the author of seven books (on projects ranging from following the Bible as closely as possible to engaging in extreme exercise regimens), spent over a year compiling the world's largest family tree with the help of companies such as MyHeritage, FamilySearch, WikiTree and Findmypast. The goal was to create a global family tree that connects as many people as possible through blood or marriage – even if they are 30 or 40 steps away from one another on the ancestral branches.
Click here for the full story
---
---
From Russia Today
Belgium sues Facebook for privacy breaches, tracking non-members
Published time: June 15, 2015 19:16
The Belgian national privacy watchdog is taking Facebook to court over its privacy policy. The social network is being criticized for its tracking systems that it applies to both members and non-members.
Belgium's Commission for the Protection of Privacy claims that Facebook is breaking Belgian, as well as European privacy laws. That is the result of a special investigation conducted by the commission. The case will be tried in Brussels on Thursday.
"Facebook treats its users' private lives without respect and that needs tackling," Willem Debeuckelaere, president of the watchdog, says. The commission has no power to punish Facebook but hopes a court ruling will do something about the perceived privacy breaches.
"It's not because we want start a lawsuit over this, but we cannot continue to negotiate through other means," Debeuckelaere said, DeMorgen news agency reports. "We want a judge to impose our recommendations. These recommendations are chiefly aimed at protecting internet users who are not Facebook members," he added.
READ MORE: Info wars: Silicon Valley tech giants refuse to give UK snoops data on demand
Click here for the full story
---
---
From Russia Today
'Worst crisis since WWII': Amnesty lashes out at world leaders over 50mn refugees
Published time: June 15, 2015 16:28
Edited time: June 15, 2015 20:23
A report by Amnesty International accuses world leaders of neglect as millions of refugees face "an unbearable existence," while the world faces the "worst refugee crisis since World War Two."
Amnesty International said on Monday that governments around the world had effectively let thousands of people, who are fleeing wars in Africa and the Middle East, die by failing to provide them with basic human protection.
The number forcibly displaced in the world is now thought to be above 50 million.
"We are witnessing the worst refugee crisis of our era, with millions of women, men and children struggling to survive amid brutal wars, networks of people traffickers and governments who pursue selfish political interests instead of showing basic human compassion," Salil Shetty, Amnesty International's secretary general, said in a statement. The press release issued by the organization dubbed the crisis "Worst…since World War II."
"The refugee crisis is one of the defining challenges of the 21st century, but the response of the international community has been a shameful failure."
Click here for the full story
---
---
From Ynet News
Study: Nazi propaganda left life-long mark on German kids
Researchers say that those schooled during Nazi period are far more likely to be anti-Semitic, even though decades have passed. Anti-Semitic propaganda had a life-long effect on German children schooled during the Nazi period, leaving them far more likely to harbor negative views of Jews than those born earlier and later, according to a study published Monday.
The findings indicate that attempts to influence public attitudes are most effective when they target young people, particularly if the message confirms existing beliefs, the authors said.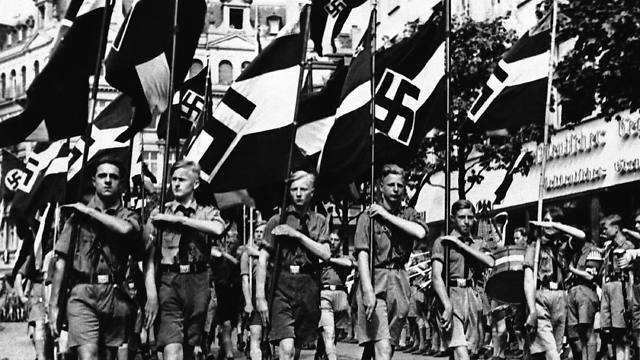 In this Feb. 24, 1936 file photo, a group of boys march beneath Nazi standards in Berlin (Photo: AP)
---
---
From Ynet News
Haredi director's 'women only' film sparks row at London festival
Organizers of Seret 2015 Israeli film festival decide to cancel screening of 'The Gift of Fire' after cinema managers turn down director's request to bar men from audience. Organizers of the Seret 2015 Israeli film festival in London have cancelled a screening of the film "The Gift of Fire" by ultra-Orthodox director Rechy Elias after cinema managers refused to bar men from the audience, the Jewish Chronicle reports. The director had demanded that the film be shown only to women for religious reasons.
The festival features a variety of Israeli films this year, including "Gett," "Zero Motivation," "Sacred Sperm," "The Kindergarten Teacher" and others. Rechy Elias' film "The Gift of Fire" from 2014 is, according to the festival's website, "a sweeping, romantic saga in a powerful historical setting" about a Jewish girl named Perla who is "forced to flee her privileged home and family in 15th century Spain, when the horrors of the Inquisition catches up with her."
The drama, which was scheduled to be screened on June 19 at the Odeon in Swiss Cottage and at JW3, the London Jewish community center, sparked a row among cinema viewers who wished to attend the screening.
Click here for the full story
---
---
From Ynet News
Film explores ultra-Orthodox Jewish taboos
Ori Gruder grappled with how to talk to his 10-year-old son about sex in the ultra-Orthodox society, leading him to create hour-long documentary film that tackles the hard question.
Associated Press
Published 02.06.15, 14:30
Like so many parents, Ori Gruder was grappling with how to talk to his 10-year-old son about sex. Being a member of Israel's ultra-Orthodox religious community, which tends to keep discussions of sexuality to a whisper, made the task even more difficult.
So Gruder created "Sacred Sperm," an hour-long documentary in which he tries to tackle the hard questions he can expect from his son. The film presents an intimate, informative and at times awkward look at the insular religious community and its approach to sexuality, fleshing out deeply entrenched taboos in the conservative society.
"What is it about that little sperm that looks like a tadpole and has everyone so hot and bothered?" Gruder ponders in his narration of the film.
Gruder, a 44-year-old father of six who once worked for MTV Europe and didn't become religious until age 30, gives the viewer a rare peek into private ultra-Orthodox lives, taking the camera into his own home, into ritual baths and circumcision ceremonies, to the religious school system and more.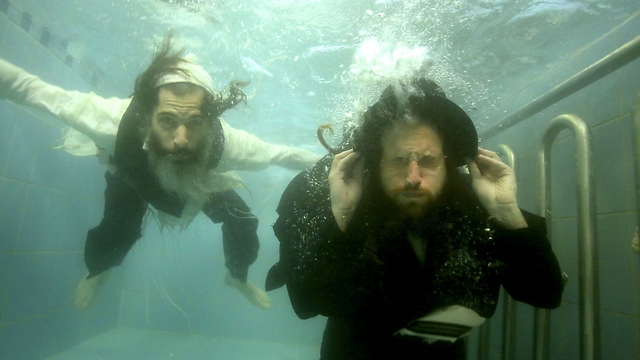 Promotional image for 'Sacred Sperm' film (Photo: AP)