The Cultural Genocide Epidemic Has Now Spread To Tampa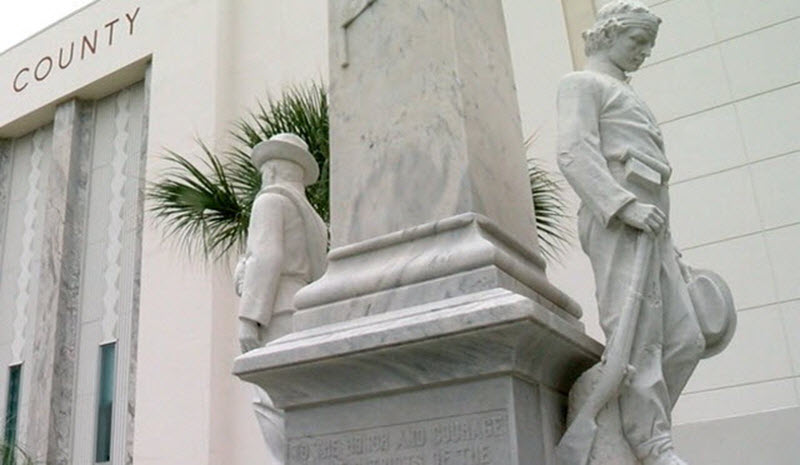 As Confederate monuments were being struck down in the city of New Orleans, the radicalized alt-Left were already plotting the next Southern cities to attack on their crusade for cultural genocide on white America . Several cities have now fallen victim to the neo-PC militants to the point of a pandemic. Jewish led organizations such as the Jewish led and financed SPLC (Mr. Cohen) has been the driving force behind this cultural genocide, and it is typified by the efforts by the Jewish mayor of historic Charlottesville, Va. Mayor Signer of course has no problem with erection of Jewish Menorahs on public ground which symbolize the Jewish terrorist revolt and massacre of Hanukah committed to preserve Jewish racial purity.
After striking down Orlando's Confederate memorial, it made one ask, if there was any Southern city remaining with a spine, one not infected wholly by this epidemic?
The alt-Left aren't just seeking to tear down monuments, their ultimate goal is to erase white history in America. They are attempting to set in a new era. An era that suppresses the white working class while propping themselves up. Its not just a cultural divide, its cultural genocide, a forced feeding of their ways and means upon us, while erasing our past and pre-writing our future. White history has no room in the over-inflated PC pandering to blacks, gays, atheists, and Muslims and of course Jews, the utmost uncriticizable  protected elite of America.
A similar dynamic was seen in the early 1900's, when Jewish Bolshevik atheists destroyed a majority of Russia's churches to spiritually devastate the devout public.
Another Jewish assault on our culture occurred in 1989 in the Abe Fortas Supreme Court when it ruled that the 200 legal tradition of putting up Nativity Scenes and Christian-themed Christmas celebrations on public property had magically become unconstitutional. Ironically, the same decision ruled that the oldest symbol of the Jewish Religion was perfectly constitutional.
Is the alt-Left is attempting to carbon copy ISIS? As ISIS destroys historic artifacts and sites throughout their lands, so too does the alt-Left in America.
June 21st, the Hillsborough County Commission which in the Tampa area, voted 4-3 to keep Tampa's Confederate memorial in place. We finally felt that we won a battle in this cultural war that we've found ourselves within. The Commissioners still attempted to create a pandering compromise for their approval. They stated that a mural "celebrating" love and diversity in the community will be erected behind the monument. Expectedly, radical blacks propped up by the NAACP and the Tampa Zionist elite have started their protests at the monument.
The four Conservative Commissioners in Tampa were holding strong, but now Tampa's Communist Mayor, Bob Buckhorn, has applied political and monetary pressure to force the Commission into a revote. Now the Tampa Bay Ray's, Tampa's Major League baseball franchise, want the Confederate memorial monument removed from "their" city (even though they are based in neighboring St. Petersburg), stating, "We are supportive of its removal from the courthouse." One might ask, why the hell is a sports team weighing in on such a decision? That answer lies with the team's President of Operations, Matthew Silverman, who is part of Tampa Bay's extremely Jewish racist, Zionist elite, along with the owners of the NFL Tampa Bay Bucs, the Glazer Family.
The Hillsborough County Commission have decided to undermine themselves, their office, and a large majority of their constituents, and are taking this to a revote. With 5 of the 7-member  Commission being Conservatives, one would think such a revote wouldn't be an issue, especially since the first vote went in favor of preserving Tampa's Confederate history. Unfortunately, this isn't going to be the case. Of course, the two radical Progressives on the Commission are for removing the monument from where it has stood since being erected in 1911 by the Daughters of the Confederacy.
The third vote on June 21st, came from "Conservative" Commissioner Al Higginbotham. Higginbotham sought votes for re-election by latching on to President Trump's populist popularity. He even made it a point to speak at the Tampa Bay Trump rallies. He promised Populist Conservative ideals, but now that he is in office, he is performing lockstep with the two Degressive Progressives. The Commission is set to meet again on this subject July 19th, and word has been that one of the other "Conservative" Commissioners, Victor Crist, is inclined to change his vote on a revote. That vote would give the majority to have the monument removed.
Crist has stated that he would like to move to Confederate memorial to the historic Oaklawn Cemetery. This would symbolically bury the city's Confederate history amongst the dead. There, Crist said, "it would be out of sight, out of mind" for people who want it removed, but still accessible for those who want it displayed – only not where it has been standing since 1911.
At this point, it is not only about the monument in and of itself that we must fight to protect, but to take a stand to fight back from preventing more of our white history from getting erased from the face of America.
The Communist jet-set and their radicalized attack dogs want our endangered history wiped clean from our communities. They want any such thoughts about our heritage locked away in our minds, never to be uttered again. Your community may have been pillaged of it's white history, but there is time to save the community of Tampa, which will send a clear message and footprint for the next targeted city to follow.
Please, I urge all of you to contact the 2 "Conservative" Hillsborough County Commissioners, whose votes will remove Tampa's Confederate memorial. Let them know what our heritage and history means to you.
Contact Higginbotham and let him know how you feel about this desecration
Phone # 813-272 5735 
Facebook: https://www.facebook.com/vote4al Twitter: https://twitter.com/AlHigginbotham
Al Higginbotham (who was the traitor that voted against the monument on the first vote, and will carry that vote over to the second vote) District 7 / Phone # 813-272-5735 Facebook: https://www.facebook.com/vote4al Twitter: https://twitter.com/AlHigginbotham
Victor Crist Phone # 813-272-5452
Victor Crist (who is considering voting against the monument with Higginbotham on the July 19th vote) District 2 / Phone # 813-272-5452
You can also email both Commissions here: https://webappsnet.hillsboroughcounty.org/Forms/BOCC/ContactCommissioners
Article by: Tampa Confederate with additions from the Duke Staff
Al Higginbotham (who was the traitor that voted against the monument on the first vote, and will carry that vote over to the second vote) District 7 / Phone # 813-272-5735 Facebook: https://www.facebook.com/vote4al Twitter: https://twitter.com/AlHigginbotham
Article by: Tampa Confederate with additions from the Duke Staff