Commentary — This whole business about the ADL opposing Alt-Light figures like Mike Cernovic, Lauren Southern, and Jack Prosobiec is just another hoax. If you think these figures are going to have their credit card processors and Patreon accounts shut down like Dr. Duke or any other genuine anti-Zionist activist does, don't hold your breath. These figures may not be actively working for the Jews (or maybe they are — whatever), but the Jews who dominate the media and the banking system are just fine with people railing against amorphous "liberals" and "leftists," just as they are happy with Alex Jones blaming everything on globalists and Nazis.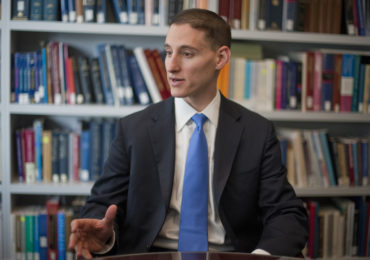 WASHINGTON (JTA) — Josh Mandel, the Ohio treasurer who is running for the Republican nomination for U.S. senator, expressed solidarity with figures listed by the Anti-Defamation League as having a "hateful impact" on the political scene.
"Sad to see @ADL_National become a partisan witchhunt group targeting people for political beliefs," Mandel said Thursday on Twitter. "I stand with @Cernovich & @JackPosobiec."
Attached to his tweet was a tweet by Mike Cernovich, a blogger who was on the ADL list, with a link to an article by Cernovich claiming the ADL wanted him killed, although it cited no evidence.
"The ADL is trying to get people they disagree with murdered," Cernovich wrote, without explaining how the century-old civil rights institution was plotting assassinations.
The ADL in a post this week titled "From Alt-Right to Alt-Lite: Naming the Hate" listed Cernovich and Jack Prosobiec as among the "alt-lite" — abjuring the white supremacy of the alt-right, "but whose hateful impact is more significant than their 'lite' name suggests." It noted the conspiracy theories peddled by the alt-lite, and its anti-feminist and anti-Muslim fervor.
In Cernovich's case, the ADL said he "is known for his promotion of the 'Pizzagate' conspiracy theory, which propagated outrageous claims about child trafficking and culminated in Edgar Welch firing an AR-15 as he entered D.C.'s Comet Ping Pong pizzeria."
Posobiec, a reporter for the right-wing news outlet Rebel Media who backs President Donald Trump, also has peddled the Pizzagate theory.
Mandel lost in his 2012 bid to unseat the incumbent Democrat in Ohio, Sherrod Brown. This time he has embraced the rhetoric and style of President Donald Trump, although he had distanced himself from Trump during the president's campaign last year.
Mandel did not reply to requests for elaboration on Twitter posed by JTA and other media outlets.