Download

Dr. Duke and Dr. Slattery saluted the courage and tenacity of the Palestinians in Gaza and other occupied territories, noting that they have refrained from emigrating to Europe or America and instead of dug in their heels in order to remain in their ancestral homeland. While our own people have failed to coordinate maskless visits to Walmart, the Palestinians are facing seemingly impossible odds as they refuse to be genocided. We have much to learn from them. 
Then he read from an article accusing MS-NBC's Joy Reid of white supremism for having a pro-Palestinian academic on her show. The article even invoked the specter of Dr. Duke: 
When MSNBC host Joy Reid asked her guest for an explanation of the Israeli-Gaza conflict, the Palestinian expert replied, "Jewish supremacy." Yet Reid offered no pushback during the closing segment of Friday's edition of "The ReidOut."

… "Rula, can you just sort us give us a bigger picture explanation of what's happening here?" asked Reid, noting that the term evictions "doesn't feel like it's the right word for it."

"Jewish supremacy is the main goal of Israel [sic] apartheid government," Jebreal replied. "We are already living a project of ethno-religious exclusion and purity."

Jebreal also seemingly tried to equate Israeli government policy with white supremacy, the U.S. Border Patrol, and the Capitol riot of January 6.

"What you are seeing, Joy, is what [we've seen] here in America with these white supremacists under Jim Crow," Jebreal said, later adding: "We've seen this force, whether in January 6. We've seen this kind of politics when they put kids in cages in the United States."

Her attempt to tie her political opponents to white supremacists seems ironic since her words echo the most widely exposed white nationalist in modern U.S. history, David Duke.

The former Grand Wizard of the Ku Klux Klan literally wrote a book titled Jewish Supremacism; chapter nine is titled, "Israel: A supremacist state." In it, Duke wrote:

"My assertion that there exists a powerful, cohesive, world-wide Jewish Supremacism finds confirmation in evidence mostly provided by the Jewish Supremacists themselves. Their supremacist ideology finds clear enunciation in the foundation, structure and conduct of Israel, a nation unabashedly based on an ethnic supremacism. It is a state that has dispossessed, terrorized and grossly violated the human and civil rights of the Palestinian people."

Duke has been a longtime critic of Israel and a supporter of the Palestinian cause. He said on his podcast Wednesday  that "for [Israel] to get away with this, kind of shows, truly, the Jewish supremacy that exists in the media."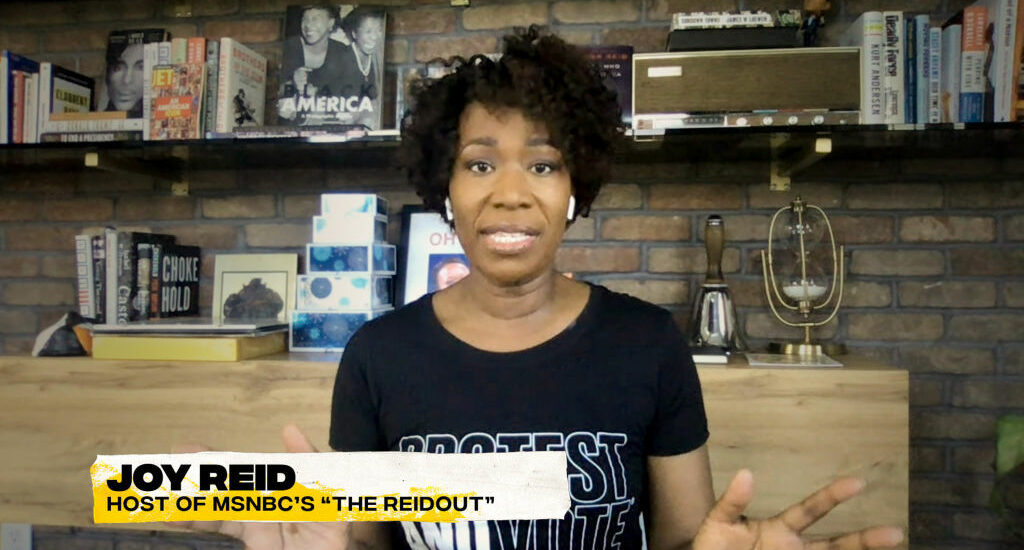 This is the new face of white supremacy. Move over Tucker, and welcome to the KKK, Joy! LOL!!!
Anyway, now that Joy Reid is a white supremist, I have to admit she's kind of cute…
Have you subscribed to Dr. Duke's Gab channel? If you haven't, you really should. Also, he has a telegram channel. 
Be sure to check out Dr. Duke's Bitchute and BRAND NEW Odysee acounts. Here are a couple of recent videos: 


Dr Duke & Dr Slattery Respond to Attack by HBO and John Oliver on David Duke and Tucker Carlson (odysee.com)
ZioMedia Incites massive violence against White people in America (odysee.com)
Please share this show widely. And please keep us on the air and on-line. Please visit our contribution page or send your contribution to:  
P.O. Box 188, Mandeville, LA 70470 Thank you.  
Click here and look for the show dated 5-19-21 Our show is aired live at 11 AM Eastern Time (US) & is replayed at 4 PM Eastern Time.  Share this show widely. And please keep us on the air and on-line.