Download

Today Dr. Duke and British author and broadcaster Andy Hitchcock talked about how the words of the immortal Alexander Solzhenitsyn can still help us make sense of the Zio-hell we are living through today.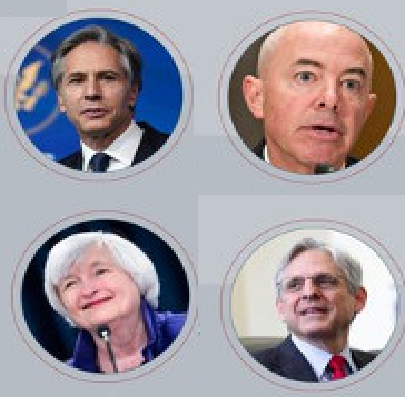 Clockwise from upper left: Secretary of State Tony Blinken, Secretary of Homeland Security Alejandro Mayorkas, Attorney General Merrick Garland, and Secretary of Treasury Jannet Yellen. These are the four people given the authority by the April 15 Biden executive order to freeze your assets if they suspect you of helping Russia (even unintentionally or indirectly) interfere with our elections or undermine our democratic institutions. They are all four Jews. What are the odds of that? Actually, six million to one, Assuming that Jews are 2% of the population, then 1/50 x 1/50 x 1/50 x 1/50 = 1/6,250,000.
Check out Dr. Duke's Bitchute and BRAND NEW Odysee acounts. Here are a couple of recent videos: 


Dr Duke & Dr Slattery Respond to Attack by HBO and John Oliver on David Duke and Tucker Carlson (odysee.com)
ZioMedia Incites massive violence against White people in America (odysee.com)
Endless wars, replacement-level immigration, demonization of white men, promotion of gayness and trannyism, and presenting black men as the ideal mates for white women were inflicted on us by Jews and not Chinamen. .
Please share this show widely. And please keep us on the air and on-line. Please visit our contribution page or send your contribution to: P.O. Box 188, Mandeville, LA 70470 Thank you.
Click here and look for the show dated 5-4-2021. Our show is aired live at 11 am replayed at ET 4pm Eastern  
Check out this classic video "CNN, Goldman Sachs, and the Zio-matrix of power."