Trump: You Campaigned on America First – Break that Promise and You Will Lose Us!
Download
Today Dr. Duke talked about President Trump's wavering on his Make America Great Again agenda. After one year in office, his only major legislative accomplishment is a tax cut drafted by Paul Ryan and the Make America Cuck Again Republicans. Meanwhile, he is let so many neocon enemies into his administration that they have been able to hijack his foreign policy, driving us to the brink of war with North Korea, Iran, and even Russia.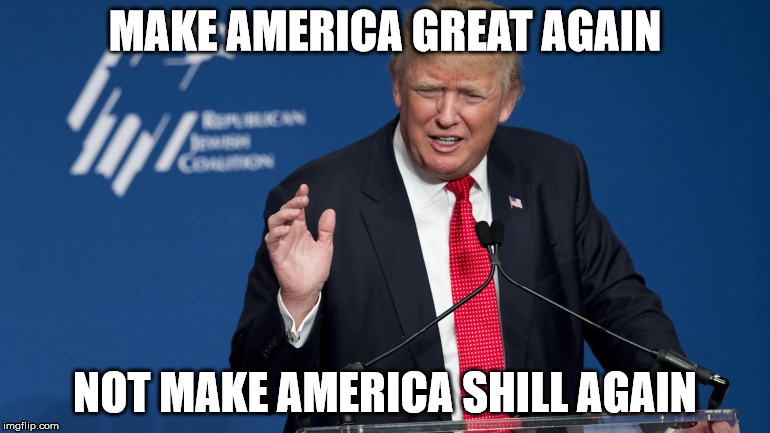 Then he and Dr. Slattery talk about what kind of foreign policy the United States should have. They agree that the non-interventionism proposed by George Washington should be a guiding principle. They say that American foreign aid diverts resources that should be used at home and historically has done far more harm than good overseas, and thus should be scrapped. They point out that the demonstrations supposedly spurred by economic frustration in Iran come after decades of sanctions and sabotage against the Iranian economy, not to mention the strain that Iran went through in having to defeat the ISIS monster created by (((America and its allies))) for the purpose of weakening Iran. Finally, they agree that friendly relations with Russia are essential for making America great again.
This show is a powerful show. Please share it widely. And the David Duke show has done more to make it possible for us to even say "Merry Christmas" than any other show. So please keep us on the air and on-line. Please visit our contribution page or send your contribution to:
P.O. Box 188, Mandeville, LA 70470
Thank you.
Click here and look for the show dated 1-3-18.
Our show is aired live at 11 am replayed at ET 4pm Eastern
Oh silent night, oh Holy night…
A Christmas message & Video Christmas Card
Written and spoken on Christmas Eve by David Duke
Audio clip: Adobe Flash Player (version 9 or above) is required to play this audio clip. Download the latest version here. You also need to have JavaScript enabled in your browser.
Christmas is the most holy day for the European people wherever we are in the world from Siberia to San Francisco, from Alaska to Auckland. Christmas is even more than a religious moment. For our forefathers took up the Christian faith and expressed its motif in the very art, heart and soul of what we call Western Civilization.
Today, Christmas has even transcended that motif. For Christmas has become about all that we celebrate as Europeans. After its Christian symbolism, it is foremost about family, roots and community
It is no accident that it closely coincides with the even more ancient European celebration of solstice, for solstice is the celebration of the nadir of winter, and the warmth and beauty and light to come. And it certainly it is the most meaningful day of the year for all Europeans; Protestant or Catholic, Christian or Norse, Believer or nonbeliever. For on this day we are all believers in a sense. We are believers in goodness, in beauty, in nature, in love, in the bright faces of our children and the angelic light reflected from their eyes and hair.
All the way through Christmas is the expression of life, from the birth of the savior, to the symbol of life and nature expressed in our fragrant evergreen Christmas trees, to the sheer joy on the faces of our children, to the ruddy-faced white bearded Santa Claus in his red-brightened costume of the far north.
An apt symbol is Father Christmas for he is like the archetypical grandfather of our people. European legend has him coming from the northern icy regions, and that symbolizes the ancestral home of our people. In fact, our race was fashioned and honed in the crucible of the last great ice age and the fierce weather that ruled over Europe 40,000 years ago. This archetypical European Santa comes to us in the dead of winter and the dead of night to bring us gifts of love, joy and hope!
For all of us in the Movement dedicated to the life and freedom of our people, Christmas should be a holy day and Christmas eve a holy night, a silent night of wonder, beauty and meaning.
The most daunting enemy of our people is hopelessness and despair. We who are fully aware of the ongoing genocide of our folk across the world, the onrushing death of the West and the people of the West, sometimes seek to lessen the hurt in our heart of hearts by the solace of alcohol or what is but a mass addiction to the great spectator sports in the Western World, anything it seems to get our minds off of the mind-numbing prospect of the destruction and extinction of all we hold close to our hearts.
But, those who have written off the European American people will be surprised in the next decade, for a great awakening is now stirring among our Folk. The same genes that gave us our ancient heroes and artisans, commanders and poets are still within us. They are still in the soul and sinew of our children. It is our sacred task to touch those genes, to touch the hearts and minds of our people and bring them to the truth and ultimately to life again!
As solstice/Christmas is the nadir of winter, so this moment in history is the nadir of our people. But, the winter winds of death will be replaced soon with a warm spring breeze of life and renewal. We have been given the gifts of Christmas. One gift we have is the Internet by which our people can communicate wherever they are in the world… in an instant. We now have the ability to get the truth out to our brethren at the speed of light wherever our people dwell.
Right now as you read or hear these words, there are teenage boys and girls in their own homes around the world who hear these words along with you. And these words sing to their hearts as they do sing from mine. What is the song we sing? It is the song of love of family and folk, it is the song of life and of freedom, it is the song of beauty and achievement, it is the song our people have sung in their hearts from the time they emerged from the snow mists and brought civilization to the earth. It is a song that we shall sing as we awaken and it is a song that will stir the hearts of our descendants even as they travel to the infinite stars.
Have no fear my brethren, this is the Winter solstice of our people, the Spring will not be far behind if only you keep the faith, keep the beauty for which we strive in your hearts, contemplate these things in the silence of Christmas eve, and celebrate them in the unrestrained joy of Christmas day with family and friends, for these days are your days, make them meaningful.
Oh silent night, oh holy night! Let the love of kith and kin fill our hearts. Let these days renew us and rededicate us to our heritage and our freedom.
This has been David Duke
Merry Christmas and to all a good night
Here is Mark Collett's latest video (Currently banned for violating YouTube rules on frankly discussing obvious events going on before our very eyes):
Or find the alternative location from Mark's Twitter feed. And follow him while you're at it.
Watch the video YouTube BANNED – Christmas Adverts: Multicultural Propaganda. A full expose of the globalist companies & the insidious anti-white agenda that they push.https://t.co/AdqNKrKHBq

— Mark Collett (@MarkACollett) November 16, 2017