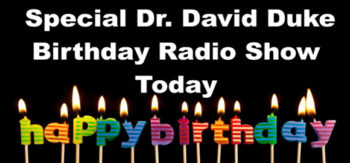 ---
Download

Dr. Duke and publisher David Gahary discussed the on on-going conroversy in Canada. Apparently, child mortality was unknown among Canadian Indians due to the amazing healthcare system run by their medicine men. In fact, they may have even been immortal. Then evil white people came and introduced death. It is well known that white people are always genociding children, even their own. For instance, three of Abe Lincoln four sons were geocoded by him before they could reach adulthood. And so anytime an Indian dies, it's automatically the fault of white people and their supremacism or whatever. 
Three of Lincoln's for sons died in childhood:
Edward Baker Lincoln (March 10, 1846 – February 1, 1850) Eddie died a month before his fourth birthday. Although census records list "chronic consumption" (tuberculosis) as the cause, cardiologist John Sotos has suggested that Eddie died of medullary thyroid cancer.
William Wallace "Willie" Lincoln (December 21, 1850 – February 20, 1862) was the third son of President Abraham Lincoln and Mary Todd Lincoln. Willie and Tad became ill in early 1862, possibly with typhoid fever. Tad was relatively lightly affected but Willie gradually weakened; his parents spent much time at his bedside. He died on February 20.
Thomas "Tad" Lincoln III (April 4, 1853 – July 15, 1871) was the fourth and youngest son of Abraham and Mary Todd Lincoln. He died unexpectedly of an illness at the age of 18 on July 15, 1871, in Chicago.
Have you subscribed to Dr. Duke's Gab channel? If you haven't, you really should. Also, he has a telegram channel. 
Be sure to check out Dr. Duke's Bitchute and BRAND NEW Odysee acounts. Here are a couple of recent videos: 


Dr Duke & Dr Slattery Respond to Attack by HBO and John Oliver on David Duke and Tucker Carlson (odysee.com)
ZioMedia Incites massive violence against White people in America (odysee.com)
Please share this show widely. And please keep us on the air and on-line. Please visit our contribution page or send your contribution to:  
P.O. Box 188, Mandeville, LA 70470 Thank you.  
Click here and look for the show dated 7-1-21 Our show is aired live at 11 AM Eastern Time (US) & is replayed at 4 PM Eastern Time.  Share this show widely. And please keep us on the air and on-line.