---
Download

Dr. Duke and publisher David Gahary discussed a poll by the ADL called "Why people are sick of these Jews." Maybe that wasn't the title, but that's what it shows. You can see the results below. 
Percent responding "probably true"
1.
Jews are more loyal to Israel than to America
31%
2.
Jews have too much power in the business world
18%
3.
Jews have too much power in international financial markets
15%
4.
Jews still talk too much about what happened to them in the Holocaust
22%
5.
Jews don't care what happens to anyone but their own kind
13%
6.
Jews have too much control over global affairs
11%
7.
Jews have too much control over the United States government
11%
8.
Jews think they are better than other people
13%
9.
Jews have too much control over the global media
12%
10.
Jews are responsible for most of the world's wars
6%
11.
People hate Jews because of the way Jews behave
15%
Actually, when you get down to it, what the hell is the ADL complaining about? These numbers are really low. Only 22% think Jews talk too much about the Holocaust. So 78% think they don't talk enough about it? "Please, Jews, tell me another Holocaust story." Actually, 13 years ago,
Jewish editorialist for the L.A. Times Joel Stein wrote the following
:
I have never been so upset by a poll in my life. Only 22% of Americans now believe "the movie and television industries are pretty much run by Jews," down from nearly 50% in 1964. The Anti-Defamation League, which released the poll results last month, sees in these numbers a victory against stereotyping. Actually, it just shows how dumb America has gotten. Jews totally run Hollywood.
He was that upset when 22% of Americans thought Jews run the media. Now its down to 12%. Stein must have his bagel twisted like a pretzel at how retarded Americans have become.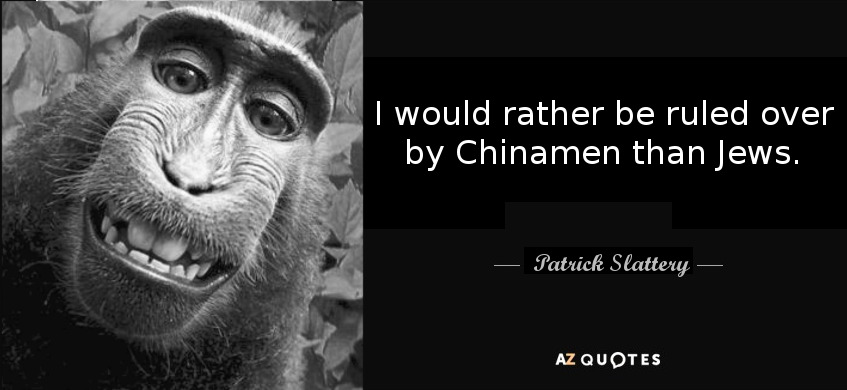 Have you subscribed to Dr. Duke's Gab channel? If you haven't, you really should. Also, he has a telegram channel. 
Be sure to check out Dr. Duke's Bitchute and BRAND NEW Odysee acounts. Here are a couple of recent videos: 


Dr Duke & Dr Slattery Respond to Attack by HBO and John Oliver on David Duke and Tucker Carlson (odysee.com)
ZioMedia Incites massive violence against White people in America (odysee.com)
Please share this show widely. And please keep us on the air and on-line. Please visit our contribution page or send your contribution to:  
P.O. Box 188, Mandeville, LA 70470 Thank you.  
Click here and look for the show dated 6-17-21 Our show is aired live at 11 AM Eastern Time (US) & is replayed at 4 PM Eastern Time.  Share this show widely. And please keep us on the air and on-line.