Dr Duke & Dr Slattery with Halloween Show on the Ultimate Horrors of ZioCommunism!
Download
Today Dr. Duke and Dr. Duke discussed the great Koschertified App. Then they went on to dismiss the notion that somehow "expelling the Jews" is any kind of viable solution for our problem. Rather, we need to be totally honest with our analyses, for in a totally open and free discussion our ideas will naturally win.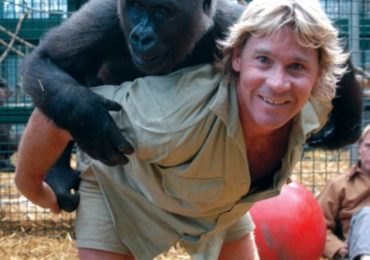 Steve Irwin (pictured here with Dr. Slattery) was an American Hero, even though he was Australian. 
They also discussed why Tulsi Gabbard is rapidly becoming the new boogy-man of the pro-war forces in America, both right and left.
Listen to the show for the full story.
Please share this show widely. And please keep us on the air and on-line. Please visit our contribution page or send your contribution to:
P.O. Box 188, Mandeville, LA 70470
Thank you.
Click here and look for the show dated 10-31-19.
Our show is aired live at 11 am replayed at ET 4pm Eastern
Check out this Duke video on the white genocide in South Africa:
Here is Mark Collett's recent viral video:
Be sure to check out Mark's Twitter feed. And follow him while you're at it.