Dr Duke and Atty Don Advo show the "Caravan" as actually a game-changing horrific INVASION & Trump Fully Embraces Nationalism at a huge 99.9 % WHITE RALLY!
Download
Today Dr. Duke and Don Advo talked about the well-funded and well-organized "migrant" invasion force headed our way from Central America. Remember, they are over 1000 miles away. A marathon is only 26 miles long. These people, especially the "women and children," are not walking more than a few miles a day. At that rate, it would take MONTHS to walk to the United States. So why are we seeing pictures of them walking across the land? These are photo ops for propaganda purposes. They are obviously being carried by buses funded by (((billionaires))).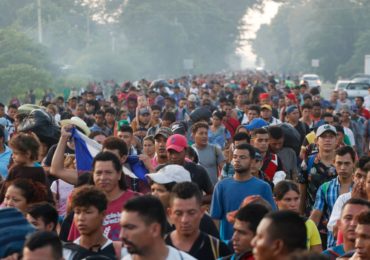 And of course, these "poor people" could not being paying their own way. This is a massive, well-organized operation, but the media completely distorts the truth. This proves Trump's assertion that the media is the enemy of the people.
Listen to the show for the full story.
Please share this show widely. And please keep us on the air and on-line. Please visit our contribution page or send your contribution to:
P.O. Box 188, Mandeville, LA 70470
Thank you.
Click here and look for the show dated 10-23-18.
Our show is aired live at 11 am replayed at ET 4pm Eastern
Check out this Duke video on the white genocide in South Africa:
Here is Mark Collett's recent viral video:
Be sure to check out Mark's Twitter feed. And follow him while you're at it.