Dr Duke & Tom Kawczynski Celebrate the Exit of Ambassad(whore) Nikki Haley and Brazil's Bolsonaro Brewing of Pro-White Revolution!
Download
Today Dr. Duke and leader of New England white people Tom Kawczynski had a fascinating discussion on a wide range of issues. They naturally celebrated the exit of Skankbassador Nikki Haley. Of course, Trump really hasn't appointed anyone who shares his priorities to his foreign policy team since General Flynn, so the celebration may be as short-lived as one of Nimrata's extramarital affairs.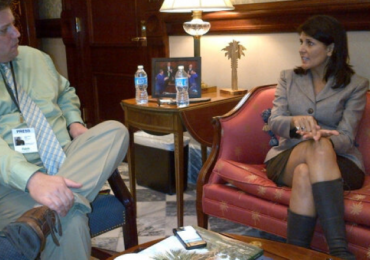 Nimrata Randhawa's practices keeping her legs shut
They also talked about the civil war, Columbus Day, and the awesome Jair Bolsonaro, the soon-to-be-elected Generalisimo of Brazil.
Listen to the show for the full story.
Please share this show widely. And please keep us on the air and on-line. Please visit our contribution page or send your contribution to:
P.O. Box 188, Mandeville, LA 70470
Thank you.
Click here and look for the show dated 10-09-18.
Our show is aired live at 11 am replayed at ET 4pm Eastern
Check out this Duke video on the white genocide in South Africa:
Here is Mark Collett's recent viral video:
Be sure to check out Mark's Twitter feed. And follow him while you're at it.