Download
Prez Trump: Drain the Swamp Starting with the Cesspool of Kushner and Cohn!
Today Dr. Duke and Attorney Don Advo spent the hour exposing the completely toxic role played by First Son-In-Law Jared Kushner. Kushner, and orthodox Jewish adherent to the Chabad Lubavich movement, has emerged as the central figure in derailing the Trump train and sending it plunging into the abyss of Zionist neoconservatism and the endless wars for Israel that comes with it.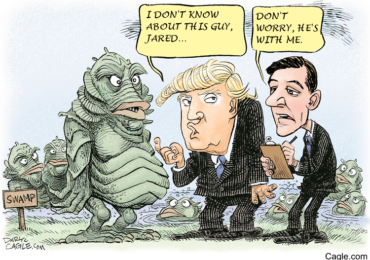 Dr. Duke is calling on President Trump to save his presidency by draining the swamp, starting with his toxic waste cesspool of a son-in-law. Jared and Ivanka have to go back to Sachs Fifth Avenue and take their Goldman Sachs buddies with them. If he needs to consult with family, surely his wife Melania and 10-year-old Baron would be much more sensible.
This is a crucial show for you and your friends. Please share it widely.
Click here and look for the show dated 4-12-17.
Our show is aired live at 11 am replayed at ET 4pm Eastern and 4am Eastern.